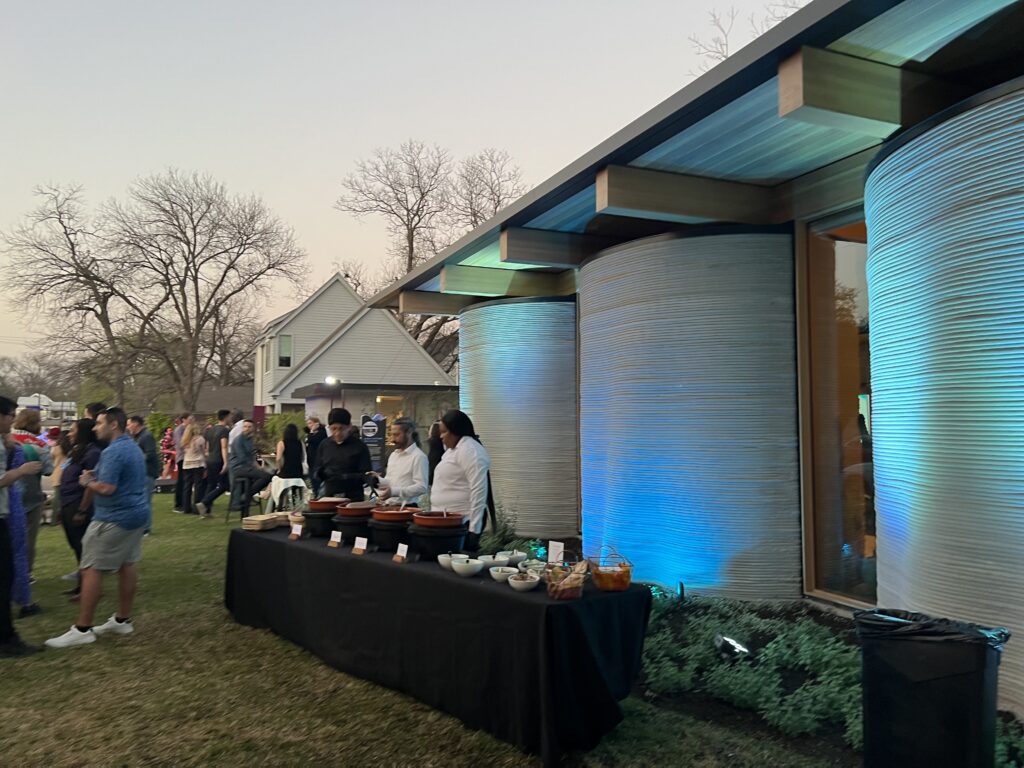 At SXSW 2023, ICON plans to unveil a 3D-printed performance center at the Long Center for the Performing Arts on Wednesday.
The event will begin with a discussion, "a Moonshot for Affordable Housing," with ICON CEO Jason Ballard, Bjarke Ingels with BIG, Michaelle Addington with the University of Texas, and Sarah Satterlee with Mobile Loaves and Fishes, at 2:30 p.m. It will be followed by a reception and concert on the terrace with live music from Primo the Alien, The Bros Fresh, and Tameca Jones.
SunPower and Rewiring America's Inflation Reduction Act (IRA) hosted a cocktail hour at ICON House Zero to showcase its technology on Saturday. The event featured a bluegrass band, an open bar, and tacos.
Austin-based ICON, a sponsor of SXSW, built the 2,000 square foot, three-bedroom 2.5 bath home featuring its 3D printed wall system, which replaces a building system. Its walls are made with the company's proprietary cement-like material called "lavacrete."
The house in East Austin was 3D printed by ICON's next-gen Vulcan construction system and designed by Lake/Flato.
ICON has a history of doing big things at SXSW. In 2018, the company won the South by Southwest Accelerator pitch competition for its construction technology. ICON also generated a lot of buzz when it built a 3D printed home in East Austin in two days during SXSW using its 3D printer.
That first permitted 3D-printed house cost about $10,000 in materials. The 350-square-foot house was created as a proof-of-concept house in partnership with New Story.
The next year, ICON unveiled its "Vulcan II" 3D printer that can quickly print up to a 2,000-square-foot house at half the cost.
In 2021, ICON raised a $207 million Series B round of financing led by Norwest Venture Partners, one of the largest fundraising rounds for an Austin-based company in history.
And last year, ICON received a NASA contract worth $57.2 to develop construction technologies that could help build the moon's habitats, landing pads, and roads. NASA is planning for long-term human exploration of the moon under Artemis.