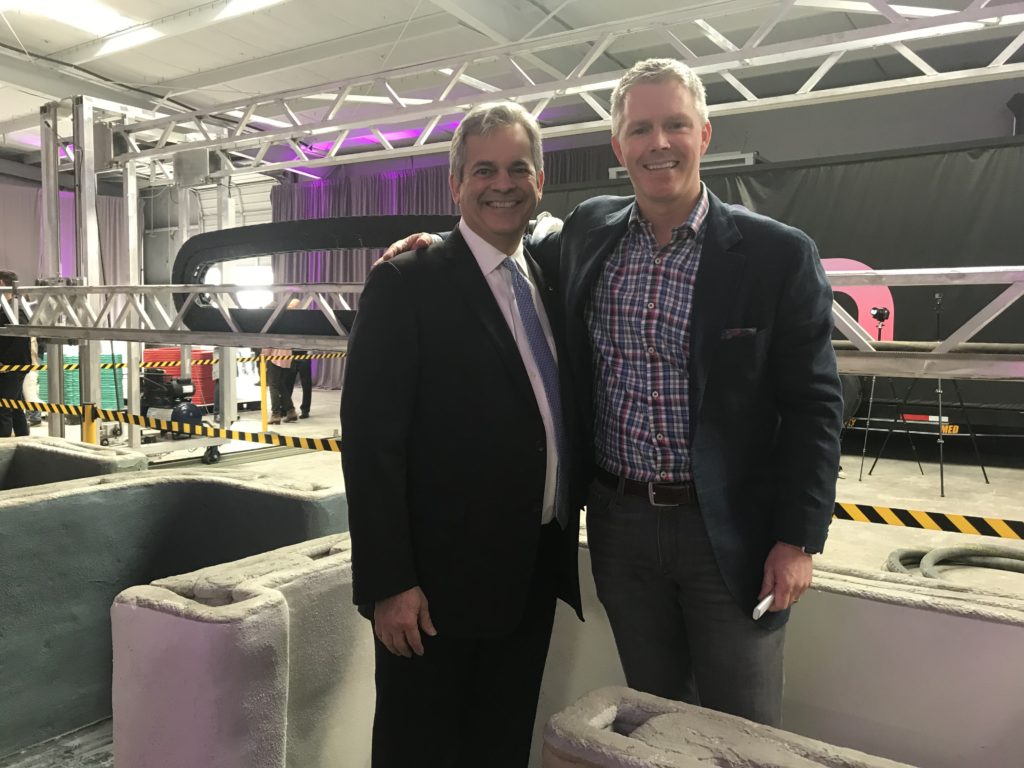 By LAURA LOREK, Publisher of Silicon Hills News
Austin-based ICON on Monday unveiled its new "Vulcan II" 3D printer that can print up to a 2,000 square foot house quickly at half the cost.
"It's four times as big, it's twice as fast, and it's going to start shipping to customers next month," said Jason Ballard, CEO and Co-founder of ICON. "This is not science fiction, it's science fact. The world you all have been waiting for is about to arrive."
ICON has also created proprietary concrete/mortar material which it calls "Lavacrete" that has passed every structural test and is safe for people and resilient to the varieties of conditions it may encounter, according to the company.
"Our most significant challenge in this city is affordability, we are losing community," said Mayor Steve Adler at an event along with a few hundred invited guests Monday at ICON's Warehouse headquarters at 444 E. St. Elmo Road in South Austin to show off the new printer.
A median-priced home in San Francisco right now is more than $1.5 million, Adler said. A median-priced home in Boston and Seattle, and other major tech centers, are north of $800,000, he said
"Austin is a city that creates art," Adler said. "We create art because we are a diverse and creative community."
Creativity comes from the melding of all different kinds of people living together in the city, Adler said. Austin doesn't want to become a city that just consumes art because its artists can no longer afford to live here, he said.
ICON's technology helps Austin solve one of its most vexing problems of how to make houses cost less, and build them quicker, Adler said.
"This is about as Austin a place as South by Southwest," Adler said.
A global housing crisis exists, and 1.2 billion people worldwide struggle with being homeless and can't afford shelter, Ballard said. ICON's technology can make housing more affordable, he said.
This technology is scalable, Ballard said.
"I believe in the next couple of years, you will see a 3D printed house with a for sale sign in front of it here in Austin, Texas, for sale for half price," Ballard said.
And with 3D printing a house, it produces nearly zero waste, he said.
"You print what you need to the drop and then you stop," he said.
ICON also announced partnerships to put its technology in action to build affordable homes for Austin and other communities.
One of its partnerships is with New Story, a four-year-old nonprofit organization that pioneers affordable housing solutions to end global homelessness. It is using ICON's technology to create the world's first 3D printed community beginning this summer, said Brett Hagler, CEO, and Co-Founder of New Story.
Another partnership is with Cielo Property Group.
"Our big announcement today that we've been holding back, Austin that printer right there that is your printer dedicated to affordable, sustainable, resilient and beautiful housing," said Bobby Dillard, founder of Cielo Property Group. Austin is the first city in the country to have its own 3D printer focused on creating affordable housing, he said.
3Strands Neighborhoods announced its early partnership with ICON to explore architectural and design concepts that could be delivered by Vulcan II.
Gary O'Dell, CEO of 3 Strands Neighborhoods, said his company builds clusters of houses with shared spaces and programming that builds communities and relationships. It has partnered with Overland Partners, an architecture firm based in San Antonio, to create a design competition for 3D printed houses.
Last year, ICON won the South by Southwest Accelerator pitch competition for its construction technology that builds 3D printed homes using concrete as a substrate. ICON also generated a lot of buzz when it built a 3D printed home in East Austin in two days during SXSW using its 3D printer.
That first permitted 3D printed house cost about $10,000 in materials. The 350 square foot house was created as a proof of concept house in partnership with New Story.
ICON closed a $9 million in a seed-stage round led by Oakhouse Partners last October. It plans to begin building homes in the U.S. and in Latin America this year.  Time Magazine named ICON one of the best inventions of 2018. Popular Science named ICON one of the best 100 Greatest Innovations of 2018.