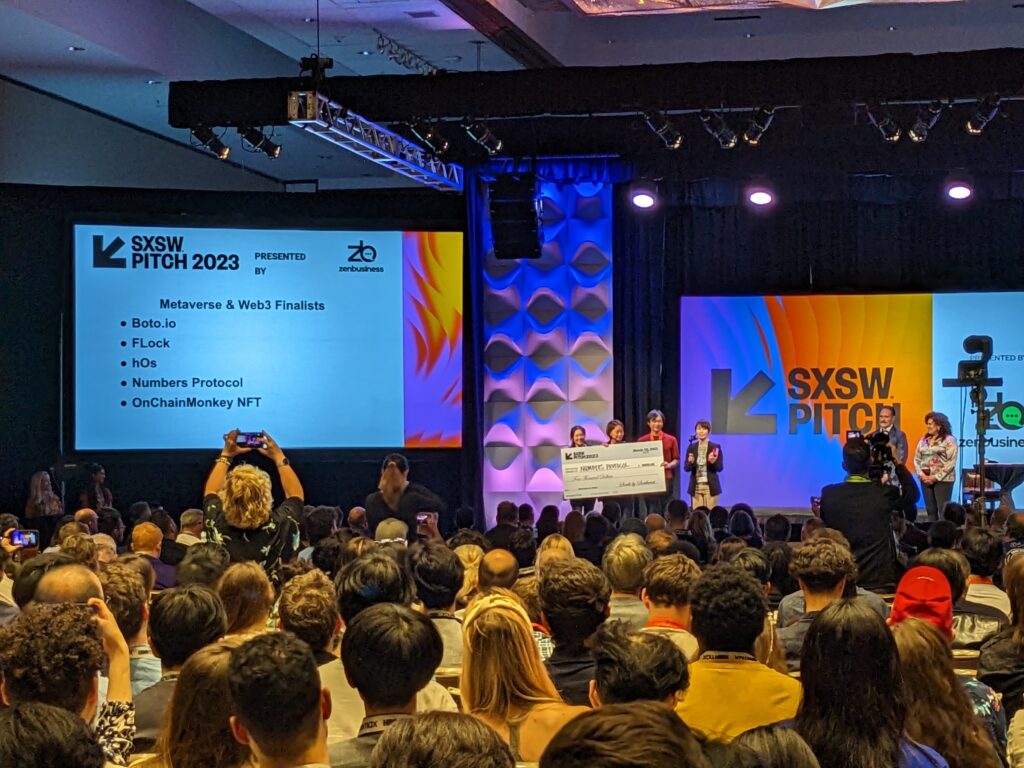 By Laura Kobylecky, Special contribution to Silicon Hills News
The 2023 SXSW Pitch competition winners are Reality Defender, Climatiq, PentoPix, GPx, Reach Pathways, SXD Ai, Numbers Protocol, and Urban Machine.
The 15th annual SXSW Pitch competition, presented by ZenBusiness, occurred Saturday and Sunday at the Hilton Austin Downtown. It featured 40 tech companies from eight categories pitching in front of an audience of SXSW attendees, media, venture capital investors, and a panel of judges. The winners were announced Sunday night at an awards ceremony.
Reality Defender of New York, which created a deep fake platform, won the Artificial Intelligence, Voice, & Robotics Technologies category. Enterprises can use Reality Defender's platform to flag fraudulent users and content. Their presenter says they are "the only one doing this right now" regarding their particular methods and how they detect deep fakes. 
Climatiq of Berlin, Germany, won the Enterprise & Smart Data Technologies. They use scientific data to "build climate intelligent solutions."
PentoPix of London, United Kingdom, which uses AI-assisted technology to transform text into 3D animations, won the Entertainment, Media & Content Technologies category.
General Prognostics GPx of Boston, a company allowing physicians to remotely and non-invasively monitor blood biomarkers vital for managing chronic disease, won the "Food, Nutrition, & Health Technologies" category. The company's process is similar to "continuous glucose monitoring," minus the needles. The presenter emphasized that similarity and talked about how it could improve the quality of life for those individuals. 
Reach Pathways of Chicago won the Future of Work Technologies category. The company uses a "'metaversity' ecosystem" to connect talent and opportunities. It "rewards students for finding jobs and completing real-life and in-game tasks" and gamifies the recruitment system. 
SXD Ai of New York won the Innovative World Technologies category. It is a "tech-powered design platform" that is trying to make "creative visions into zero fabric waste clothing" that lower cost and carbon footprint without sacrificing beauty. Their presenter emphasized that, in the next few years, they would like to see one-third of the clothing "that we're wearing right now" be zero waste. 
Numbers Protocol of Taipei, Taiwan, won the Metaverse & Web3 Technologies category. The company claims to be "building the most comprehensive solution to make digital media traceable and verifiable." Its website describes the company as "a decentralized asset network for creating community, value, and trust in digital media." It aims to make "digital media traceable and verifiable" to address issues like "misinformation, copyright, and royalty distribution."
Urban Machine of Oakland, California, won the Smart Cities, Transportation & Sustainability Technologies. Category. The company is on a mission to build a sustainable future and plans to do this by "salvaging millions of tons of wood waste from construction and demolition." They use "AI capable robots" to reclaim "old wood for reuse into locally sourced, premium lumber products." 
Judges evaluated the companies on Creativity, Potential, Goodness, Functionality, and Team/People. The winner for each category received $4,000 and a trophy, two comped badges for the 2024 Interactive Festival, and a gift bag.
SXSW Pitch 2023 also honored its "Best In Show" winner, PentoPix.
Special awards were also presented to AMA — Environmental Agents for Best Bootstrap company. It creates "phygital" tools that integrate physical and digital elements to "improve people's lives and their urban environments." 
LeadrPro won the Best Speed Pitch award. The company directly connects sellers with software buyers. This category emphasized the unique skills and abilities it takes to funnel the whole mission and energy into a mere minute of time. 
The "Best in DEI" (Diversity, Equity, and Inclusion) award went to CreditRich, a company that "rounds up users' spare change to pay their bills intelligently and optimize credit scores." Their website explains that their "mission is to reduce poverty by giving people access to easy-to-understand financial education materials." Their presenter told the audience that diversity is important to the startup scene, but currently, "less than 1% of funding goes to black founders." They emphasized that we must "be the change that we all want to see."