As a kid, Armir Harris immigrated to the United States from Albania.
Harris learned the ins and outs of the transportation business at a young age from his uncle.
"I picked up the ground transportation business at the dinner table," Harris said. "I had no plans on going into the transportation or bus industry at all, but shortly after college, my uncle got sick. He had a limousine and bus company, and I had to take over."
At 23, Harris stepped in and then, in 2012, founded a company called Shofur, a charter bus service.
"As I started to scale Shofur, I realized that there were much bigger problems we weren't solving in the industry," Harris said.
Mom-and-pop operators with ten buses or less make up more than 80 percent of the nation's bus companies, Harris said.
"There is very little transparency and very little to no accountability in the industry," Harris said.
In 2018, Harris founded CharterUP, a real-time marketplace for charter buses with an Expedia-like model to provide customers with a better experience, Harris said. The company also sells its software to 600 bus operators on its platform.
This week, Atlanta-based CharterUp opened a second headquarters in Austin. It plans to hire more than 100 employees locally, Harris said. In addition, CharterUp announced it had hired Brian Showers as the company's Chief Technology Officer, Nick Donelson as its vice president of product, and Evan Hopkins as vice president of supply.
Austin will serve as the company's tech and product hub. However, the company's sales, customer success, and finance operations will remain in Atlanta.
CharterUP's customers include school athletics departments, government agencies, and corporations. The company takes a percentage of all transactions booked on its marketplace. It also licenses its software to bus companies to run and manage their fleets.
"We've been profitable almost every quarter since the inception through bootstrapping," Harris said.
CharterUP's reached $150 million run rate revenue in 2022 through bootstrapping, Harris said. In October, the company raised $60 million, in a Series A round from Tritium Partners, a private equity firm based in Austin.
In the past five years, CharterUP hired many technology and product employees who lived in Austin, and it made sense to make this its second headquarters, Harris said.
"Austin kind of grew organically, and as I got to spend more and more time in Austin, I realized that Austin was a thriving tech hub, and many companies were moving their headquarters to the Austin region as well," Harris said. "So we recently decided to move our technology and products or technology headquarters to Austin, where I spend most of my time."
CharterUP is also seeing increasing demand for its services in Texas, Harris said. CharterUP serves Dallas-Fort Worth, San Antonio, Austin, Houston, and El Paso and is expanding into McAllen, Brownsville, and throughout the Lower Rio Grande Valley.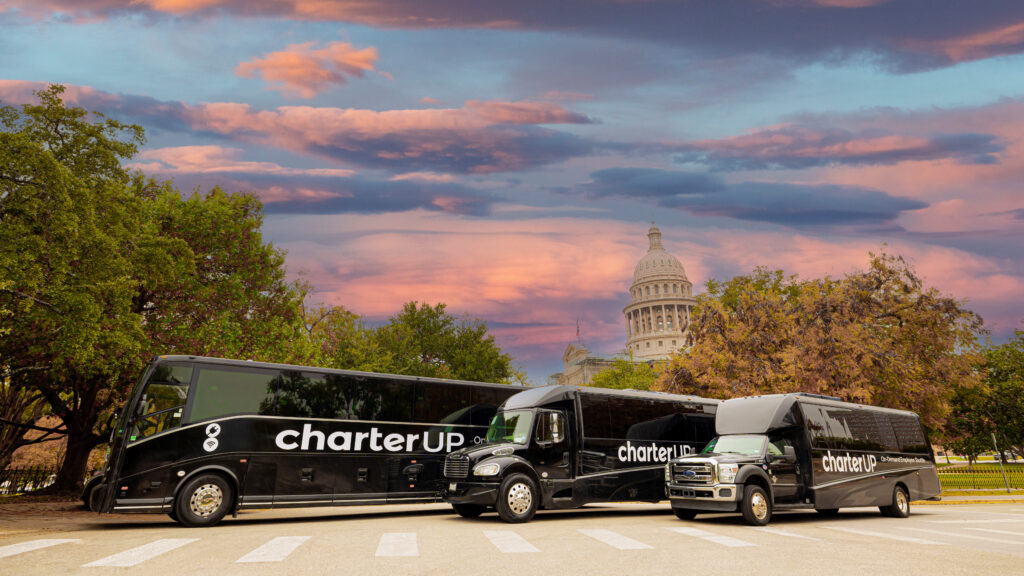 The company has rolled out more than 160 buses in the Austin and San Antonio markets.
"You should be able to see them rolling around with the CharterUP logo on the buses," Harris said.
Another thing driving demand is corporations moving people from outer suburbs to work in Austin and shuttles between San Antonio and Austin. Harris said the growth for corporate shuttles between Austin and San Antonio had grown over 280%.
CharterUP's customers in Austin include H-E-B, the University of Texas at Austin, and Austin ISD. Harris said it recently signed a contract to provide Samsung with corporate shuttles. Tesla is also a customer, he said.
"One of the reasons why we also decided to move our technology headquarters to the area is we were confident that commerce and tech companies are still going to continue to move to the Austin market, and over time, Austin will grow as that will grow and will thrive as a tech hub," Harris said.