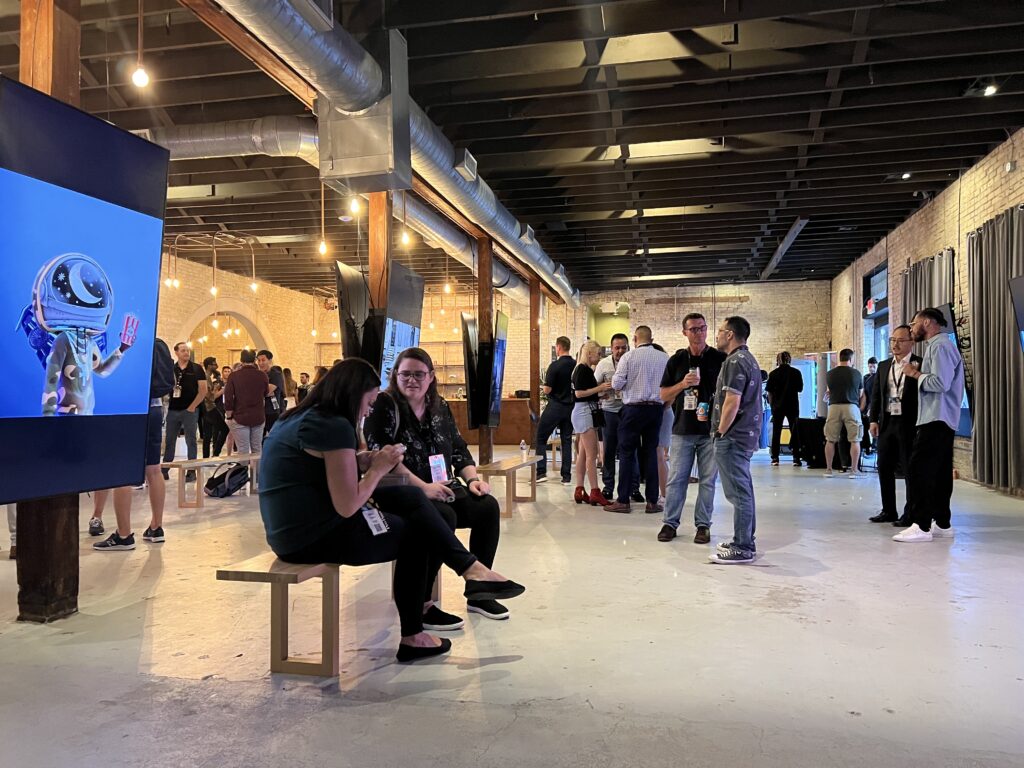 Consensus 2022 kicked off in Austin this week.
It's a conference put on by media company, CoinDesk, which focuses on Web 3, cryptocurrency, Decentralized Autonomous Organizations, known as DAOs, Nonfungible Tokens, or NFTs, Metaverses, and more.
A few hundred people attended the first Consensus in 2015, and this one has more than 17,000 registered ticketholders. A general admission ticket is nearly $1,600 and the more expensive ProPass and Piranha Passes are both sold out.
Consensus features more than 600 speakers on 23 stages and is spread throughout the Austin Convention Center, Hilton, Fairmount, and various other venues downtown. It has a feel of South by Southwest on a smaller scale.
There is a definite feeling of FOMO with all the programming and exhibitions going on at once along with dozens of happy hours, parties, gallery shows, DJs, bands, and even a casino night.
The event is also taking place during a volatile time in the U.S. economy with the COVID-19 pandemic still lingering, inflation soaring, skyrocketing gas prices, and tensions created from the war between Russia and Ukraine, said Michael Casey, Chief Content Officer for CoinDesk, during his Friday opening remarks. Cryptocurrency, like the stock market, is also experiencing some turbulence. Bitcoin is hovering around $29,333, down from its all-time high of $68,990 in November of 2021. And Ethereum is down to $1,676, from its all-time high of $4,865, also in November of 2021.
On top of that, there have been cryptocurrency failures and scams, Casey said.
Recently, the collapse of the Terra project, "led to combined losses of about $60 billion between the stablecoin, also known as UST, and its sister cryptocurrency luna," according to CNBC. A few sessions at Consensus examine what went wrong.
"Since the start of 2021, more than 46,000 people have reported losing over $1 billion in crypto to scams," according to the Federal Trade Commission.
But despite the massive volatility, failed companies, and scams, cryptocurrency has gained a strong foothold globally and increasingly in the U.S. In September of 2021, the Republic of El Salvador became the first country to adopt Bitcoin as legal tender. Consensus has some members of Congress and the Biden Administration in attendance and as speakers discussing regulation and consumer protection. But they are also talking about establishing a stablecoin and creating a digital dollar.
Recently China unveiled its digital yuan or e-CNY, a digital version of its sovereign currency that is not a cryptocurrency but is instead issued and controlled by the People's Bank of China, according to CNBC.
And NFTs have opened a whole new way for artists and creatives to make money in the digital age. Some major brands including Mastercard, Anheuser-Busch, Pepsi, and the NBA have also embraced NFTs as a way to engage with their audiences.
There's also a lot of talk at the conference about the Metaverse, which wasn't really a topic when Consensus held its last conference in New York in 2019.
Consensus organizers decided to move the event to Austin because it has the infrastructure to handle large crowds, Casey said.
"It was a big decision to leave New York. But Austin made it a smooth transition," he said.
Mayor Steve Adler said Austin is known as a city with a tolerance for risk-taking and that's what creates innovation and drives progress.
"This is a city that is innovative, creative, and entrepreneurial to its core," Adler said.