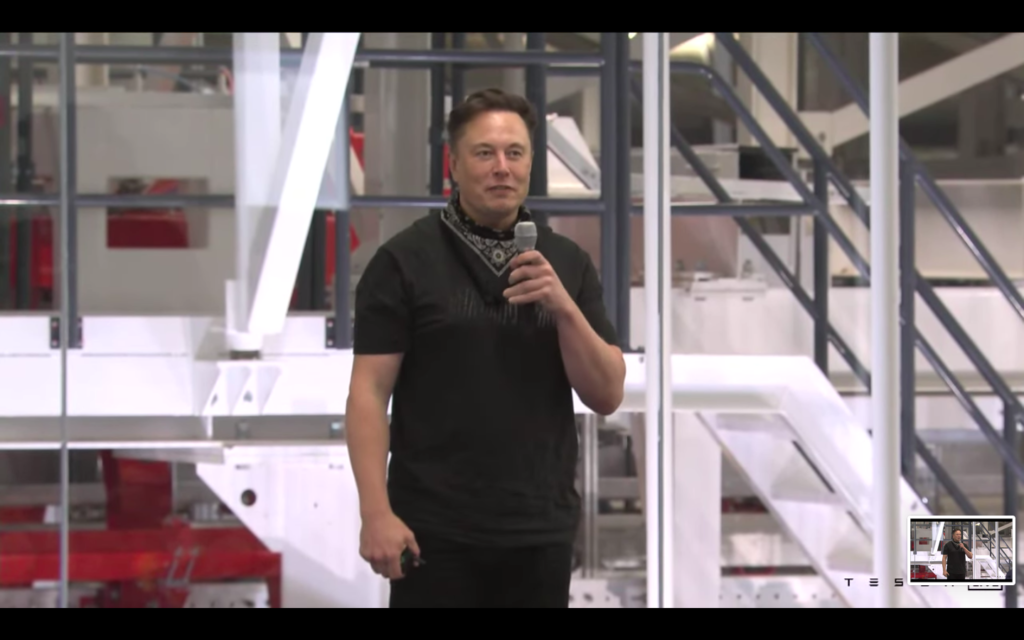 Tesla is moving its headquarters from Palo Alto to Austin.
Elon Musk, Tesla Founder and CEO, made the announcement at Tesla's 2021 shareholders meeting, which was held in Austin at Tesla Gigafactory under construction in eastern Travis County and broadcast on YouTube. In July of 2020, Musk announced plans for its $1.1 billion Giga factory that will make Cybertrucks, Semi, Model 3, and Model Y electric vehicles. The plant is located on 2,100 acres at SH 130 and Harold Green Road.
"Just to be clear, though, we will continue to expand our activities in California," Musk said. "This is not a matter of Tesla leaving California. Our intention is to increase output for Fremont and Giga Nevada by 50 percent."
The site in California is packed and it's landlocked and it's tough for employees to afford houses in California, Musk said.
"There is a limit to how big you can scale in the Bay Area," he said.
Austin has attracted other large corporate headquarters from California including Oracle and Zoho Corp. And HP recently announced plans to relocate its headquarters to Houston.
The Texas Giga factory has a lot of room for expansion. It is located five minutes from the airport and 15 minutes from downtown, Musk said. Tesla intends to scale the Texas plant even more than its California operations, he said. The plant will make the Cyber Truck and an All-Terrain Vehicle as well, he said.
"We're going to create an ecological paradise right here on the Colorado River," he said. "It's going to be great."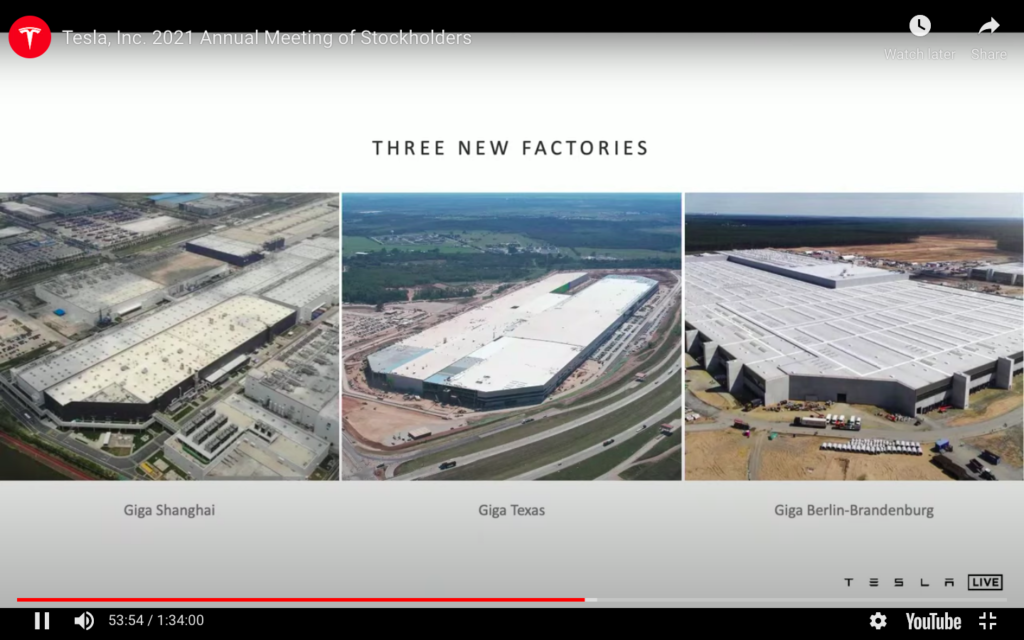 In the 12 months that ended in September, Tesla has delivered 800,000 vehicles to customers, started new production lines in Shanghai, constructed two new Giga factories on two continents including the one in Austin, said Robyn M. Denholm, chair of the Tesla board. Tesla makes the Model S, Model X, Model 3, Model Y, and Roadster.
And during the last 12 months, Tesla has helped shift the public's perception of electric vehicles, Denholm said.
"By 2030, Tesla is aiming to sell 20 million electric vehicles per year and deploy 1500 gigawatt-hours of energy storage per year," Denholm said. "Our mission is clear the automotive sector and the energy sector have to become fully electric."
Tesla has been hampered by supply chain woes like many manufacturing companies. That means it hasn't been able to bring new products online, Musk said. Cyber truck production should begin next year, Musk said. And supply shortages should be fixed by 2023, he said.
Production will start in Giga Texas this year, but it will not reach high volume production until next year, Musk said. Tesla's long-term competitive advantage will be its manufacturing operations, he said.
Over time, all manufacturers will make electric vehicles and eventually will make autonomous vehicles, Musk said.
Tesla is open to licensing its autonomous vehicle technology to other manufacturers because it will make roads safer and save lives, Musk said.
"Our goal really is to make the cars as affordable as possible," Musk said.
Problems with the supply chain shortages of parts and chip shortages have led to price increases recently, he said. But eventually, the prices will come down, he said.
"We are going to need a lot of batteries," Musk said. Telsa is telling suppliers as many as they can make, Tesla will take, he said.
Solar and wind-generated electricity and battery storage are key to a sustainable future, Musk said.
Musk said he was in Austin during the blizzard that hit last February. He was staying at a friend's house with no electricity, no heating, no power, no Internet He said he couldn't even get to a food store. It went on for several days, he said.
If he had the Tesla Solar + Powerwall, he would have had lights and electricity and if he had Starlink Internet, he would have had Internet too, Musk said.
"If doomsday comes, it could be helpful," he said.
Tesla has a number of projects in Texas with the energy grid system, including a 100-megawatt energy storage facility in Angleton, Texas, about 40 miles south of Houston in Brazoria County. Tesla is working with the Electric Reliability Council of Texas, ERCOT, on other major installations as well, he said. Tesla's battery technology can regulate energy usage efficiently and store a supply for times of peak demand, he said.
"If there had been Tesla megapacks here during the blizzard, the power would not have gone out," Musk said.
In addition to energy and the Giga Texas plant, Tesla is launching discount car insurance in Texas next week, Musk said. Telsa currently offers car insurance in California since 2019. It is only available to Tesla owners. Musk said Tesla plans to enter other markets and roll out nationwide next year, but that it's a cumbersome process getting regulatory approval state by state.
Musk moved to Texas last December after selling his houses in California. His other company, SpaceX, has a rocket factory and launch facility called Starbase near Boca Chica, in South Texas. SpaceX also has a Rocket Development and Test Facility in McGregor, West of Waco. SpaceX recently announced plans to build a $150 million rocket plant at the site, according to the Waco Tribune.
Another Musk venture, The Boring Company, also moved to Austin. The Boring Company is reportedly in talks with the cities of Austin and San Antonio to build a tunnel between the two cities – a stretch that spans about 75 miles and would create an even bigger tech region, according to a report in Auto Week.
In addition to Musk, Billionaire Joe Lonsdale, who is friends with Musk and worked with him at PayPal, moved 8VC to Austin last year and has big plans for developing the central Texas region. And Billionaire Jim Breyer, founder and CEO of Breyer Capital, also moved here and he has invested in dozens of Austin-based ventures.