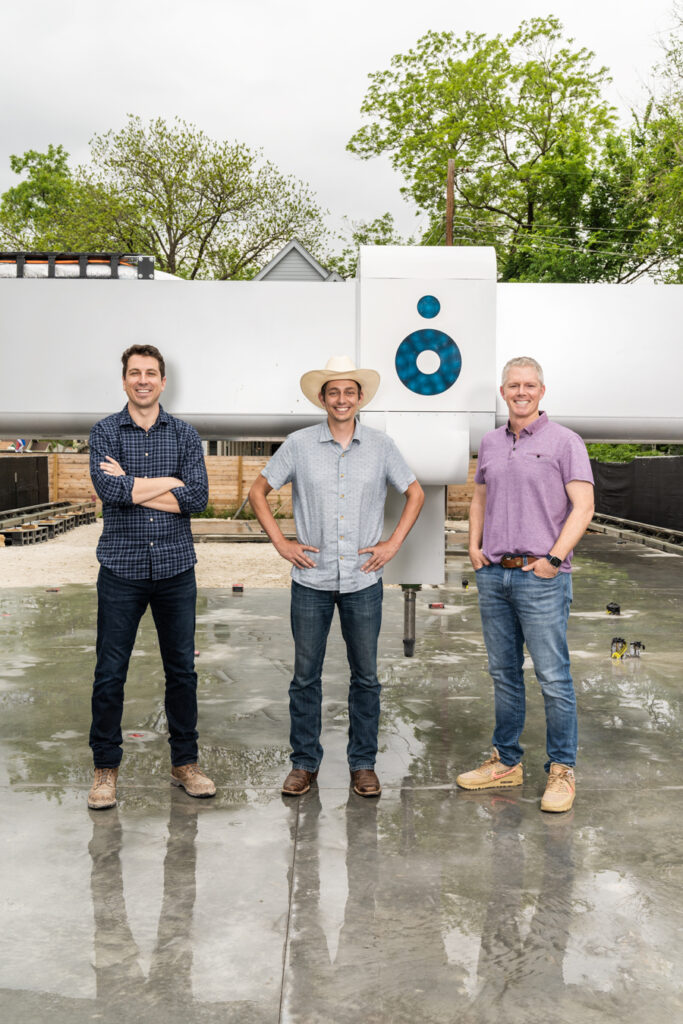 ICON, the Austin-based startup that builds homes with its giant 3-D printers using concrete as substrate, has four large-scale 3-D home printers and it has tens of thousands of requests for homes.
"It's sometimes heartbreaking but you have to decide what to say yes to and what to say no to," said Jason Ballard, Co-Founder, and CEO of ICON.
That's one of the reasons ICON sought more funding, Ballard said. The company announced Monday that it has completed a $207 million Series B round of financing led by Norwest Venture Partners. It's one of the largest fundraising rounds for an Austin-based company in history.
Other investors included 8VC, BIG-Bjarke Ingels Group, BOND, Citi, Crosstimbers, Ensemble Fifth Wall, LEN Moderne Ventures and Oakhouse Partners.
To date, ICON has raised $266 million since launching three years ago.
With the new funding, ICON will be able to say yes to more projects and will be able to scale up its manufacturing operations, Ballard said. It allows the company to scale up its operations faster, he said. ICON's new Vulcan construction system can 3D print homes and structures up to 3,000 square feet.
"This is like the Apollo program for the future of the building industry," Ballard said. ICON is trying to attract the most brilliant engineers, scientists, architects, operators, and leaders, he said.
"We are assembling the Avengers," Ballard said.
ICON is focused on tackling one of humanity's most profound problems which is homelessness, but it's also focused on profound opportunities to build lunar space stations and Mars habitats, Ballard said.
ICON has built about two dozen homes all together in Texas and in Mexico, Ballard said. It teamed up with Mobile Loaves and Fishes, a nonprofit organization focused on helping Austin's homeless, last year to build six 3-D printed homes for Community First! Village, a 51-acre master-planned development in Austin.
In addition to the Mobile Loaves & Fishes project, in 2020, ICON built 3D-printed homes in Mexico alongside nonprofit partner, New Story. ICON also partnered with the Defense Innovation Unit and the United States Marine Corps to train Marines to operate its technology and complete a field demonstration print at Camp Pendleton.
ICON plans to spend half of the money it has raised on scaling operations and the other half on innovation to make its printers even better, Ballard said.
"To make it faster, to make it cheaper, and to improve sustainability," he said. It was only three years ago that ICON printed the first 3-D house in America, he said.
"And so, we're still early days and there's a lot more research and development to be done as well," Ballard said. "But we didn't want to wait until all of that was done before putting more houses on the ground for folks because the needs are profound."
ICON has already doubled its workforce this year to more than 100 employees and plans to double its workforce next year and again the year after that, Ballard said.
ICON has a manufacturing facility in South Austin, and it has enough space to accommodate its growth for the next 18 months but it will most likely need to expand after that, Ballard said.
In addition to working to provide more housing, ICON participated in a NASA 3-D habitat building challenge which led to the company being awarded a contract to deliver a 3-D printed habitat, known as Mars Dune Alpha at NASA's Johnson Space Center. NASA will be using the 3-D habitat for training and is already soliciting applications from people who want to participate in the year-long Mars mission simulations.
ICON also received funding from NASA for "Project Olympus" to create a space-based construction system to support future explorations of the Moon. It's at the Marshall Space Flight Center as part of the Artemis program, Ballard said.
The space projects started out as a small side project, but now they've become so big ICON is hiring entire teams dedicated to work on each one, Ballard said.
"I have the most fantastic job," Ballard said. "Depending on the day, we're trying to figure out how to house homeless who are combating housing affordability and then the next day it's like moon bases."
ICON is the only company in the world where both of those kinds of efforts in underway in a very serious way, Ballard said.
"Our work with NASA has helped us mature the technology faster," Ballard said. "The civilization that builds the moon base is going to be the same civilization that finds a way to end homelessness. These things go together, and they are not in competition at least not in our context."
In the next 90 days, ICON plans to make a "pretty large" announcement for housing in the Austin area, Ballard said. He can't provide details yet, but soon, he said.
"ICON's groundbreaking technology has created a new paradigm for homebuilding that fundamentally changes how housing is constructed," Jeff Crowe, managing partner, Norwest Venture Partners, said in a news release. "The company is already building everything from single-family homes for the homeless all the way to structures for habitation on the moon and Mars. But we are particularly excited about the opportunity for ICON to collaborate with home builders and massively impact the housing shortage currently plaguing the U.S. We're thrilled to add ICON to our portfolio of innovative prop-tech leaders and look forward to partnering with the team in the years ahead."
In early 2021, ICON began building the first 3D-printed homes for sale in America for developer 3Strands. Most recently, ICON debuted its new Exploration Series featuring "House Zero," which was designed for 3D printing and features an elevated architectural and energy-efficient design that highlights resiliency and sustainability.