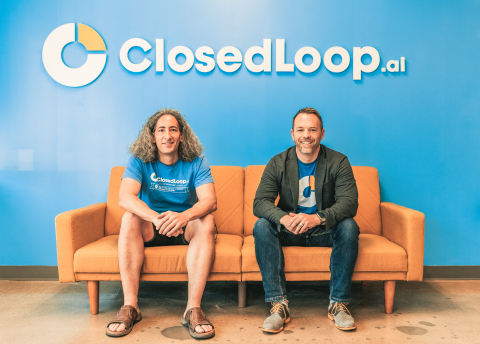 ClosedLoop.ai, a healthcare technology startup, recently raised $34 million in funding.
The Austin-based company plans to use the funding to hire additional staff and to further develop its data science platform for the healthcare industry.
Andrew Eye, ClosedLoop.ai's CEO and Co-Founder, recently sat down for an interview with the Ideas to Invoices podcast to talk about his latest venture. Eye previously founded and sold two other technology companies.‍
In 2012 Eye co-founded the mobile software company Boxer, email management software. In 2015, VMWare acquired Boxer.‍
Before Boxer, Eye co-founded the cyber security firm Ciphent in 2007. Ciphent grew to nearly 100 employees with 1,000 customers by 2010 before being acquired by Accuvant (now Optiv).
Eye teamed up with Dave DeCaprio to found CLosedloop.ai in 2017. Eye had previously worked with DeCaprio, who was working on applying machine learning to the healthcare industry.
The venture became even more personal to Eye following a healthcare challenge after his youngest daughter was diagnosed with auto-immune hepatitis.
"The diagnostic odyssey we kind of went on in that process made me really realize how little our health data as patients is used in trying to figure out what's wrong with us or what to do about it," Eye said.
In April, ClosedLoop.ai beat out more than 300 participants including IBM, Mayo Clinic, Accenture, and Merck to win the $1.6 CMS AI Health Outcomes Challenge.
"We thought this contest was tailored made for us from the beginning," Eye said. "What they were asking the industry to build was AI that physicians trust. We had already been working on that for two years at the time. The contest ended up being a two-year-long contest because of COVID, it kind of stretched out."
ClosedLoop.ai had been building software that could create proprietary algorithms uniquely tailored to each clinic or hospital system to identify at-risk patients and recommend the best course of treatment for each person. The company had created the right product at the right time for the challenge, Eye said.
"One of our favorite sayings is the harder we work, the luckier we get," Eye said.
The final submission for the contest was due the week the massive snowstorm hit Texas last February. Eye had no power in his house for six days. He drove his truck to the end of his road because he couldn't get out of his neighborhood. He parked in his car and used his cell phone to tether to the Internet and he worked up to eight hours each day on the project and then uploaded ClosedLoop.ai's submission documents for the contest.
"We put every ounce of effort into winning this because we think it's really important in demonstrating what artificial intelligence can do in healthcare," Eye said.
"One of the things we like to say here at ClosedLoop is we predict the future so you can change it," Eye said. "You – being a doctor, you – being a patient, you – being a nurse, you – being a care manager. So, the idea is to leverage any linkable patient data that is available to predict future health events."
Usually, patient data is anchored in historic electronic medical records, admissions records for hospitals and clinics, and social determinants of health like whether you live in an area with good grocery stores, Eye said. ClosedLoop.ai takes all this linkable data and takes other features like prior diagnosis, current medications, and other variables and puts them into an algorithm and what comes out on the other side is predictive analysis, Eye said.  
"There is no one master algorithm that is accurate for everyone," Eye said.
Because the reasons people get admitted to a Medicare-focused practice in South Florida is different from the reasons people get admitted to a Medicaid-focused practice in the Bronx, Eye said.
"You're going to have kids with asthma exacerbation in the Bronx and you're going to have retirees who are falling and breaking hips in South Florida."
Winning the CMS Challenge promoted ClosedLoop.ai to raise its Series B round of funding about 18 months earlier than it had planned, Eye said. It had the opportunity to get some really strategic investors on board, so it raised the $34 million relatively quickly, Eye said.
The Series B investment round was led by Telstra Ventures with participation from Breyer Capital, Greycroft Ventures, .406 Ventures, and Healthfirst. Notable angel investors Adam Boehler, former director of the Centers for Medicare and Medicaid Innovation and CEO of Landmark Health, and Sam Palmisano, former CEO of IBM, also participated in the round. 
For more, listen to the entire podcast, pasted below, or wherever you get your podcasts – available on Google play store, Apple iTunes, Spotify, PlayerFM, Libsyn, and more.