By Laura Kobylecky, Special Contributor to Silicon Hills News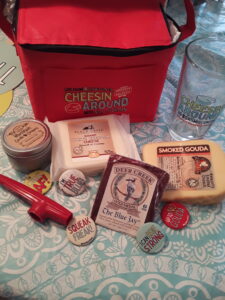 This year, like many conferences, South by Southwest transformed into an online experience and became SXSW Online 2021. As a result, brands were unable to do their usual level of in-person experiential market events. However, Wisconsin Cheese made an effort to bring some of their usual SXSW energy.
At SXSW in 2019, Wisconsin Cheese created a particularly popular marketing event. They had a room full of cheese at the Austin Convention Center. Badge holders stood in a fairly long line to get into this event. Inside, there was a giant cheeseboard that spanned the length of the room. The edges of the room also had samples of cheese.
At times, a woman in a large dress with a wide skirt that held champagne flutes wandered through the room offering drinks. There were free samples of cheese to take home. There were also commemorative promotional items like postcards, buttons, and stickers. People stood around at small tables eating plates of cheese.
This year at SXSW, Wisconsin offered a virtual cheese experience. People were given the chance to RSVP to "Cheesin' Around with Nick Offerman at #SXSWisconsin." Some people were also sent samples of Wisconsin cheese. The Wisconsin Cheese Twitter account says that 2,021 customized boxes were sent out to people at "SXSWisconsin."
I was sent one of the cheese boxes. It contained smoked Gouda, sharp cheddar, and a block of pungent blue cheese. There was also a Wisconsin Cheese lunchbox, a pint glass, some buttons, and a kazoo. This is the sort of thing you might normally expect from certain promotional marketing events at SXSW.
The event itself occurred over a Zoom call. There were several of these 30-minute sessions scattered throughout the day on Thursday, March 18th. There were a large number of people on my Zoom call. They all seemed cheerful and happy to be there. Some were eating the cheese they had been sent. People were encouraged to use their "Wisconsin Cheese" kazoos to hum a song.
Nick Offerman was summoned to the Zoom call. His overall demeanor was a bit similar to his popular character on Parks and Rec, Ron Swanson. However, Nick seems a bit friendlier than Ron. He really liked the bag of cheese curds he was sent and claimed to have finished half already.
Later, a dairy farmer from Wisconsin joined the Zoom call and he talked with Offerman about sustainable dairy practices. They discussed the importance of sustainability in farming. Offerman seemed particularly interested in the subject.
Later in the Zoom call, there were some celebrity cameos that included Paul Lieberstein, widely known as "Toby." The call was concluded with a brief cameo by American smooth jazz saxophonist, Kenny G. Spirits were high throughout the zoom call. I would have to say it was one of the most cheerful zoom calls that I've been on recently. Despite the distance, elaborate marketing stunts were alive and well at SXSW Online 2021.