Bob Metcalfe wanted to make Austin and Texas into a better Silicon Valley.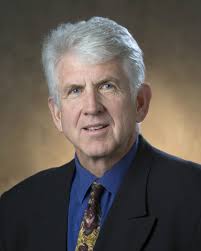 "My work here is done," Metcalfe said.
In the last decade, Metcalfe has made it his mission to ignite the startup and technology community in Austin and across Texas in what he often jokes are Austin's suburbs of San Antonio, Houston, and Dallas.
But just as the tech scene is red hot in Austin, it's the end of an era for Metcalfe.
At the end of the year, Metcalfe, inventor of Ethernet, founder of 3Com, plans to retire from his tenured and endowed professorship at the University of Texas at Austin. For 11 years, Metcalfe has served as Professor of Innovation in the Cockrell School of Engineering and Professor of Entrepreneurship in the McCombs School of Business, Murchison Fellow of Free Enterprise.
During Metcalfe's tenure, Austin has become one of the hottest tech hubs in the world. Google, Facebook, and Apple have all expanded here. Oracle moved its headquarters to Austin. So did Zoho. And last summer, Tesla picked Austin for its $1.1 billion Gigafactory that will make Cybertrucks and other electric vehicles.
In addition to the big tech companies, dozens of startups have spun out of the University of Texas at Austin and hundreds of others have made Austin their headquarters. That trend accelerated last year during the Pandemic as entrepreneurs, venture capitalists, and startups moved to Austin from California and other cities.
Chief among them, Jim Breyer, founder and CEO of Breyer Capital, moved to Austin and opened an office here and has made several investments in startups. In addition, Joe Lonsdale an entrepreneur, investor, and philanthropist, moved 8VC, an investment firm, and The Cicero Institute, a public policy think tank, to Austin this summer. And Elon Musk also recently moved to Texas.
"People want to be in Austin because people want to be in Austin," Metcalfe said. "That leads to unusual behavior."
It also has a network effect that tracks with Metcalfe's Law, which states that the value of a network is proportional to the square of the number of connected users of the system. Austin becomes a better place for technology startups to take root and grow as the infrastructure for them expands as well as the talent pool.
"I think the one negative is the damn city council," Metcalfe said. "They want Austin to be weird and that's off-putting."
Metcalfe has always said he wants to make Austin wired, not weird.
For the past two years, Metcalfe has headed up an effort to promote the use of geothermal energy.
"Geothermal is always listed as "other" as an energy source, but it has the potential to take it all over," he said.
In October, Metcalfe will finish up at TexasGeo.org, an organization he co-founded to promote geothermal startups, which was funded by a $1 million U.S. Department of Energy grant.
Metcalfe has also helped launch dozens of student-led startups as part of the Longhorn Startup program. He is teaching Startup Innovation this semester to 18 first-year students. His last class is on May 5th.
Metcalfe is also continuing to award innovation grants to professors from a fund at the Texas Innovation Center, of which he is the founding director.
After that, Metcalfe plans to start his 6th 10-year career, which is yet to be determined. Metcalfe's careers, each roughly spans a decade, including his work at Xerox Palo Alto Research Park where he invented Ethernet on May 22, 1973.
His other careers include founding 3Com, working as a pundit and publisher for InfoWorld, and serving as a venture capital partner with Polaris Partners in Boston.
Metcalfe turns 75 on April 7th but "that's not for me any kind of triggering date."
"By 12/21 I will have been at UT Austin for 11 years, which is too long, time to move on," Metcalfe said.
Whatever the opposite of Meta is, that's the direction Metcalfe plans to explore.
"The default is to stay here in boomtown," he said. Metcalfe has a house in West Lake Hills. But he also has a home in Maine, where he spends his summers with his wife, Robyn. His grown children, Max and Julia, live in California and have formed a startup, The Working Team.
Asked if he would consider becoming the Mayor of Beta City, the tech town Lonsdale talked about creating in Texas with Elon Musk, Metcalfe said yes.
"Anything that Elon Musk is involved in, I want to be involved in," Metcalfe said. "He's my new hero these days. He's replaced, Steve Jobs."
At 2 p.m. on Tuesday, March 23rd, Metcalfe will be the featured speaker on Silicon Hills News' Tech Talk club on Clubhouse. To hear more about this story, tune in!