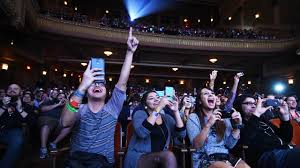 The show isn't going on after all.
On Friday, City of Austin officials held a press conference and announced the cancellation of SXSW and SXSW.EDU, set to take place next week.
"We are devastated to share this news with you. "The show must go on" is in our DNA, and this is the first time in 34 years that the March event will not take place," according to a statement from SXSW. "We are now working through the ramifications of this unprecedented situation."
Earlier in the week, City Officials said the show would go on. But on Friday, Mayor Steve Adler, Travis County officials and a health advisory board, decided to cancel the event amid growing concerns about the spread of the Coronavirus.
"We are exploring options to reschedule the event and are working to provide a virtual SXSW online experience as soon as possible for 2020 participants, starting with SXSW EDU," according to a SXSW statement. "For our registrants, clients, and participants we will be in touch as soon as possible and will publish an FAQ."
SXSW is a huge event for Austin. Last year, SXSW attracted 417,400 people to Austin including participation from more than 100 countries. It also had an impact on the Austin economy of $355.9 million, according to SXSW.
And even before the SXSW cancellation, several tech companies announced plans to withdraw from various panels, keynote talks, parties and other events.
There are no confirmed cases of the Coronavirus in Austin. But Texas now has five cases of people testing positive for the Coronavirus in the Houston area. The cases are among a group that travelled overseas together.
San Antonio also had some people who tested positive for the Coronavirus that were evacuated from China and from a cruise ship off the coast of Japan to Lackland Air Force Base. They were being held in quarantine.
The ripple effect of SXSW being cancelled will be felt throughout the local economy in hotels, restaurants, bars and stores.
"I'm not surprised SXSW was cancelled but I'm worried about the local restaurants that needed the revenue," said Tony Tovar, head of community for Sana Benefits, an Austin-based healthcare startup. "I asked all of my coworkers to support their neighborhood restaurants, bars, coffeeshops, etc."
Earlier in the week, Joshua Baer announced Capital Factory would not be hosting its Austin Startup Crawl, an annual ritual involving hordes of people visiting various tech centers around town. He also said Capital Factory cancelled Capital Factory House at SXSW and would not be hosting activities at its offices as it originally planned.
"Safety is our top priority," Baer wrote in a post on Medium. "There is no hesitation about this decision after reviewing all of the available information and speaking at length with all of our team, our members, our partners, and our advisors."
Ben Lamm, co-founder, and CEO of Hypergiant, also announced Friday that it was no longer hosting three days of special events focused on the space industry and artificial intelligence at its headquarters downtown.