By LAURA LOREK, Publisher of Silicon Hills News
Ask anyone who has worked at multiple companies and they probably have a story about a bad experience joining a new organization.
Companies spend, on average, $2,500 to hire a new white-collar employee, but once they hire them, they should spend a little more money bringing them on board the company in the best way possible, said Brent Pearson, founder and CEO of Enboarder. And for blue collar jobs, the problem also exists and can lead to turnover quickly if the onboarding experience is not handled right, he said.
That's the opportunity Pearson identified as a Human Resources technology provider. He saw that a lot of the products on the market were geared to making it easier for HR employees to handle paperwork without focusing on the new employee experience.
"It became clear to me traditional onboarding is badly broken," Pearson said. "Almost every company you speak with has been struggling with it."
So, in 2015, Pearson founded Enboarder which has created an HR software platform that personalizes the process of joining a new company.
"The way you bring someone into a company can have profound impact on employee retention and customer satisfaction," Pearson said.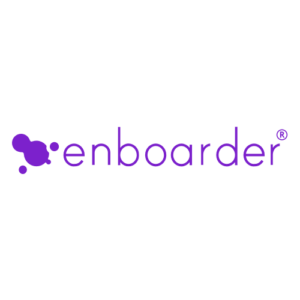 Enboarder announced Wednesday it has raised $8 million. With the new funding, the company which is based in Sydney, Australia, plans to make Austin its new U.S. headquarters. Enboarder, founded in 2015, currently has six Austin employees but plans to more than triple in size this year. The company, with 40 employees overall, is planning to double in size in the next year and is hiring employees for sales, marketing, customer success and product functions.
Greycroft, a previous investor, led the Series A round with participation from new investors Next Coast Ventures and Stage 2 Capital. To date, the company has raised $12 million.
"Employee expectations are higher than ever and Enboarder is helping companies really own and drive personalized onboarding experiences at scale," Thomas Ball, co-founder and managing director of Next Coast Ventures, said in a news release.
Enboarder has more than 200 global customers including McDonald's, Hugo Boss, EA Games and Eventbrite. In addition, Enboarder's corporate client portfolio includes Gap, Verizon, Wyndham and, most recently, Compass, the 10,000-employee real estate brokerage firm.
"We're living in an experience era and yet we welcome new hires with a process. Employees have all the power today and place a premium on experience," Pearson said. "Employers need to adapt in order to thrive, and that's what we're focused on at Enboarder."
Enboarder is one of a growing number of local startups with connections to Australia.
Others include BigCommerce, founded in Sydney, and now headquartered in Austin with two locations and more than 400 employees. And Atlassian founded in 2002 in Sydney, Australia, which has a 75,000-square foot office in downtown Austin and more than 300 employees. And ShippingEasy which relocated from Sydney, Australia to Austin in 2012 and four years later Stamps.com bought the company for $55 million.
And more recently, Tiger Pistol founded in 2011 in Melbourne, Australia and moved its headquarters to Austin in 2017.
"Austin has a fairly unique culture about it that is attractive to Australians," Pearson said.
Currently, Enboarder is based at WeWork on Congress but plans to move into a new space downtown in coming weeks. Pearson also splits his time between Austin and Sydney. He has an apartment here.
Here's how Enboarder's software works: a new hire at the Gap is going to start work in three weeks. He gets a text message sent to his phone to kick off the onboarding process. When he taps the link, the experience starts. It could be a letter from the CEO welcoming him onboard or a video from his manager and new team or a video about the company overall. A week later, he gets another text message requesting information about his favorite sports team, hobbies, favorite foods, preferred snacks and other interests and passions. That information goes to his manager. And then on his first day, the manager could have his workstation decorated in his favorite sports theme, his favorite snack on hand and could take him to lunch featuring one of the foods he likes.
"All of those little things cost the company nothing and they create a really important team vibe," Pearson said. "You feel really welcomed."
And the result has been increased retention of employees, happier employees who then provide great customer service, Pearson said. Almost every one of our customers report reduction in first year turnover, he said.
Enboarder's technology platform is built to scale too, Pearson said. A New York-based real estate company acquired a company with 1,600 employees and used Enboarder's platform to onboard them all at once, he said. And Enboarder's software easily integrates with existing technology and can be up and running in a few hours, Pearson said.
"Our systems are designed to scale whether you hire 50 new people a year or 500,000 a year," Pearson said.
In a tight job market, how a company brings a new employee into the organization can make all the difference in retaining that employee and recruiting new ones, Pearson said.