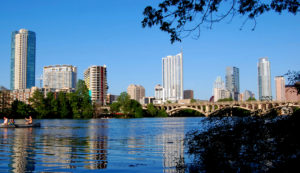 The key to a thriving technology center is tech talent.
And Austin has it, according to a new report from CBRE Group, a commercial real estate services and investment group. The city ranks fifth, up three spots from a year ago, in its annual Tech Talent Scorecard which ranks 50 U.S. and Canadian markets. The research report examines those cities ability to attract and retain tech talent.
Austin is a top "brain gain" market with 9,758 graduates between 2010 and 2014 and the city added 24,590 tech jobs between 2011 and 2015, according to the report. During that time, Austin had a net gain of 14,832 jobs.
The top market for tech talent is San Francisco Bay Area followed by Washington, D.C., Seattle and New York City, according to the report.
The CBRE report also shows emerging tech markets in Nashville, Charlotte, Tampa, Seattle and Phoenix.
CBRE compiles its Tech Talent Scorecard from 13 metrics including tech talent supply, growth, concentration, cost, completed tech degrees, industry outlook for job growth and market outlook for both office and apartment rent costs.
Another Texas city, Dallas/Fort Worth, ranked sixth on the list. It was followed by Boston, Raleigh-Durham, Atlanta and Baltimore.
Another key to a thriving tech market is to have highly educated people. "Nearly 70 percent of the top 50 tech talent markets have an educational attainment rate above the U.S. average of 30 percent. Austin was the No. 7th market for educational attainment at 47.6 percent.
Having a young workforce is also important.
"Austin's population of 20-something millennials grew by 12,800, or 7.5 percent, since 2009–representing 11 percent of Austin total growth in a population of 913,000," according to the report. "Austin's population is made up of 20.2 percent millennials, compared to the U.S. average of 14.2 percent, making it one of the top 10 most concentrated millennial markets among the 50 markets examined in the report."
"Although a relatively small portion of the economy, tech-talent employers spurred economic activity and added more than 1 million tech jobs during the past five years," Colin Yasukochi, Director of Research & Analysis, CBRE, said in a news release. "As a result, tech talent growth has recently been the top driver of office leasing activity in the U.S. and high-tech companies are now one of the main drivers of commercial real estate activity."
All that activity led to a 30 percent increase in rents in Austin from the first quarter of 2011 through the first quarter of this year, according to the report. Office rent is now $32.65 per square foot, the third greastest increase in the CBRE study behind San Francisco Bay Area and New York City. Austin's vacancy rate dropped 12.2 percentage points to 10.1 percent over the same period, the largest drop of the 50 markets in the CBRE study.