BY ANDREW MOORE
Reporter with Silicon Hills News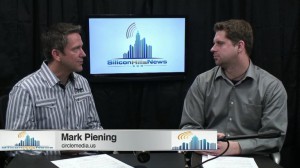 This week, we talked with Circle Media founder and CEO Mark Piening about his new startup. Incorporated just last January, Circle Media officially launched at SXSW and was one of the five finalists in the Startup Austin Fast Pitch Competition. The Austin based company does data analysis for both event promoters and sponsors to help them better understand, and interact with, customers at their events.
"How do you help these sponsors and these producers of live events make the best live event experiences possible? The only way to do that is to know the audience." says Piening.
Piening says that the value in knowing the audience comes from sponsors being able to specially target certain demographics. In some cases, sponsors could even connect with and interact with event attendees — offering them coupons or spontaneous opportunities which make the event a more personal and memorable experience.
To do this, the company collects data from event ticket sales, registration, drinks sales, tweets that reference the event, Facebook posts, Foursquare check-ins, consumer data sources and more. They then analyze the data and present it to clients to help them make informed marketing decisions.
The company presents the information through an online dashboard that gives clients everything from who came to their event to what those people said about the event afterwards — helping the clients make better decisions about programming, merchandise, concessions and anything else that was part of the experience. Piening believes this approach can create a fundamental shift in how marketing works.
"We think that the 21st century is the era of authenticity," says Piening. "It's an opportunity [for marketing] to really connect with people like friends, be treated like friends, and be respectful like friends in how they communicate with people.
Circe Media has already secured a fortune 50 software company and is in the process of process of implementing a solution for that client. They are currently recruiting marketing agencies and seeking other fortune 500 clients.
Circle media is now hiring developers with experience in Node.js, REAK, Redis, and user experience.