By SUSAN LAHEY
Reporter with Silicon Hills News
Every year, Formula 1 teams the world over have to design and build a new car, including redesigning all its roughly 4,000 components, in seven months.
Each component, car and driver must meet intense standards of performance, safety and efficiency that the Federation Internationale de l'Automobile changes yearly.
According to Nick Fry, CEO of Mercedes AMG Petronas Formula One team, a successful F1 car, racing internationally, costs about $200 million annually. And in many cases about half of that is funded by spinning off the incredible technologies these teams devise into products for industries including transportation, health care, defense and space programs.
Friday, UK Trade & Investment and the Central Texas Angel Network sponsored a Formula One Tech Rally at the AT&T Executive Education and Conference Center featuring representatives from three different British teams: Fry, Geoff McGrath, managing director of McLaren Applied Technologies and Kirsty Andrew, head of commercial operations for Williams Advanced Engineering. Motorsport, the speakers said, is in Britain's DNA and the country has led in F1 championships.
The reason for the focus on F1 technology in Austin is because the U.S. Grand Prix debuts here on Sunday. The
Circuit of the Americas
track,
designed by University of Texas graduates
, has the capacity for 120,000 and cost roughly $400 million.
People have traveled to Austin from all over the world to watch the 24 drivers compete in the sold out race.
The F1 cars are reported to be "the most technologically advanced in the world. They have V8 engines that scream at 18,000 rpms and, literally, shake your insides as they fly by," according to an ABC News report. The cars can reach speeds of up to 185 miles per hour.
NetApp 360 has put together
this graphic
detailing how much technology is involved in the F1 racers.
Each of the panelists on Friday explained how teams are challenged to improve their performance by 10 percent annually and each year they reexamine and redesign everything. For Williams' team, that has translated into creating high performance flywheel Kinetic Energy Recovery System (KERS) they sold to the London transportation system, increasing city buses' fuel efficiency by 20 percent. And subsequently building a battery KERS that went into the new electric Jaguar that can go from 0-to-60 in 3.4 seconds. Besides buses and trains, Andrew said, "We're talking about putting these in remote locations, the mining industry, wind turbines."
McGrath talked about McLaren's focus on data collection and application.
"It's what you do with the data that sets you apart," he said.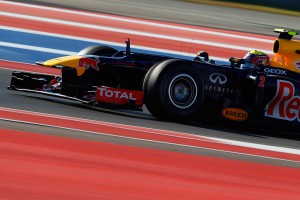 "When you feed it to actionable intelligence models, you get predictive intelligence which gives you the capability of prescriptive intelligence, real time strategy and decision making so you can compete for the future based on real time data today."
One area where his company has poured that data is into performance improvement for the drivers themselves, improvements that emergency rooms, the military and others who need people to move fast, decisively and skillfully can use. McLaren invented a simulator for F1 drivers that is, according to Fry "significantly in advance of flight simulators." Calling it Play Station on steroids, Fry said the simulator—which drivers from many teams use—tricks the driver's brain so it can't tell the difference between an actual track and the simulator.
Moreover, as McGrath said, "The drivers, of course are, are high performance athletes who can process data fast and consistently, something that would be highly prized by any executive."
Another product they have devised is sensors to give performance data both on the machine and the driver, since data drives everything. The sensors were tested on elite athletes, but McLaren had to be strategic about that.