Geekdom
for
3 Day Startup San Antonio
with an idea for a company.
When the 40 participants broke into nine groups to brainstorm, Pyle presented his idea. He has a patent pending on a device called the
Amazing Jellybean
. It's a consumer electronics product that reboots a computer and the Internet when problems arise with the Internet's connectivity.
Pyle, a former customer service representative for Time Warner, knows the pain firsthand from helping consumers reconnect their Internet. So he created a device to do it automatically.
Pyle later pitched the Amazing Jellybean to the entire group around 8 p.m. Friday night. His was one of the 18 ideas being considered. The other ideas included business templates for Facebook, Streaming Yoga, Mentor Nation, Smart Aisle, Parking Buddy, a Veteran's job portal and others.
At around 10 p.m., everyone put their heads down and voted by raising their hands for their two favorite project ideas.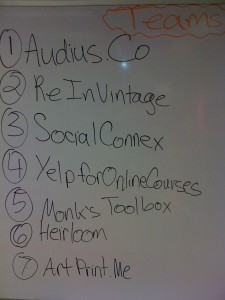 In the end, six companies got the most votes. They included Audius.co, an application that lets performers harness the power of the audience's smart phones, ReInVintag, a recycled clothing site, Social Connex, a applications developers interface with Facebook, Yelp for Online Courses, Monk's Toolbox, a graphic business app for brewers and Heirloom, an online repository for family memories. Some of the people who couldn't decide what team to join decided to revive one of the old ideas for Print.me, a portal for consumers to order prints of famous paintings and other works of art.
Pyle was disappointed his idea wasn't chosen but he was OK with the process. He decided to join the Heirloom team.
"There's a lot of different perspectives from people with different disciplines here," Pyle said.
This time 3 Day Startup San Antonio worked hard to make sure that they had a diverse crowd, said Joshua Schechter, one of the organizers. They received more than 340 applications and whittled the finalists down to 100, he said. They reached out to a fashion incubator and food incubator in town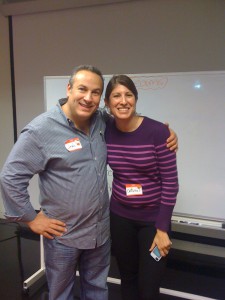 and all of the universities to get participants.

"The criteria was about passion," Schechter said. "The program is about education and entrepreneurship. We were looking for a lot of diversity."

This is the fifth 3 Day Startup Weekend in San Antonio. The first two took place at Rackspace and the rest at Geekdom on the 11th floor of the Weston Centre downtown.

'There's a lot of passion and excitement," said Luz Cristal Glangchai, associate director of Trinity University's Center for Entrepreneurship and one of the event's organizers. "The participants are super motivated."

During the three day weekend, the groups will hash out business plans, create websites and products and do customer research. They'll also dine on barbeque and dozens of different kinds of snacks ranging from pop tarts to apples. They also have all kinds of drinks from beer to Red Bull and ice tea.

But it's not all work.

The 3 Day Startup teams often have giant Nerf gun battles and have been known to play dodge ball on the roof of the building.

Lauren Anzaldua, a senior studying entrepreneurship at the University of Texas at San Antonio, pitched an idea for marketing small businesses on Facebook by using page templates. It wasn't chosen. She ended up working on the Print.Me group.

"I'm kind of just going with the flow," she said. "I like having this experience. It's beneficial either way."

On Friday, Jim Pyle arrived at