By CARLOS SALINAS
Special Contributor to Silicon Hills News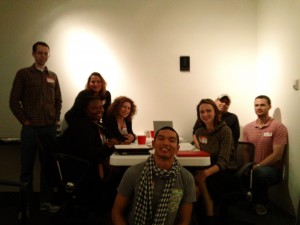 Since 3 Day Startup San Antonio kicked off Friday, some people have been working almost nonstop to fine tune their ideas.
The seven teams divided up into groups and have been toiling away in conference rooms to create logos, websites, business plans and more. On Saturday, some of the groups left the building to hit the streets to do market research to validate their ideas.
Since its founding four years ago at the University of Texas, 38 3 Day Startup events have taken place on four continents and those events have created 28 companies which have received $8 million in funding. Many of the companies have been accepted into startup accelerators such as Y Combinator, TechStars, 500 Startups, and Capital Factory. Central Texas companies to spin out of the events include Grapevine, Cabstr, Embarkly, Hoot.me, Famigo and Ordoro.
At Geekdom on the 11th floor of the Weston Centre downtown, the group members on Saturday sometimes engaged in Nerf dart wars in the lounge areas to blow off steam. They also got catered meals from local restaurants and had an entire pantry stacked with snacks from chips to chocolate.
"We didn't have much off time, but when we weren't working we were eating," said Austin Oliver, one of the 3DS participants.
"3DS is a lot of fun, but it's so bad for your health," added DeaAnna Hodges, another 3DS entrepreneur who owns her own clothing line.
Jackie Davis came to 3 Day Startup San Antonio with an idea for a ReInVintag, a service that would boost the sales and popularity of vintage clothing stores through use of her unique designs and alterations. She's been running the business out of her bedroom for several months. She wanted to take it to the next level and she thought this event would be the right way to do that. On Friday, the group selected her ideas as one of the companies they wanted to work on.
"It was an honor to be one of the finalists," Davis said. "There were so many intelligent people with great ideas, so it was a great validation to have all my peers support my idea."
This weekend, Davis wants to build out a fully functional website that will connect shoppers with the vintage clothes they want. Online her site will allow people to make simple alterations such as trimming the sleeves off a dress or shortening a hemline to tailor the clothes to their needs.
"I want to build a platform to redesign vintage clothes thus making them more wearable today and therefore easier for clothing stores to sell" Davis said.
Davis has already validated the market by creating a small and successful business at home, but she wants to take it to a bigger audience and she wants to do something that's beneficial for the environment.
That pitch resonated with many in the group because ReInVintage attracted more than 10 team members.
At 3 Day Startup San Antonio, mentors play a key role in helping the young companies get over hurdles and find the sweet spot of success in the market they want to tackle.
Nick Longo, director of Geekdom and of Strategic Initiatives for Rackspace, entered the ReInVintag team room during the first meeting Friday night and quickly made his presence known.
"No Startup will ever succeed without a noble cause," he announced to the team. Longo assigned one of the team members to be a scribe and had her write down 5 questions of attack for the team. He took a seat in the middle of the ReInVintag team room and offered his perspective on how the group should proceed. As the night grew older and thinking processes began to slow down, the team turned towards Longo for guidance.
"The next thing you need to do is assign jobs to your team-members and actually go do something," he told the group. "If no one is doing it, then you go do it!" he announced to the team as they finally progressed past the brainstorming stage and into the action stage.
Entrepreneurs Austin Oliver and DeaAnna Hodges both joined the ReInVintag team.
When asked why he joined the group, Austin responded "I felt like it was a business that would take off right away since they already have products for sale."
On Sunday, the teams will present their companies during a final pitch session at 7 p.m. It's open to the public and tickets are still available here.