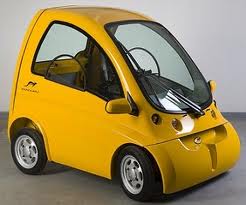 Stacy Zoern, CEO of Community Cars, Inc., runs a car manufacturing business out of Pflugerville.
But that's not the most remarkable part. Zoern, who uses a wheelchair to get around, wanted to find a car that would provide independence to wheelchair users.
Online, she found the Kenguru, an electric smart car. Only problem was the company ran out of money and shut down operations. So she raised $1.4 million and partnered with the company and they moved the defunct car operations from Hungary to Texas and began manufacturing the bright yellow smart cars in 2010.
That innovative and entrepreneurial spirit earned Zoern's Community Cars Inc. a spot on the Greater Austin Chamber of Commerce's A-List, which recognized this week 28 innovative technology startups.
Zoern's is the only car company to make the list.
The list is meant to shine a spotlight on some of the region's most innovative technology startups that are seeking funding. To compile the list, the chamber's tech partnership sought input from investors.
"Austin is rich with innovative startups that are primed for growth and simply need exposure and, most importantly, capital, to transform potential into reality," Susan Davenport, senior vice president of Global Technology Strategies for the Austin Chamber, said in a news release.
Silicon Hills News has done profiles of several companies on the list including InfoChimps, BlackLocus, Calxeda, MapMyFitness, MassRelevance and Gazzang.
This slideshare contains screen grabs of the homepages of the 28 companies that made the Austin Chamber's list for 2012.