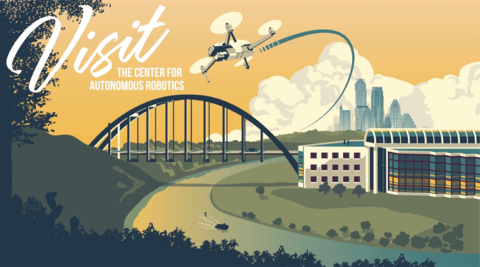 At South by Southwest, Capital Factory and Guinn Partners activated the Center for Autonomous Robotics with a two-day showcase of robots and drones.
The event took place Sunday and Monday and included a display of Unmanned Aircraft Systems technology from startups, corporations, universities, and government entities.
"Innovation is all about iteration. You have to try, fail, and try again as quickly as possible," Capital Factory CEO Joshua Baer said in a news release "If you want to innovate with drones and robots, you need to be in a location where you can easily test your designs over and over."
Capital Factory established a testing area for land, air and sea robotics of all types at its Center for Autonomous Robotics.
"The most challenging core technical problems in automation persist across industry" Colin Guinn, founder of Guinn Partners, said in a news release. "If America is going to be a global player in drones and robotics — and we should — then companies in that space need a place to collaborate and address those problems together. The CAR meets that need and so much more."
The event included participation from the U.S. Air Force, U.S. Army, U.S. Navy and more.
Capital Factory provided shuttle transportation from its downtown office to the testing site.
In addition to the event, Capital Factory House held a series of talks and panels and other programs over four days focused on artificial intelligence, robotics, data, health, and more.
Capital Factory is an accelerator, incubator for startups and a coworking space. It also invests in startups and holds pitch competitions as well as collaborates with the military and private sector on innovative projects.
Based in Austin, Guinn Partners serves clients focused on drones and mobility.