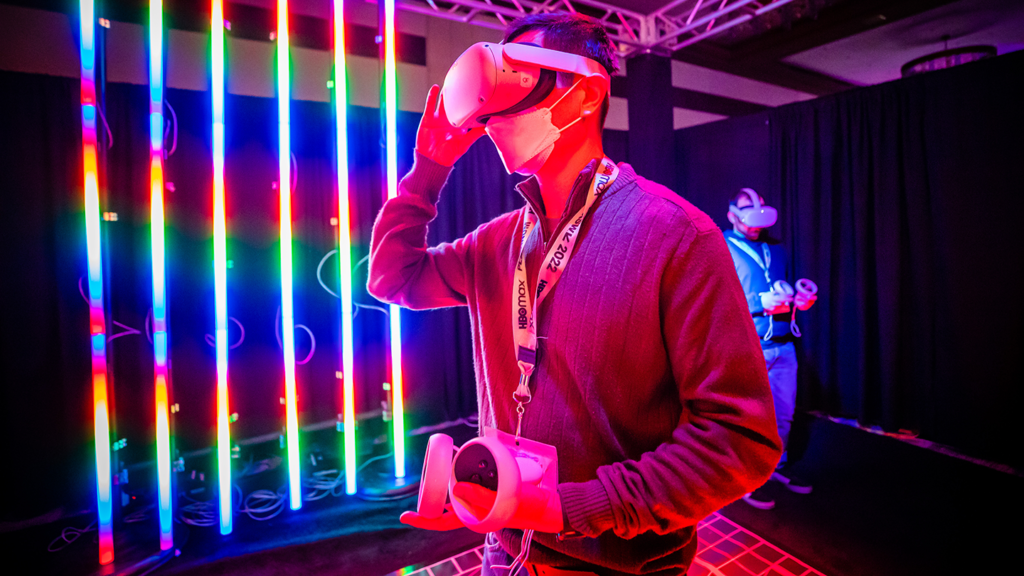 Austin-based Strap Technologies won Best in Show at the 2022 SXSW Innovation Awards.
The company makes Ara, a wearable device for visually disabled people that detects the environment and the obstacles that surround them. The device communicates in a simple and distinguishable manner through vibration with mechanical actuators.
The $500 device is expected to ship to consumers this spring. It also won the best wearable device category.
SXSW announced the award winners Monday evening. \
"The world needs more inspiration in 2022 — and we distributed massive amounts of this at the SXSW Innovation Awards last night, " SXSW Chief Programming Officer, Hugh Forrest said in a news release. "It felt so good to shine a bright light on so many incredible projects that give us more optimism about the future!"
2022 Winners
AI & Machine Learning:
Quicktime Next-Gen Insights for Personalized Brain Care – Omniscient Neurotechnology (o8t) (Sydney, Australia)
Health, Med & BioTech:
Pioneering the Future of Allergy Relief – Fluo Labs, Inc. (Chicago, IL)
Innovation in Connecting People:
Proto M – Proto Inc. (formerly known as PORTL) (Los Angeles, CA)
Music & Audio Innovation:
Undercurrent – A_DA (Brooklyn, NY)
New Economy:
Hydrogen Energy Release Optimizer (HERO) – Star Scientific, Ltd. (Sydney, Australia)
Robotics & Hardware:
Vulcan, Bulletproof Precision Weeding for Vegetable Farms – FarmWise (San Francisco, CA)
Smart Cities, Transportation & Delivery:
Intelligent Infrastructure Solution – Velodyne Lidar (San Jose, CA)
Social & Culture Impact:
Degree Inclusive – Wunderman Thompson Argentina (Buenos Aires, Argentina)
Speculative Design:
The First-Ever Waste Based Filament – UBQ Materials (Tel Aviv, Israel)
Student Innovation:
Tapis Magique: A Choreomusical Interactive Carpet – MIT Media Labs (Cambridge, MA)
Visual Media Experience:
Un(re)solved – Frontline PBS and Ado Ato Pictures (Brighton, MA)
VR, AR & MR:
Osso VR Surgical Training Platform – Osso VR (San Francisco, CA)
People's Choice:
Lift Zones from Comcast – Comcast (Philadelphia, PA)
Innovation Awards Special Recognition:
GiveDirect-Novissi COVID-19 Aid – GiveDirectly, Government of Togo's Ministry of Digital Economy & Digital Transformation, the Center for Effective Global Action, and Innovations for Poverty Action (Togo, Africa)
David Carr Prize:
Maria Ressa
Hall of Fame:
Nonny de la Peña