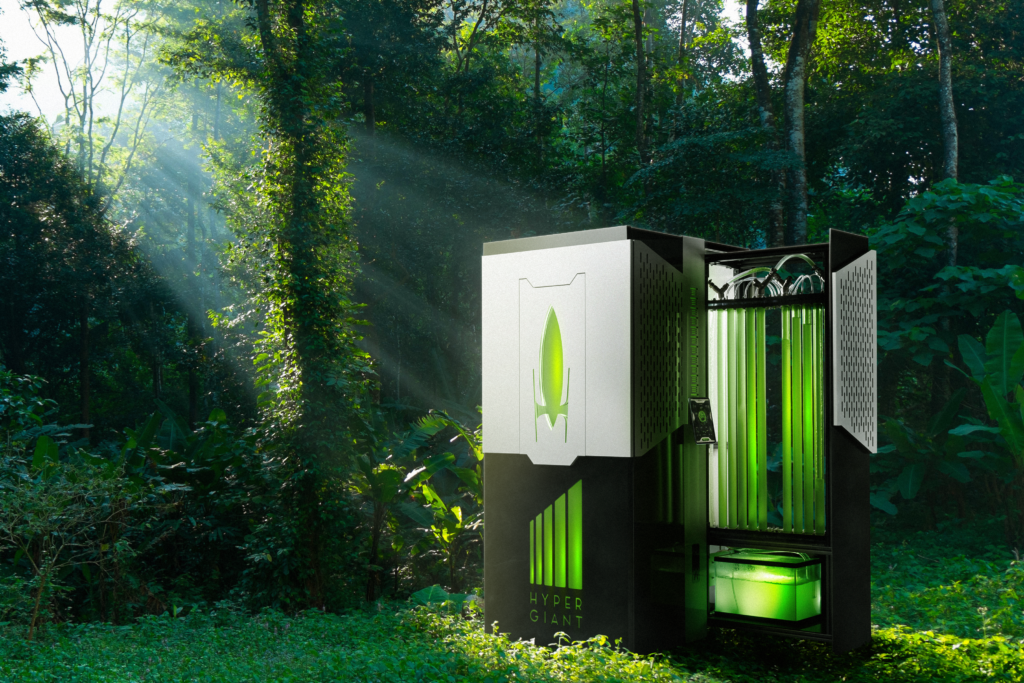 The Smithsonian's FUTURES exhibit opened Saturday featuring Austin-based Hypergiant's innovation.
Hypergiant's Eos Bioreactor, a machine that uses artificial intelligence and algae growth to pull carbon from the atmosphere to provide clean air, is on display as part of the exhibit which features some of the world's most unique and world-changing innovations. Other items in the exhibit include Virgin Hyperloop's Pegasus vehicle,  a biodegradable burial method offered by Capsula Mund, the Roomie Robot by Roomie, and an A.I.-driven agricultural rover called Mineral.
Hypergiant's Eos Bioreactor is 400 times more effective at consuming carbon dioxide than trees, said Hypergiant's CEO Mike Betzer.
Hypergiant is an artificial intelligence and software company but its team spends part of its time building next-generation prototype products like the Eos Bioreactor or a 3-D helmet powered by AI for the U.S. Air Force, Betzer said.
"We will generally bring a prototype to life and we will partner with someone in that sector to mass-produce it," Betzer said.
In this case, Hypergiant would find the next-generation energy company to bring it to market, Betzer said.
The Eos Bioreactor is part of Hypergiant's overall mission to create a  better world, from using AI technology to stop climate change and improve global conditions to streamlining smart cities, disaster relief and more.
The Eos Bioreactor is on display at the historic Arts and Industries Building, the Smithsonian's oldest museum, through July 6th, 2022. It features more than 150 awe-inspiring objects, ideas, prototypes and installations that fuse art, technology, design and history.
Hypergiant is taking a new lease in downtown Austin for space that is close to its former headquarters. Its workforce is 100 percent virtual right now, but Hypergiant plans to return to the office in February or March. It also plans to have a large office in Dallas.
"I don't think it will ever be the way it was," Betzer said.
It's part of Hypergiant's strategy of leveraging technology for good, he said.
Hypergiant has about 200 employees and it hired 35 people in the last three months, Betzer said.
"The world is trying to figure out how to leverage data," he said.
Hypergiant helps the Army, and Air Force leverage data to work smarter. And it works on infrastructure.
President Biden just signed the $1 trillion bipartisan infrastructure bill into law, unlocking funds for smart city infrastructure. That bodes well for Hypergiant, Betzer said.
Hypergiant is also focused on the ethical use of data, he said. So much data is being collected about individuals and it can be used for or against them, Betzer said. Hypergiant's focus is to use data for good, he said.
"We have a very strong opinion on the ethics of AI and helping people," Betzer said.