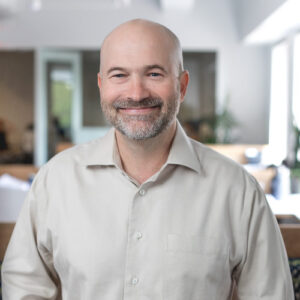 Lanham Napier led Rackspace as CEO for 13 years.
Under his leadership, the company grew from $1.5 million in revenue to more than $1.5 billion in revenue and more than 6,000 employees.
When he left Rackspace, he launched his next venture, BuildGroup, a venture capital firm in Austin, which is also his hometown.
Napier, who has an MBA from Harvard Business School and a BA from Rice University, is also the author of Billion or Bust! Growing a Tech Company in Texas, published last year.
"Austin is this really special emerging tech place," Napier said, during a Zoom interview for the Ideas to Invoices podcast.
Napier has worked in both San Antonio and Austin and understands the benefits of both cities. The Austin-San Antonio corridor could be a top ten global metropolis in the next ten to 20 years if the region works together, he said. Having a high-speed network between the two cities really matters, and a large regional airport would also help, he said.
"If you have tech in Austin and light manufacturing in San Antonio, we can really create a lot of growth here," Napier said.
Central Texas could be a data, tech, light manufacturing powerhouse like the world has never seen, Napier said.
In the last few years, there has been a major influx of California investors and companies moving to the Austin area, which has only increased during the Pandemic. That is a good sign for the city and region as a whole, Napier said. The people moving here like Joe Lonsdale and Jim Breyer are leaders in the VC industry and that only strengthens the city's brand and the region's technology base.
"I see it as a blessing and a good thing," Napier said. "I just think from a Texas point of view, it is a big injection of talent, it's a big injection of capital, it's a big injection of experience, we ought to be able to as a state build on top of that and accelerate things."
Texas also has strong innovation sources with the University of Texas System, the Texas A&M University System, and his alma mater, Rice University in Houston, which consistently ranks as one of the nation's best engineering schools. Napier believes Rice should expand and double in size to keep up with the growth of the Texas economy.
BuildGroup, founded in 2015, has more than $368 million in assets under management and has investments in Anaconda, Benefitfocus, Cybrary, DigniFi, Fiix, vidmob, X-Mode, and yonder.
BuildGroup makes investments in software as a service companies using data plus marketplaces. Its investments range from $10 million to $40 million.  
Despite the Pandemic, BuildGroup is still making investments. In June, BuildGroup announced a $14 million investment ground in DigniFi, a startup that matches financing solutions to customers and auto dealers.
DigniFi uses data to match a borrower to a bank for a car repair, Napier said.
"The company literally gets loves letters from its customers," he said.
During the pandemic, BuildGroup is working remotely, but Napier is looking forward to getting back into the office. He does go in every so often, but he's the only one there and the vacant office feels kind of creepy.
"I miss all my compadres," he said.
Some companies even after the pandemic will let their employees work remotely but there is real value and magic in getting everyone together, he said.
For more, listen to the entire podcast, pasted below, or wherever you get your podcasts – available on Google play store, Apple iTunes, Spotify, PlayerFM, Libsyn, and more.