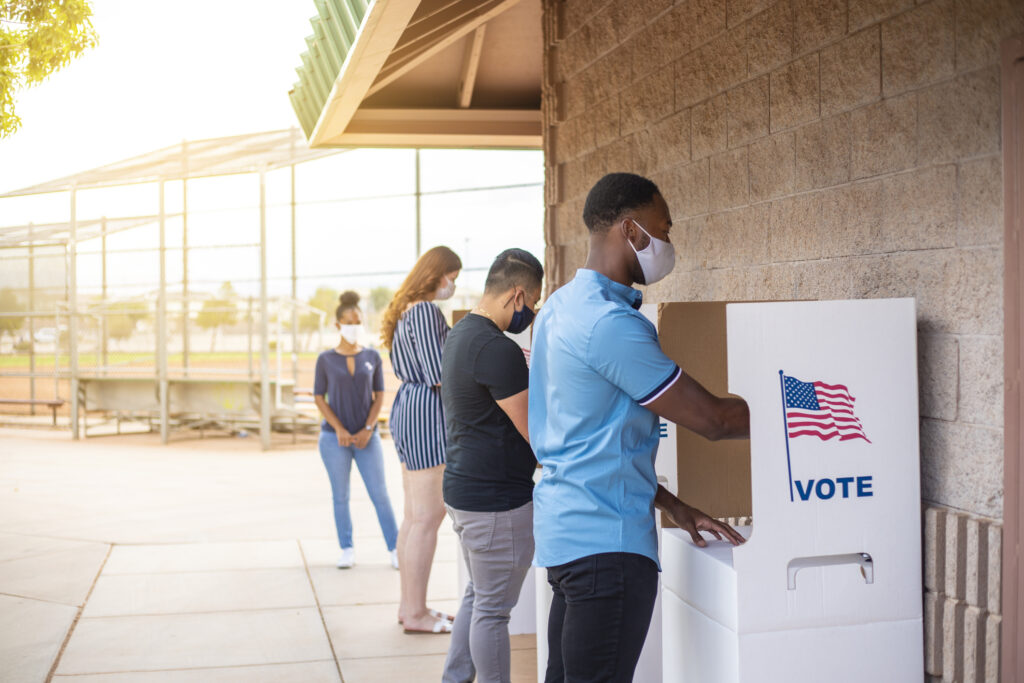 During the pandemic, the latest perk for local and national tech companies is a paid holiday on election day.
OJO Labs, Sana Benefits and Dell Technologies are among the Austin-based tech companies allowing employees time off to vote. They have joined more than 1,850 businesses nationwide that have partnered with Time to Vote to encourage businesses to give their employees time off to vote.
OJO Labs declared election day as a company-wide holiday and is encouraging its employees to treat it as a day of service, said John Berkowitz, the company's CEO and Co-Founder.
Last August, Berkowitz wrote a post on LinkedIn encouraging other business leaders to declare election day as a holiday.
"Election Day should be a national holiday, and until it's recognized as one, the responsibility falls on business leaders to help secure that right for their employees," Berkowitz wrote.
OJO Labs also joined Civic Alliance to stand up for democracy by making a non-partisan pledge in support of the democratic process.
The U.S. has historically low voter turnout and people often cite a lack of time from the demands of life and work as the reason for not voting. Time to Vote, a nonpartisan business-led coalition, is working to address the problem by partnering with businesses and giving workers the time and tools they need to cast their ballot in the November 3, 2020 election.
This year, it's needed more than ever because of the ongoing COVID-19 pandemic, said William Young, CEO and Co-Founder of Sana Benefits. Sana declared Nov. 3 as a company holiday to allow its 85 employees time off to vote.
"It is an expression of our values as a company to give that day off and empower people to participate in our Democracy," Young said. "Whatever their political persuasion, we want them to get out there and participate."
This is the first year Sana declared election day as a company holiday.
"The pandemic created the opportunity for us to be more thoughtful about how we support employees in the office and outside of the office," Young said. "When this idea came up, it made total sense for us to do it."
And after the pandemic ends, Sana still plans to keep the election holiday on the books, Young said.
"A good idea is a good idea," he said.
Voters face many challenges this election because of the COVID-19 pandemic, according to Time to Vote. Other problems include a lack of poll workers, malfunction voting machines, and long wait times.
In addition, Time to Vote is calling attention to issues of racial equality and how communities of color are disproportionately affected by systemic voter suppression.
"The need has never been greater for businesses to provide their employees dedicated time off to vote," Dan Schulman, president and CEO of PayPal, one of the three companies that founded Time to Vote in 2018, said in a news release. "No American should have to choose between earning a paycheck and voting. Business leaders around the country must step up and do what's needed to ensure all of their employees will have the opportunity to have their voices heard this November."
Time to Vote represents workers in all 50 states and spanning a variety of businesses. They include Bank of America, Ben and Jerry's, Cox Enterprises, Expedia Group, Nike, SAP, Tripadivsor, Twitter, Tyson Foods, Unilever, Visa and more.
The companies joining Time to Vote are supporting employees in a variety of ways including making Election Day a paid company holiday, offering paid time off on Election Day and actively promoting early voting and vote by mail.
"What I hope to see from this movement is a shift in mindset toward Election Day—one that increases voter turnout and enables every eligible voter to participate in decisions that impact each and every one of us," Berkowitz wrote. "Amid a global crisis and widespread social activism, this is more important today than ever before. Voting is not a privilege; it's a constitutional right. Let's start treating it as one."