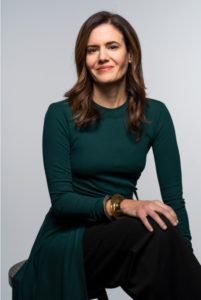 National Instruments, founded in 1976, and one of Austin's oldest homegrown technology companies, this week announced plans to rebrand to NI.
The company unveiled its new logo and launched a brand campaign with the slogan "Engineer Ambitiously."
It also launched Perspectives, an online news site with a message from NI CEO Eric Starkloff. NI is a publicly-traded company with more than $1 billion in annual revenues, and 7,700 employees, of which 2,200 are based in Austin.
Carla Piñeyro Sublett, the company's chief marketing officer, talks about the changes underfoot at NI in the latest edition of the Ideas to Invoices podcast. She joined the company a year ago, after taking a year off to travel the world with her family in search of Ubuntu, a quality that includes the essential human virtues; compassion and humanity.
That experience led her to take the job at NI and to focus on showcasing the humans behind the technology at NI. It's the first time in the company's history that it has had a Chief Marketing Officer. Previously, Sublett was Chief Marketing Officer at Rackspace and also worked in leadership roles at Dell.
"I was brought to NI to help modernize the brand," Sublett said. She soon realized the entire test and measurement industry needed to be modern. And that's what they've been working on.
NI's slogan is "Engineer Ambitiously" is about bold and creative problem solving, Sublett said.
"I think a lot of times folks don't realize engineers are amazing problem solvers," Sublett said. "And engineer ambitiously is something that can apply to anybody."
NI is in the test and measurement industry.
"And so to explain that pretty much anything that has a mechanical outcome needs to be tested and measured whether that's the car you drive in, the plane you fly on, the phone you use are some really simple and basic examples, has to be tested and measured before it can be put out to the world," Sublett said.
That's where NI operates it enables engineers to test and measure products with its software and its hardware.
"In its simplest terms, we joke that we make stuff that makes stuff work," Sublett said.
NI customers are solving some of the world's biggest problems such as solutions for clean energy, autonomous vehicles, and space missions.
NI is primarily focused on semiconductors, the automotive space, aerospace and engineering, and electronics, Sublett said.
In the podcast, Sublett also talks about how recent events like the Black Lives Matter movement and the Pandemic have shaped the company. NI recently made a donation to Notley Tide in response to the Black Lives Matter movement and is reaching out to historically black colleges and universities to increase its workforce diversity, she said.
For more, listen to the entire podcast, pasted below, or wherever you get your podcasts – available on Google play store, Apple iTunes, Spotify, PlayerFM, Libsyn, and more.
Correction: This post has been updated to clarify that NI made a donation to Notley Tide in response to the Black Lives Matter movement.
Editor's note: Silicon Hills News is on Patreon. Please visit the site to pledge just $1 a month to support the Ideas to Invoices podcast and other work we do at SiliconHillsNews.com. Thank you in advance for your support!