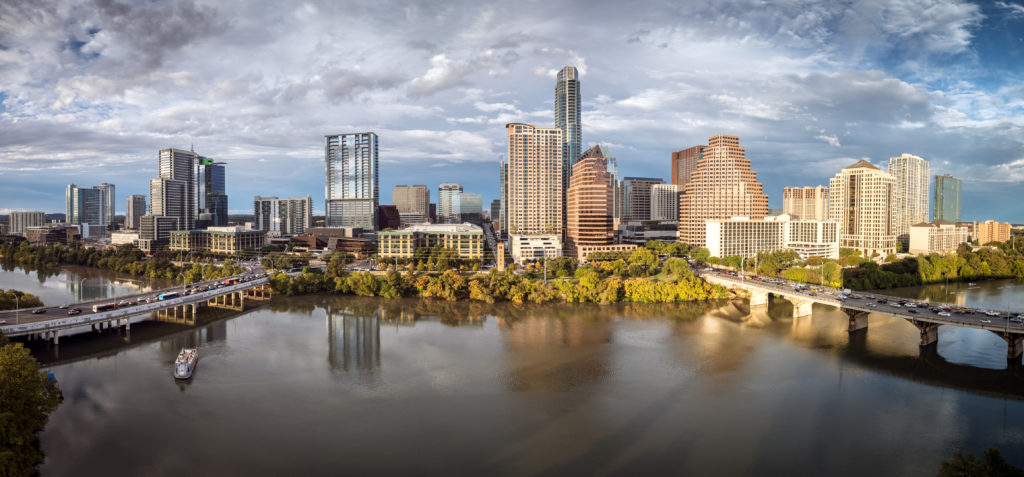 Travis County and Austin City leaders launched a central Texas task force Thursday aimed at safely re-opening businesses during the COVID-19 pandemic.
There is no return to business as usual, said Travis County Judge Sarah Eckhardt.
"This will require adapting," she said.
Eckhardt spoke during a Thursday morning online press conference coordinated by the Austin Chamber of Commerce, which is spearheading the regional task force. It will provide a "knowledgeable perspective on when and how businesses might be able to adapt and function in a COVID-19 world," according to a news release.
The task force is made up of small and large businesses in different industries, business membership organizations, and community groups focused on transportation, public health, and safety.
"The work of this task force is to honor public health priorities and focus on how to thoughtfully and safely reopen our regional economy," according to the news release. The task force members will "evaluate and account for specific needs by industry sector, evaluate the preparedness level of businesses to safeguard public health requirements and best practices, and monitor public health outcomes to determine whether adjustments need to be made and provide feedback to policymakers."
To date, the greater Austin region has reduced its COVID-19 infection rate by 90 percent, Eckhardt said. "That has kept us within our current hospital capacity," she said.
"We have not peaked yet," she said.
Texas has 21,702 cases of people testing positive for COVID-19 and 554 fatalities and 7,341 people have recovered from the disease, according to the Texas Department of State Health Services. Travis County has 1,263 cases of COVID-19 and 28 deaths and 344 people have recovered, according to the City of Austin.
Projections for the COVID-19 disease, based on computer-generated models from the University of Texas at Austin, show that there is a 64 percent chance Texas has already peaked in the number of deaths from the disease. That chance increases to 89 percent within a week and 96 percent within two weeks.
The UT model also shows COVID-19 mortality projections for the U.S. with a 99 percent chance that the peak has occurred. But that doesn't mean people are safe. Until there is a vaccine for COVID-19, effective treatment and herd immunity, another spike in infections and deaths could occur, Eckhardt said.
In the U.S. there are 843,981 confirmed cases of people with COVID-19 and 46,859 deaths from the disease, according to the Center for Systems Science and Engineering at Johns Hopkins University. Worldwide, the number of COVID-19 cases is 2.6 million and 185,494 deaths.
Governor Greg Abbott on April 17th announced the formation of a Strike Force to Reopen Texas.  His executive orders call for "selective activities and services that pose minimal to no threat of spreading COVID-19 are allowed to reopen using a "retail-to-go" model" beginning Friday, April 24th. He also loosened certain restrictions on surgeries allowing for healthcare facilities to perform elective surgeries. Gov. Abbott is expected to make more announcements on re-opening the Texas economy on Monday, April 27th.
While deaths from COVID-19 have been reduced because of social distancing, the concern is over not doing anything too drastic like re-opening all businesses at once that might lead to a spike in new cases of COVID-19 and overwhelm area hospitals, said Mayor Steve Adler.
"We have a community that has stepped forward in a selfless way to make everyone safe," Adler said.
Effective April 13th, Mayor Adler ordered all Austin residents to continue to stay home and shelter in place and to wear a face mask while going out in public until May 8th. Travis County issued a similar mandate and other Texas cities like San Antonio and Bexar County have similar orders. The face masks have been shown effective in helping to contain the community spread of the COVID-19 disease.
The regional task force to reopen the economy is being led by Laura Huffman, who just joined the Austin Chamber of Commerce as president and CEO this week. Huffman said she will work with the Governor's task force members to coordinate how best to move forward to safely re-open the regional economy.
There is a huge need to increase testing for COVID-19 in the U.S., Texas, and in Travis County, Eckhardt said. Travis County has tested about 6 out of every 1,000 residents since the beginning of the pandemic which is pretty good, she said. But the county needs 8 times that testing capacity to track and contain the spread of COVID-19, Eckhardt said.
The near-term goal is to test 2,000 to 3,000 Travis County residents per week, Eckhardt said. To do that the county has launched a free web-based platform to help residents get a free assessment and free test for COVID-19, she said. The platform will then provide people with their test results and allow them to inform others that they have come into contact with so that they can be tested, she said.
"As we open commerce, we open up the probabilities of infection," Eckhardt said.
The greater Austin region has a lot more testing capacity coming on, Mayor Adler said. He is striving to provide 5,000 tests per week, he said. Adler has also worked with Everlywell, an Austin-based startup that originally announced plans to provide consumer at-home COVID-19 testing, but has since allocated its testing supplies to healthcare facilities and hospitals.
A big concern about re-opening the economy is about moving too quickly. Travis County cannot go below an 80 percent reduction rate in COVID-19 cases, Eckhardt said. Herd immunity locally would mean thousands of deaths in Travis County, she said.
Mayor Adler said no one knows yet when all of the jobs lost due to the COVID-19 pandemic will return.
The Perryman Group, an economic development analytical firm, projects 64,900 job losses for 2020 for the Austin-Round Rock-Georgetown metropolitan area or almost a 6 percent decline. But the firm projects more than 56,000 jobs added to the area in 2021, up 5 percent.
When asked during a question and answer session with reporters about the difference between Governor Abbott's task force and Austin regional task force, city leaders said the governor's task force doesn't have a lot of representation from local government or small businesses.
Even after the governor announces his rules for the state, communities will be making their own choices as well, Mayor Adler said. And individuals will be making their own choices, he said.
The regional task force will provide written recommendations to city and county leaders by May 8th, Huffman said. The task force will emphasize transparency in all of its actions, she said.
"We don't want anything to run interference with the individual companies' ability to innovate," she said.
The following is a list of task force members, led by the Austin Chamber of Commerce, to reopen the regional economy:
Tamara Atkinson – Workforce Solutions
Mason Ayer – Kerbey Lane Café/United Way Board Chair
Jason Ball – Round Rock Chamber
Dianne Bangle – Real Estate Council of Austin
Marina Bhargava – Greater Austin Asian Chamber
Veronica Briseño – City of Austin
Joseph Cajas, III – The Cajas Digital Agency/Greater Austin Hispanic Chamber Board Chair
Peter Cesaro – GDHM/Real Estate Council of Austin Board Chair
Derrick Chubbs – Capital Area Food Bank
Randy Clarke – Capital Metro
Beth Corbett – Central Texas Food Bank
Spencer Cronk – City of Austin
Scott Davidson – Code 4 Event Management
Craig Enoch – Enoch Kever/Austin Chamber of Commerce Board Chair
Mark Escott – Interim Health Authority
David Evans – Integral Care
Gary Farmer – Heritage Title Company/Opportunity Austin Board Chair
Tamara Fields – Accenture
Michele Glaze – Samsung Austin Semiconductor
Tina Grider-Cannon – Austin LGBT Chamber
Amber Gunst – Austin Technology Council
Sandy Guzman – AARO
Jeremy Hendricks – LiUNA
John Howard – Dell Technologies
David Jabour – Twin Liquors
Jason Kelley – IBM
Kyle Kerrigan – Upbring Innovation Labs/Austin Young Chamber Board Chair
Rick Levy – Texas AFL-CIO
Mark McClain – SailPoint/Austin Technology Council Board Chair
Editor's note: This article has been updated and corrected the date for which "retail to go" will be available in Texas. It is Friday, April 24th.