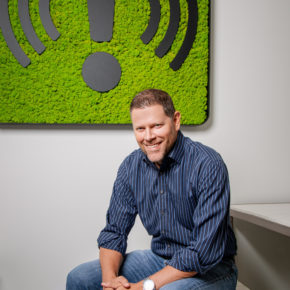 AlertMedia has become a critical communications tool for many companies during this COVID-19 global pandemic.
The Austin-based startup provides emergency communication software, used by over 2,000 enterprise companies in 100 countries to keep employees safe from threats to their health and safety. Its customers include Walmart, HEB, DHL, Greyhound and Healthgrades.
"We're solving a big problem in this global pandemic," said Brian Cruver, founder and CEO of AlertMedia.
"Our system is perfect for helping people deal with this," he said.
And at a time when many companies have taken a huge hit in sales, AlertMedia's business has increased dramatically. AlertMedia added 250 new enterprise customers in March alone. And the company plans to hire 100 more employees to its staff of 150, Cruver said.
In response to the COVID-19 pandemic, AlertMedia customers are using the platform to send and receive two-way messages, manage operational changes, perform wellness-checks, and dispatch critical communications to their employees.
Buildings are closing down and people are working from home, Cruver said. Things are being canceled and postponed indefinitely, he said. Companies are keeping their employees informed with AlertMedia and responding to their needs during this pandemic, he said.
And AlertMedia is using its own system to communicate urgent messages and updates to its 150 employees, Cruver said.
Cruver spoke recently with Silicon Hills News for its Ideas to Invoices podcast.
And on Tuesday, the company announced it has raised $15 million in Series C funding led by existing investors including JMI Equity, Next Coast Ventures, and Silverton Partners. To date, the company has raised $45 million since its founding in 2013.
AlertMedia plans to use the funding to "accelerate product innovation, continue to support existing customers, and help meet growing market demand by expanding its team," according to a news release.
"It's refreshing to see a company like AlertMedia thrive financially while also helping millions of people every day," Bob Nye, General Partner at JMI Equity said in a news release.
In 2013, Cruver founded AlertMedia when he noticed that most companies in the emergency alert industry only focused on a one-way broadcast.
"Get the word out and get the word out fast with a tech message and that was it," he said.
He saw an opportunity to create a real-time communications channel. At the time, he watched tragedies like the Sandy Hook Elementary School shooting, which occurred in December of 2012, and the Boston Marathon Bombing on April 15, 2013, unfold and he wanted to create a better communications system to deal with emergencies.
Those events were unfolding on social media, Cruver said. People involved in those events were posting to social media about them, he said.
"That for me was a dramatic shift," he said. "The audience needs more than just a one-way broadcast."
So Cruver built a platform that allows companies to have a conversation and get information to the audience. And AlertMedia can reach people on all available channels including email, voice, text, slack, social media – "we can do all of that in a couple of clicks," Cruver said.
Companies are using AlertMedia for important situations involving severe weather, hurricanes, security threats, system outages, and right now the COVID-19 global pandemic.
"That is something we never thought of but it's kind of exactly what we are built for," he said.
People are getting the messages no matter where they are throughout the world, he said.
It's been extraordinary these last few weeks, Cruver said.
"As a company, we don't celebrate these things," he said. "We don't in any way celebrate hurricanes, wildfires and global pandemics. We celebrate the fact we are helping people."
For more, listen to the entire podcast, pasted below or wherever you get your podcasts – available on Google play store, Apple iTunes, Spotify, PlayerFM, Libsyn and more.
Editor's note: Silicon Hills News is on Patreon. Please visit the site to pledge $1 or more a month to support the Ideas to Invoices podcast and other work we do at SiliconHillsNews.com. Thank you for your support!