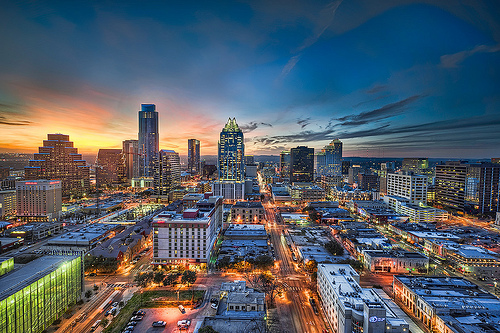 The Wall Street Journal has ranked Austin as the hottest big city labor market in the country.
Austin beat out number two, Nashville, on the list.
The Wall Street Journal ranked Austin, which has an unemployment rate of 2.7 percent, as its top spot because of big expansion projects announced in the area, particularly Apple's $1 billion new campus in North Austin. That campus is expected to employ 15,000 when fully operational. Already, Apple has more than 7,000 local employees.
The Wall Street Journal, using Moody's Analytics, examined the labor markets in 381 metro areas. It ranked the cities based on the unemployment rate, labor-force participation rate, job growth, labor-force growth and wage growth.
Austin had 70.3 percent labor force job participation rate, 2.3 percent job growth, labor force job growth of 1.6 percent and wage growth of 5 percent, according to the Wall Street Journal. 
That means in a job market with relatively tight supply, people are getting paid more in Austin in recent years. 
It's no secret Austin is booming. Take a look at the city's skyline and count the cranes to see how many new skyscrapers are going up around town. The city of Austin also has a map detailing all of the project underway. Contributing to its growth is Austin's booming tech sector with lots of startup activity as well as big tech giants like Google, Amazon, Facebook and Apple having large campuses here. The city also has an emerging medical technology industry with Dell Medical School at the University of Texas at Austin making an impact.
The other cities on the top ten list included Denver, 3, and Seattle, San Francisco, and Salt Lake City, Utah, all tied for fourth place, followed by Raleigh, North Carolina, 7, Orlando, 8, Dallas-Fort Worth-Arlington, 9, and San Jose, 10th.
San Antonio-New Braunfels ranked 13thon the list. Houston, The Woodlands and Sugar Land, ranked 21st.
In the Wall Street Journal's ranking of small cities with less than 1 million people, two Texas cities ranked near the top, Midland, 2, followed by Odessa and Boulder, Colorado took the number one spot.