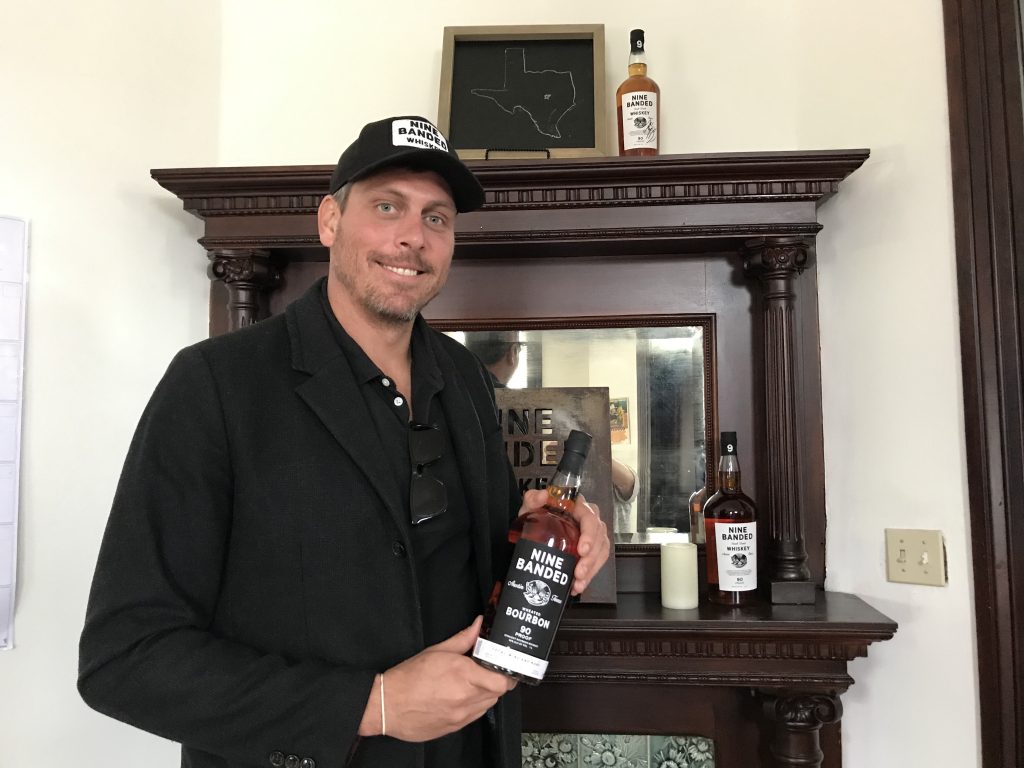 Nine Banded Whiskey Co-Founder Sean Foley seized an opportunity to create an Austin-based whiskey.
After noticing a moderately priced, Austin-made whiskey brand didn't exist, in 2014, he founded the Nine Banded Whiskey company and launched its first bottles of whiskey a few years later.
Today, Nine Banded Whiskey is in 12 states and last year the company inked a deal with the Los Angeles Rams to be the featured whiskey in its stadium.
On this episode of the Ideas to Invoices podcast, Foley talks about Nine Banded Whiskey's history, its secret ingredient – water from a ranch in Mason, Texas and its expansion plans in 2020 and beyond.
The Texas whiskey industry is a very young industry, Foley said. It's only 15 years old.
In 1995, Tito Beveridge got a license to operate the first still in Texas. He created Tito's Handmade Vodka. He pioneered the spirits industry in Texas and paved the way for others like Nine Banded Whiskey to follow, Foley said.
Nine Banded Whiskey has improved a lot throughout the years, the bottles have changed, and the recipe has changed along with some of the other processes, Foley said.
One of the secrets to its smooth taste is the limestone-filtered spring water from a ranch in Mason, in the Texas Hill Country. Nine Banded Whiskey is crafted from a unique blend of corn, rye, and malted barley. It is distilled for at least two years in Lawrenceburg, Indiana and blended and bottled in Austin and Dripping Springs. It costs $25 to $35 a bottle and can be found at Spec's, Twin Liquors, Total Wine and More and other liquor stores.
And the name Nine Banded is after the state's nine-banded armadillo, the official state mammal of Texas. And it pays homage to old Austin and the Armadillo World Headquarters, a music venue and nightclub that shutdown in 1980 but that once showcased some of Austin's brightest musicians.
Building a brand takes a lot of intentionality and focus, Foley said.
"It's better to have 10 people love you than 100 people like you," he said.
Nine Banded is not in all 50 states. It's in 12 states and it's selected the states it has gone into strategically, Foley said. It chose Southern California because it made sense for Nine Banded Whiskey to enter that market.
Nine Banded has done a lot of outreach in the entertainment and sports industries, which Foley has a background in.
The Black Pumas, an Austin band that Nine Banded Whiskey works with was nominated for a Grammy this year in the coveted Best New Artist category along with Billie Eilish, Lizzo, Lil Nas X and others.
And the people involved with HBO's Ballers Television series featured Nine Banded Whiskey in its show.
"You never known where you're going to get your pop culture pops," Foley said. "They help. I do think that though we want to be careful about that stuff."
It's not about manufacturing a brand but manufacturing a great product and building a great brand on top of that, Foley said. Nine Banded is being built from Austin with intentionality, learning from mistakes, perseverance and earnest hard work, he said.
Foley draws a lot of inspiration for running his business from his background as a championship swimmer. He grew up as a competitive swimmer in the Milwaukee area and he got offered a scholarship to the University of Texas at Austin. He swam for Eddie Reese, the swim coach for UT Austin's men's swimming team. Reese has won 15 national champions. Foley was part of three of those championships.
"I am fortunate, very fortunate to be a part of that group of alumni of Texas swimming," Foley said.
Foley lived in Austin in a time when Austin still had a lot of the characteristics of old Austin. University of Texas athletics and the music scene were two of the biggest things going on at that time, he said.
The day in and day out commitment and long-term investment in what you are working on are lessons he learned from swimming. It's a step by step and brick by brick process with no instant gratification or payout, that's what it takes to be a great athlete and a great business person also, he said.
On March 6th at Central Machine Works in East Austin at 5 p.m. doors open and Nine Banded will officially launch its new Bourbon, Foley said. And it's rolling out a new marketing campaign featuring custom illustrations by Denton Watts this year with a big focus on female Austin musicians, Foley said.
For more on Nine Banded please listen to the whole podcast.
Editor's note: Nine Banded was an in-kind sponsor of Silicon Hills News' 2020 Austin Calendar party.