Austin had another outstanding year with startup activity overall on the rise.
And VC funding in Austin reached levels the city hasn't seen since the Dot Com boom of 2000.
In 2019, Austin-based private companies raised $1.7 billion, up almost 28 percent from 2018, another record year, according to the latest MoneyTree Report from PwC and CB Insights. And Texas startups overall attracted $3 billion in VC investment last year.
A few trends Silicon Hills News has detected in Austin in recent years include a rise in real estate tech companies, a cluster of insure tech companies, new space startups, and more female-founded startups.
The city is also a hotbed of activity in artificial intelligence, machine learning, and big data space.
And more and more startups continue to move to Austin from California. That is a trend that isn't going to slow down anytime soon.
Here are the ones to watch this year:
Company name: Athena Security
Funding: $5.6 million
What it does: It has created gun-detection software. It uses existing security cameras coupled with its specialized software that relies on machine learning and artificial intelligence to identify guns in a public setting.
Why it's hot: Unfortunately, gun violence is a part of American life now. "The United States has the 28th-highest rate of deaths from gun violence in the world: 4.43 deaths per 100,000 people in 2017," according to NPR. Athena's technology helps manage that problem and might be able to prevent violent acts from occurring.
Company name: Billd
Funding: $60 million
What it does: It is a construction finance company. It provides timely loans at an affordable price to subcontractors in the commercial construction industry.
Why it's hot: It combines two hot markets: fintech and construction. The commercial and residential construction industries in the U.S. are growing. "The Construction sector has performed well over the five years to 2019, exhibiting a strong turnaround overall," according to IBISWorld.
Company name: data.world
Funding: $44.7 million
What it does: data.world is like GitHub, the world's largest software development platform, but it's an open platform focused on data sets.
Why it's hot: The world is awash in data and tools like data.world are helping companies, organizations, and people make sense of these massive data sets and extract valuable insights from them. IDC forecasts worldwide revenues for big data and business analytics to reach $189.1 billion in 2019, an increase of 12.0% over 2018. It expects revenue will be $274.3 billion by 2022.
Company name: Diligent Robotics
Funding: $3 million in seed-stage funding.
What it does: It builds robots. Its first product is a hospital assistant named Moxi.
Why it's hot: Robotics is a hot market and getting hotter. "The global market for robots is expected to grow at a compound annual growth rate (CAGR) of around 26 percent to reach just under 210 billion U.S. dollars by 2025," according to Statista. "It is predicted that this market will hit the 100 billion U.S. dollar mark in 2020."
Company name: Firefly Aerospace
Funding: $70 million
What it does: Based in Cedar Park, Firefly Aerospace is developing launch vehicles and spaceships. It also landed a contract with NASA in November of 2018 to provide lunar payload services.
Why it's hot: New space is a huge and growing industry. The Space Industry is valued at $350 billion currently and Bank of America Merrill Lynch project that to reach $2.7 trillion by 2040, according to a CNBC news report."
Company name: Homeward
Funding: Provides homeowners with financing to make all-cash offers on a new home and the homeowner works with their listing agent to sell the home. If they can't sell it within 6 months, Homeward will buy the home at pre-agreed upon price.
What it does: It's looking to solve the problem for homeowners that want to move into a new house but can't do so until they sell their old house. Homeward allows them to move on and not take a discounted price on their old house.
Why it's hot: The IT market in real estate was valued at $5.49 billion in 2018 and it is expected to reach $10.79 billion by 2024, according to a MarketWatch report. "IT is becoming a driving force necessitating a change in the way real estate companies market products to their clients. The shift from physical records to digital-based records and documents has been the initial steppingstone for the adoption of technology in the real estate sector."
Company name: Imandra
Funding: $5 million in seed-stage funding
What it does: Imandra has created algorithms that ensure a company complies with regulations and is secure. It first applied its technology to the financial services industry but has since expanded into other industries.
Why it's hot: Imandra's software platform has applications for autonomous vehicles, robotics, and machine learning. Those are some of the fastest-growing technology categories.
Company name: Joust
Funding: $6.1 million
What it does: It created a banking platform for self-employed workers.
Why it's hot: Intuit, the owner of Turbo Tax software, says gig workers make up 34 percent of the workforce and that is projected to grow to 43 percent this year. That's a lot of independent workers in need of tools. The company, founded in 2017, moved its headquarters from Denver to Austin last year.
Company name: Kronologic
Funding: $1 million in pre-seed funding
What it does: It automates a person's calendar with its specialized software that uses AI, machine learning and bots to automatically schedule meetings for sales professionals.
Why it's hot: The global artificial intelligence market is expected to hit $390.9 billion by 2025, according to Grand View Research. It is growing at a compounded annual growth rate of 46.2 percent from 2019 to 2025. In the last year, Kronologic has landed clients like Dell, Insight, Thomson Reuters, CDW, WP Engine, Big Commerce, Outbound Engine and Holt Caterpillar.
Company name: Life by Spot
Funding: $5.8 million
What it does: It offers on the spot coverage with instant approval for injury insurance through its online platform. It pays up to $20,000 of medical expense reimbursement for each covered accident.
Why it's hot: As people age, they are staying active longer and continuing to ski, bike, run and do other sports. But some of those activities can be risky. Life by Spot provides on the spot insurance coverage to many weekend warriors participating in a 5K, 10K, Half-marathon, Marathon, Triathlon or other races.
Company name: Literati
Funding: $12 million
What it does: Literati is a subscription-based children's book club aimed at children from birth to 12-years-old. Literati charges $9.95 a month for a curated box of five books.
Why it's hot: Busy parents are looking for a way to connect with their children away from computers and screens and books allow for that connection. Literati shops for them. They are able to get a curated book collection and connect to a large community of book lovers.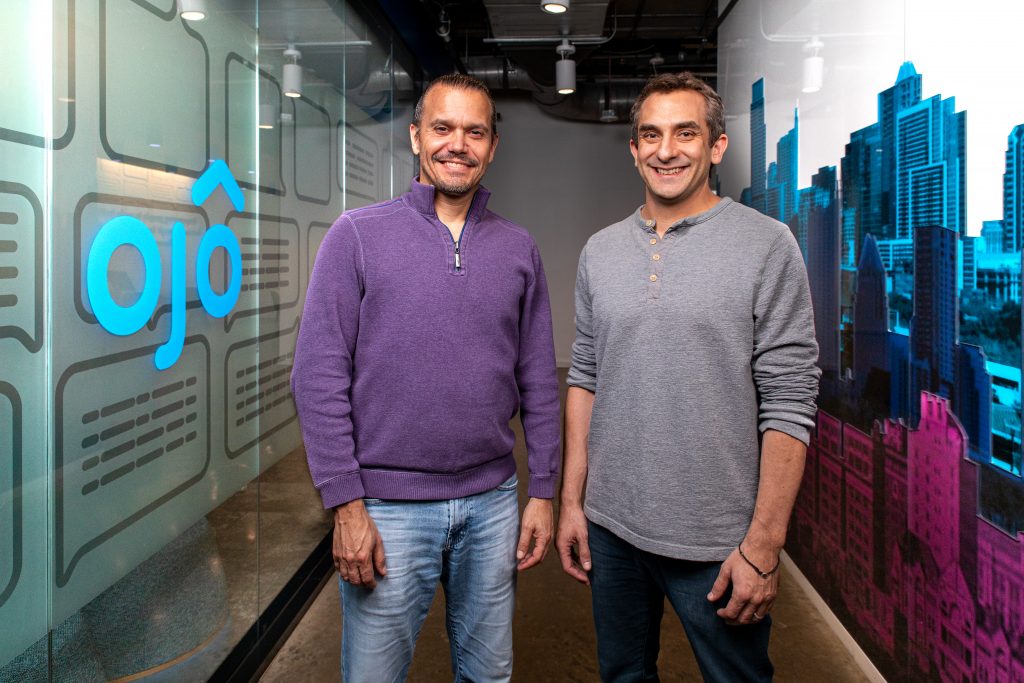 Company name: OJO Labs
Funding: $76 million
What it does: OJO has created a free assistant that handles queries from homebuyers about whether a house has a swimming pool, a view of downtown, a large kitchen, a large lot, school district, etc. The OJO assistant then sends the homebuyer texts of potential homes with photos and listings. It learns what the person likes and what the person doesn't like through the interaction. When the person is ready to buy, it refers them to a human agent to handle the home buying experience.
Why it's hot: "The combined value of every residential home in the United States was $33.6 trillion at the end of 2019, up 3.4% ($1.1 trillion) from a year ago and 51% ($11.3 trillion) from the start of the decade," according to Zillow. And it's only going up, up, up. Technology companies like OJO make the real estate market operate more efficiently.
Company name: Omaiven Health
Funding: Undisclosed
What it does: The company created an artificial intelligence-powered app, AskMia, to make sure a doctor's schedule stays full and that patients don't miss appointments.
Why it's hot: Missed appointments is a $150 billion problem in the U.S. and is costing healthcare providers wasted time and money.
Company name: Osano
Funding: $8.4 million
What it does: Osano, founded in 2018, is focused on helping companies, particularly mid-sized enterprise companies, comply with privacy laws. It has created an online data privacy platform that companies subscribe to on a monthly basis and keeps them in compliance with GDPR and other privacy laws like the California law.
Why it's hot: Data protection is a $125 billion industry, according to Arlo Gilbert, Osano's Co-Founder and CEO. And Berkeley Economic Advising and Research predict companies will spend $55 billion over the next two years just to get compliant with California's new privacy law that went into effect Jan. 1st.
Company name: Outdoorsy
Funding: $75.1 million
What it does: It created a peer to peer marketplace to rent recreational vehicles.
Why it's hot: The RV market is huge and it's growing. The RV market was valued at $36 billion in 2017 and "is expected to continue to draw in more growth from the tourism sector in the coming years," according to a MarketWatch report. "Recreational vehicle (RVs) are quickly becoming the crucial aspect of a majority of recreational and camping activities for quite a massive percentage of the global populace."
Company name: Paradromics
Funding: $7 million
What it does: Paradromics has created an implantable device for the brain or a "modem for the brain." Paradromics' device is currently in preclinical development. It expects to enter human clinical trials in 2021 or 2022,
Why it's hot: Paradromics' technology could potentially help with treating diseases like ALS which is a progressive neurodegenerative disease or addiction, and related mental illness disrupting a massive $100 billion pharmaceutical industry.
Company name: PreFix
Funding: $5 million
What it does: PreFix provides homeowners with a dedicated Home Manager to fix most things for a low monthly co-payment. The service includes seasonal preventive maintenance on all appliances and systems.
Why it's hot: Purchasing a home is a huge expense. Keeping that home in tip-top shape is also expensive. And just like people take their car in for regular maintenance, a home requires regular maintenance. That's where PreFix comes in. It provides seasonal preventive maintenance on all appliances and systems. Homeowners don't have to wait until something breaks to give it the attention it deserves. PreFix can save them time and money and inconvenience.
Company name: REX
Funding: $110.5 million
What it does: Rex has created a digital platform to allow homeowners to list, find and buy homes outside MLS.com.
Why it's hot: The housing market is hot and is expected to continue to grow, according to the National Association of Realtors but there is a shortage of supply as not as many houses have been built following the housing and financial crisis of 2008. And applying technology to the homebuying process is one of the hottest trends in tech right now.
Company name: RigUp
Funding: $423.8 million
What it does: It created an online marketplace for services and labor for the energy industry.
Why it's hot: RigUp's platform matches contract workers with energy companies. In 2019, the company expected to exceed $2 billion in volume, up 200 percent from a year ago, on its platform. RigUp is Austin's latest Unicorn, meaning its market value is projected to be worth more than $1 billion.
Company name: Sana Benefits
Funding: $6.3 million
What it does: The company offers premium health benefits for small and medium-sized businesses at 30 percent lower costs than traditional options, according to Will Young, its CEO, and Cofounder.
Why it's hot: The healthcare industry in the United States is ripe for disruption. The U.S. spends more on healthcare per capita than most countries because of wasteful spending that costs roughly $1 trillion every year in waste, Young said.
Company name: Slingshot Aerospace
Funding: $8.4 million
What it does: Slingshot is manufacturing the next generation of satellite, aerial and drone signal processing with artificial intelligence and analytics capabilities.
Why it's hot: Slingshot is part of the New Space industry. That industry is expected to increase from $385 billion in 2019 to at least $.15 trillion by 2040.
Company name: Techson IP
Funding: Undisclosed
What it does: Intellectual property researchers that created its proprietary Limestone patent and technical research platform.
Why it's hot: Investments in legal tech have risen dramatically in the past two years, according to Forbes. AI and machine learning and automated processes are making the legal industry more efficient and faster. And patents in the U.S. are also on the rise. Last year, the U.S. issued 370,434 patents, up 9 percent from 339,512 in 2018. And "IP-intensive industries accounted for $6.6 trillion in value-added in 2014, up more than $1.5 trillion (30 percent) from $5.06 trillion in 2010," according to the latest U.S. government 2016 report on IP and U.S. Economy.
Company name: The Mentor Method
Funding: $100,000 Capital Factory prize and $25,000 MassChallenge Texas award winner.
What it does: It has created a program to increase employee retention and diversity in the workplace. Mentor mentee matching for diversity and inclusion.
Why it's hot: Companies are spending $16 billion each year in efforts to keep diverse talent and it's still not working, according to Janice Omadeke, The Mentor Method Founder and CEO. And numerous studies have shown that diverse workforces outperform ones that are not diverse.
Company name: Verb
Funding: $8.7 million
What it does: It provides leadership training to companies through a subscription-based model.
Why it's hot: The Leadership training market is estimated to be worth $366 billion globally, according to TrainingIndustry.com, quoted in a recent Forbes article. That article also detailed the market in the U.S. is worth $166 billion and it's on the rise.
Company name: Zen Business
Funding: $19.5 million
What it does: It has created an online platform to help small businesses incorporate and stay compliant with regulators.
Why it's hot: Small businesses are the backbone of the U.S. economy and contribute the most to its job growth. Small businesses need tools like Zen Business to make complicated parts of running a business easier.
Correction: This article has been updated to explain the role Homeward plays in the home selling process.