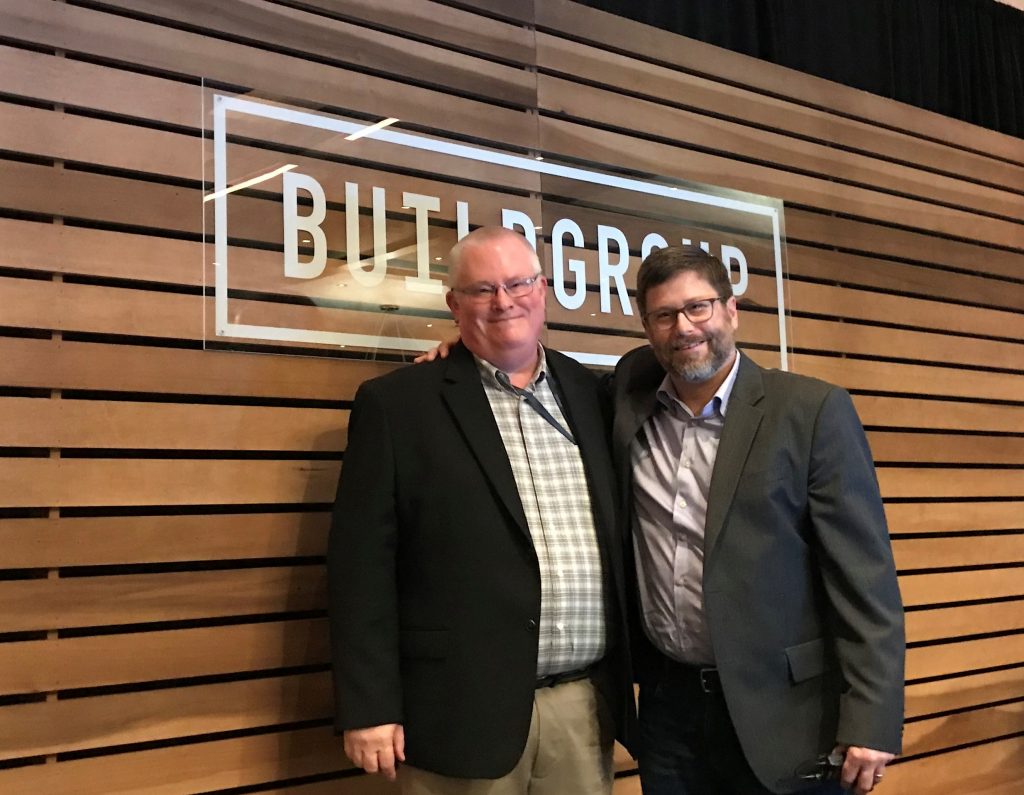 BuildGroup, an Austin-based venture capital firm founded in 2015 which raised a $330 million fund, launched an analytics platform for investors and startup founders last week.
It's called Open.Exchange focused on matching investors with the best startups, and vice versa, said Jim Curry, head of BuildGroup Data Services.
"We built it for ourselves, but it was still a closed system benefiting only us," Curry said. "And we believe open is better than closed."
Open.Exchange officially launched its beta program last Thursday at BuildGroup's first conference held at the Hotel Van Zandt in downtown Austin. About 300 people attended the event which featured a series of talks on business models, Open.Exchange, big tech in Austin and spotlighted Literati and Yonder, two Austin-based startups.
Former Rackspace Chief Executive Officer Lanham Napier founded BuildGroup along with Curry, and Klee Kleber, former Chief Marketing Officer at Rackspace and WP Engine. Its portfolio companies include Anaconda, Fiix, Vidmob and Yonder.
Curry is heading up Open.Exchange along with Ian Rickey.
About a decade ago, Rackspace started a project called OpenStack, an open-source cloud software. Curry, a former senior vice president of strategy and corporate development at Rackspace and co-founder of OpenStack, wants to bring the open-source movement to investing with Open.Exchange.
"We wanted to take these lessons and apply them to private capital markets today," Curry said.
Finding information on private companies is hard unless you have access to it in a fundraising process, Curry said. Venture Capital firms do not share information with one another. VC firms often receive thousands of pitches a year, and only invest in a handful of companies. Startup founders seeking funding often go into a black hole with little or no feedback on why they got an interview or not.
"Market operations are opaque," he said.
There are no standard rules on how to operate in this marketplace, Curry said.
"In the private market there are lot of people who want to participate," he said.
Open.Exchange gives them the platform to do so.
"It's a data-driven, transparent, collaborative community," Curry said.
The goal is to be frictionless and to match up capital with companies as quickly as possible, he said.
"If you do that well, you drive liquidity way up," he said. "If you do that, you drive cost down for every single participant."
Curry and Rickey demonstrated the platform at the event showing the deal flow process for an investor. It's a very similar process for entrepreneurs, Curry said.
Open.Exchange's dashboard looks like a customer relationship management program for investments.
Investors and startup founders both upload data to the platform. Open.Exchange provides information on companies based on industry, location, stage of growth, and how much money they have raised to date.
Investors complete a profile with information on previous investments and their interests.
Companies looking for funding also fill out profile information and upload documents related to their business including pitch decks.
Open.Exchange is powered by artificial intelligence and machine learning with humans in the loop, Curry said.
"We want to make it progressively better," Curry said. "The more you interact with the system, the smarter it gets."
Open.Exchange also ranks companies on several factors and provides a score based on that ranking. Right now, it's built around BuildGroup's thesis on investing in startups with what it dubs a modern business model involving a subscription, technology stack, community, and marketplace. It scores a company on its use of data science in its value proposition, leveraging of modern software and integration into other services, and benefits from network effects.
"Today, all of this is done manually for us," Curry said.
Through BuildGroup's own investment process, it came upon a problem that needed a solution. So much of the investment process and the appeal for capital is done on paper and in closed systems with little feedback ever given to the entrepreneur seeking capital, Curry said. With the Open.Exchange system, the entrepreneur can receive immediate feedback, he said.
Open.Exchange could potentially become like a private stock exchange for companies seeking capital and investors looking for good investments, Curry said.