Facebook put a high-tech twist on the old tradition of a ribbon-cutting.
The tech giant lit up a giant Facebook thumbs-up Like button with local dignitaries to officially open its new office in downtown Austin Wednesday morning.
"Thank you to our community partners. I hope you know we are as invested in this community as we are in this building, and we can't wait to continue to grow our relationship with all of you, here in Austin " said Katherine Shappley, Facebook's Austin Head of Office.
At the event, Shappley spoke along with Mayor Steve Adler, Texas State Senator Kirk Watson, and Austin Community College President Richard Rhodes. A few hundred people attended the ceremony.
"I want you to know that this city loves Facebook," Mayor Adler said. "And I love this space."
Facebook's space is about so many things that are important in Austin including technology, creativity, innovation, and taking risks, Adler said. It's also focused on community and fostering connections, he said.
Also, at the event, Austin Community College and Facebook announced a partnership for new digital marketing courses at ACC.
"We are so excited to be a partner with Facebook," said Rhodes, ACC President, and CEO. Facebook pledged $60,000 for the program.
"It really paves the way. It removes the roadblocks and allows students, entrepreneurs, young businesses to access this service and to get the digital marketing skills necessary," Rhodes said.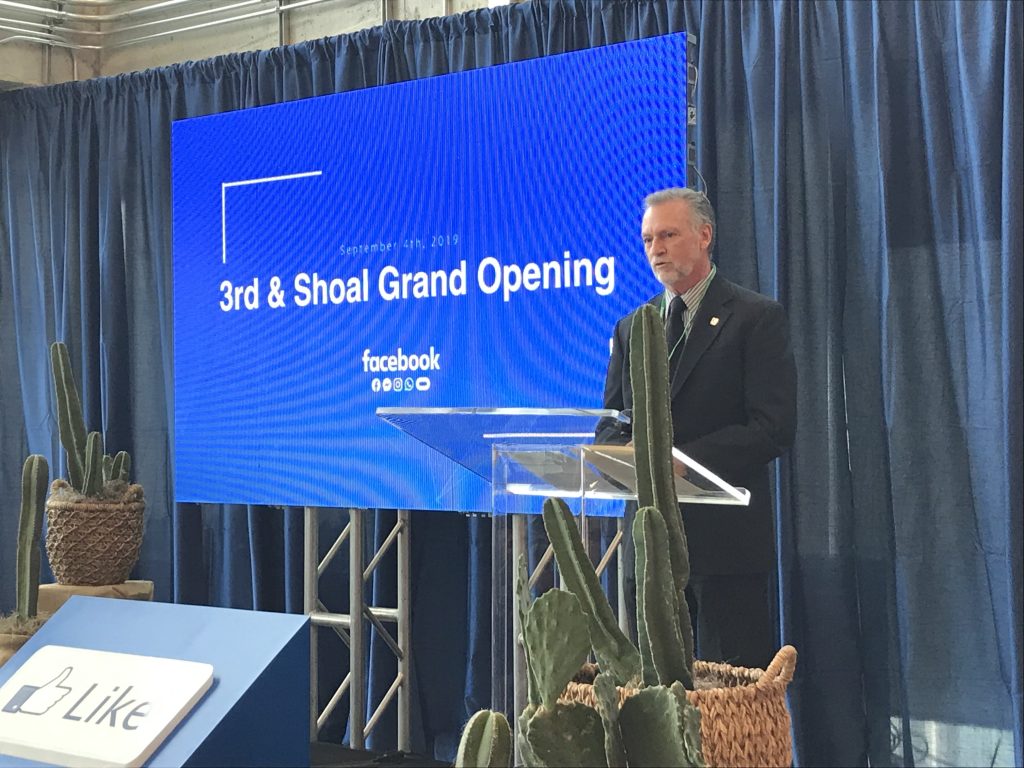 Classes on social media marketing and digital media strategy at ACC start October 14 and are offered through the college's continuing education division. The program is part of Facebook's pledge to train one million people and small businesses across the U.S. in digital skills by 2020.
After the formal part of the new office dedication. Facebook provided tours of its new office, which are hip, filled with natural light, open, and decorated with unique artwork done by local artists.
On the 15th floor, Facebook set up formal information stations on topics such as data for good, stories, town hall, Instagram and more.
Facebook also has a giant "What's on Your Mind?" white-board wall for employees to write on. The non-digital communications platform featured all kinds of comments like "Justin + Chloe, Def Leppard Rocks, Jasmine was here and where's the snacks."
Another board advertised amenities such as massages on the 24th floor, a cyclist on the 6th, plant tonics on 10th, and Goga Yoga on 17th.
Facebook occupies 256,500 square feet or 11 floors of a new skyscraper at 607 W. 3rd St. It's part of a bustling tech hub in the Second Street District which has seen several new skyscrapers open in the past three years including Galvanize's building a block away, followed by Google's headquarters on the next block.
In 2014, Facebook held a small business training seminar at the Austin Music Hall, which was demolished a few years ago to make way for the tech skyscrapers that occupy the space today.
And in the age of digital everything, it's kind of fun to see two tech giants communicate with each other using post-it notes.
With yellow post-it notes, the workers at Facebook posted a dinosaur and a Sup G? message on the floor to ceiling windows facing their friends who work at Google in the skyscraper across the way. Google posted a duck with the message What's quacken FB?
The Facebook space, which spans floors 14 to 24, can accommodate up to 1,550 employees. Facebook currently has 1,200 employees in Austin. The Austin office is Facebook's fourth-largest office in the country.
Just like the Austin technology community, Facebook has seen dramatic growth in its business. Facebook opened its first Austin office in May of 2010 with just seven employees.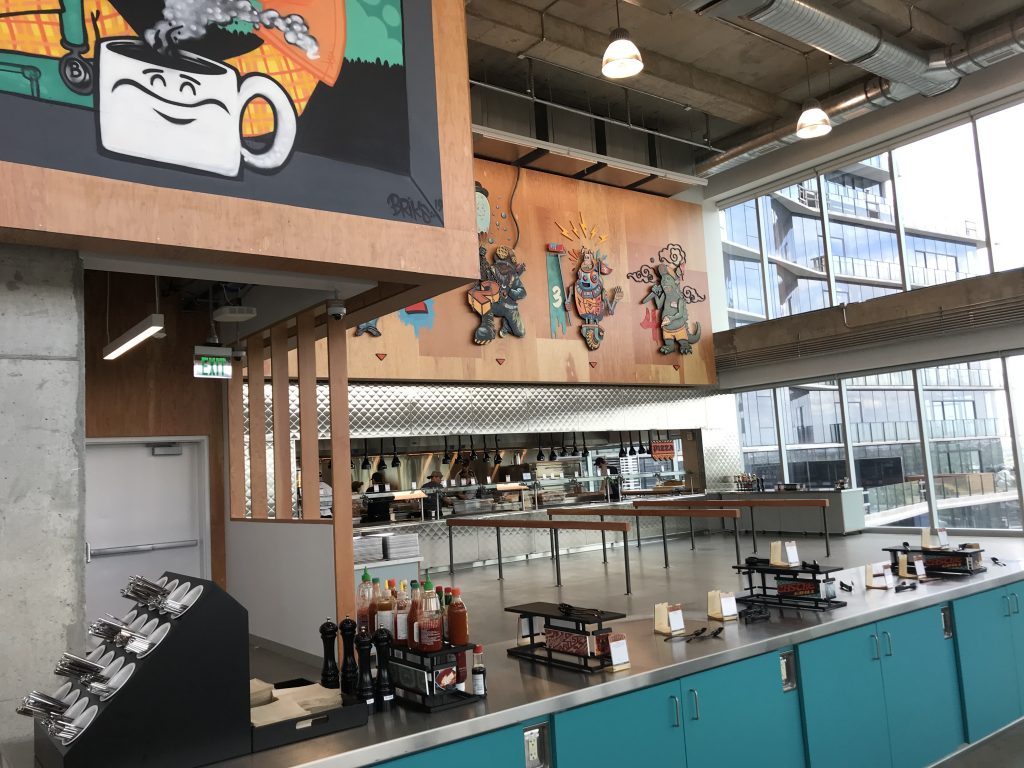 The Austin office has all kinds of amenities to keep tech workers happy including three full service kitchens, ten outdoor decks and terraces, ten micro-kitchens, a fitness center with locker rooms, bike storage, a pop up local shop for Austin vendors to sell products to employees, a recreation room, library, and a music room with keyboard, drums, guitars and more. Facebook also has its own laundry service for employees and a mailing center on-site.
Facebook's offices feature 14 art installations from its Artist in Residence program.
On the 15th floor, Artist Dennis McNett created "Golden Eagle, Grandmother Medicine," a magnificent wall-sized mixed media mural. In mythology, the golden eagle is supposed to carry the medicine of integrity, McNett said.