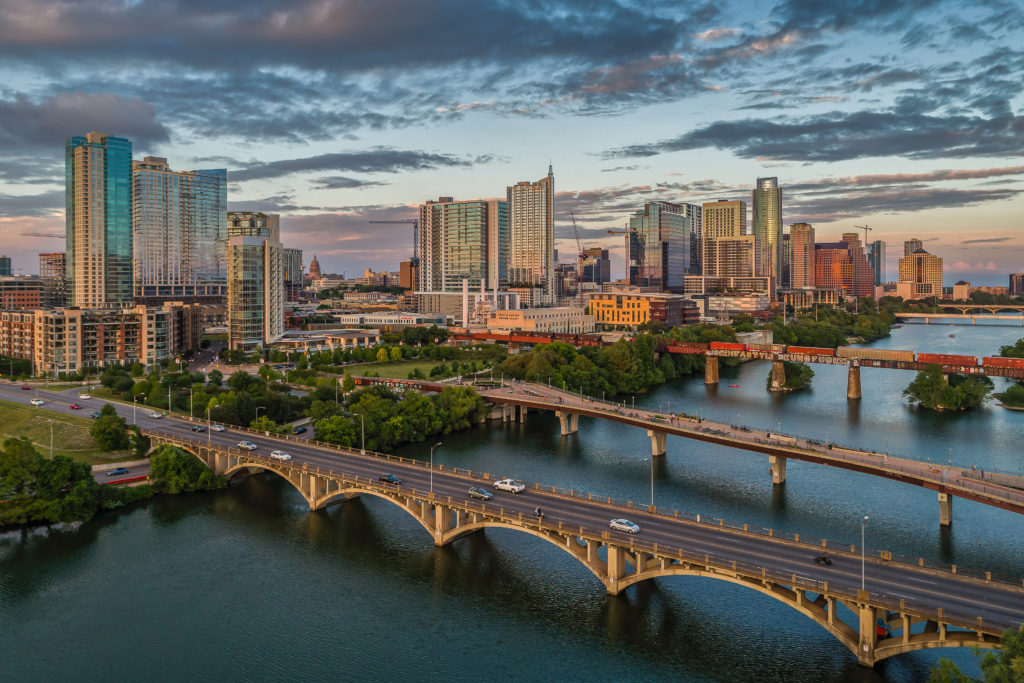 MassChallenge Texas announced it has accepted 74 startups into its latest program in Austin which kicks off in June.
The startups hail from five countries, 14 states and five industries, said Mike Millard, managing director of MassChallenge Texas.
The largest industry represented is high tech which comprises 42 percent of the startups, followed by general at 26 percent, healthcare and life sciences at 19 percent, social impact at 8 percent and clean energy at 5 percent.
And 56 percent of the compares are led by female founders, up from 32 percent last year, Millard said.
The startups come from U.S., Israel, Chile, Mexico and the Netherlands.
And 22 of the startups are from Austin and another one each from Round Rock and Georgetown. There is also one startup from San Antonio and Houston.
This year, MassChallenge received 689 applications, about a 31 percent increase from 527 last year.
The startups will compete for $500,000 in equity-free prize money at the end of the 16 week accelerator.
As part of the program, the startups receive $250,000 worth of deals and discounts, free coworking and at attend events, and classes at WeWork at Barton Springs.
Also, new this year, MassChallenge Texas kicked off in Houston recently and expects to have about 25 startups in its program in the first year, Millard said. Eventually, MassChallenge Texas would like to run programs in Dallas-Fort Worth and San Antonio too, he said.
The following is a complete list of the chosen companies with descriptions supplied by Mass Challenge:

17TeraWatts (Texas, USA): 17TeraWatts' digital personal assistant helps solar companies engage their homeowners and generate more referrals and follow-on sales.
AdaptaFit (Texas, USA): Adaptafit magnets, into the clothing of people with diseases/disabilities, in order to help them get dressed independently.
Aliro Immigration (California, USA): Aliro Immigration is like TurboTax for immigration applications.
Alpaca Market (Texas, USA): Alpaca Market makes eating healthy easy by serving farm fresh food daily through a network of innovative vending kiosks and smart fridges.
Arva Intelligence (Utah, USA): Arva Intelligence provides technology to farmers and agriculture service partners to lead economic and environmental stewardship in managed ecosystems.
AVIRTEK, Inc. (Arizona, USA): Avirtek is developing Autonomic Cybersecurity that is analogous to human nervous system that can self-protect cyber systems and applications.
Axion Technologies LLC (Florida, USA): Axion Technologies produces High Speed, Truly-Random Number Generators for use in High Performance Computers (HPC) and Encryption devices.
Beatbox Instruments, LLC (Texas, USA): Beatbox Instruments provides a cheap, effective, fun and educational solution for teenagers to start music production.
Beltech, LLC (Illinois, USA)
Blipic (Texas, USA): Blipic is correcting the path of the employee health and engagement industry through community and outdoor recreation.
BuyChain (Texas, USA): BuyChain is an online construction marketplace focused on revolutionizing the $750B annual wholesale construction supply chain.
Catalyst Education (Texas, USA): Catalyst Education is founded by experienced and proven STEM EdTech entrepreneurs targeting the $1.3B Higher Ed. lab course learning market.
Civdrone (Tel Aviv, Israel)
ClassNotes (Texas, USA): ClassNotes helps students ace their academic examinations and standardized tests with guaranteed results.
ClearFlame Engines (Illinois, USA)
Coco College (California, USA): Coco College is an app that exclusively connects students within their own university, where they can buy and sell books, TV's, couches and more.
Collective Liberty (Washington, DC, USA): Collective liberty facilitates anti-trafficking collaboration across industries and stakeholders to create ground-breaking, data-driven approaches that work.
Crewcollar (Texas, USA): Crewcollar's mission is to transform hiring for the desk-less workforce, using imaging technology to better match and provide steady opportunities.
Day Dreamer (Texas, USA): Day Dreamer is a location based social app that allows creatives from 9 different mediums to find their ideal collaborator.
Emergent Tree Education (Texas, USA): Harnessing technology, Emergent Tree Educations provides training, consultation and data tools to help teachers improve behavioral outcomes for students
FADE (Texas, USA): Fade is a mobile platform connecting local barbers and their clients.
FlapMX (Texas, USA)
Freudensong, LLC (Texas, USA)
Good Neighbor Rx (Texas, USA)
GotSpot, Inc (Texas, USA): GotSpot is short-term space for your business. This is a marketplace where entrepreneurs borrow Main Street space to grow their businesses.
Grant Source (Texas, USA): Grant Source helps organizations find money for their mission. Our revolutionary platform can find, write and track grants all from a mobile app.
Guide Change (Texas, USA): Guide Change helps families and professionals make better financial decisions to keep their money safe and maximize government benefits.
Guzo (Texas, USA): Guzo is the world's most user friendly and functional group travel planning platform.
Haima Therapeutics (Ohio, USA): Haima Therapeutics is a pre-clinical stage biotechnology company focused on developing bio-inspired therapies for the treatment of bleeding.
Hangio (Texas, USA): Hangio is a hanger company focused on optimizing the everyday closet
experience through innovative hanger technology.
HyperLinq (New Jersey, USA): HyperLinq is a secure real-time trading efficiency tool that aggregates prices from multiple exchanges and allows order execution.
Intry (Texas, USA): Intry uses AI to unlock hidden variables in resumes and job applications to connect employers and candidates, improving visibility by 240%.
JuiceBox Hero (Texas, USA): JuiceBox Hero is an online platform helping busy parents find daycare & preschool matches. We gather key social impact & consumer insights.
KJ Scientific (Texas, USA): Innovative technology for chemical testing to advance product safety for human and environmental health.
Lazarus 3D (Texas, USA): Lazarus 3D uses 3D printing to build realistic copies of patient body parts overnight so surgeons can rehearse upcoming operations.
LGI Foods Inc (Nuevo León, Mexico): Did you know that 50% of adult Americans have diabetes or are prediabetic? LGI Foods is here to talk about a new Superfood that can beat diabetes.
Ludibuk (Región Metropolitana de Santiago, Chile): Ludibuk is a digital library solution aiming to improve literacy skills among Spanish speaking K-12 students.
MakersValley LLC (Texas, USA): MakersValley is the AirBnB of small batch apparel manufacturing. We aim to democratize the manufacturing industry.
MDM Wound Ventures LLC (Texas, USA): MDM Wound Ventures LLC, develops and manufactures innovative and disruptive products, for wound care providers, to improve patient outcomes.
MensGoldBoxx (Texas, USA): MensGoldBoxx is a Big & Tall ecomm revolution. Intuitive customer profiles make finding your fit and style easy. Tech built to be licensed.
MicroRio (Texas, USA): MicroRio is bringing to market the first affordable plastic that is 100% biodegradable, renewable, and bioabsorbable.
Modello Learning (Texas, USA)
Moolah U (Texas, USA): Moolah U is creating financial intelligence in the next generation through programs and learning tools for kids and parents.
MµZ Motion, LLC (Texas, USA): MµZ Motion is driving the future of robotics with the next generation in high-oerformance motion.
NetObjex, Inc (California, USA): NetObjex is an Intelligent automation platform for Smart Cities and Connected Enterprises utilizing IOT, AI and Blockchain.
NOVAM (Texas, USA): NOVAM is a patent-pending distributed security company providing IoT device and data integrity using a blockchain security fabric and cloud
Olifant Medical (Texas, USA)
OrthoBistro (Louisiana, USA): The OMSAD (Orthopedic and Musculoskeletal Assessment Device) is a fully autonomous, non-invasive physical exam station that standardizes the collection of patient data into the health record.
Pack Elephant (Texas, USA)
Phylomics Diagnostics (Texas, USA)
Pilot Plus (Texas, USA): Pilot Plus has created a logistical relay based on a scheduling algorithm that will allow truck drivers to be home daily.
Pocket Innovations LLC (Virginia, USA): Pocket Innovations solves the common complication of pocket hematoma associated with pacemaker implants with a device that stops them from ever happening.
Prolitfic (Texas, USA): Prolitfic is a digital platform crowdsourcing novel evaluations from readers and editors: SoundCloud for the publishing industry.
Reap (New Mexico, USA): We help ranchers boost productivity and reduce labor and losses with a mobile app that talks to cattle-worn health and location trackers.
ROOG, Inc (Texas, USA): ROOG is a social marketing and e-commerce platform that connects consumers to small businesses in diverse communities.
Saikou Bioscience (Texas, USA)
Salt Athletic (Colorado, USA): We are creating sleek athletic bags with patent-pending technology in the lining of the bags that eliminate bacteria and neutralize odors. Previously known as EVO & Co.
Sancura Biotechnologies (Virginia, USA): Sancura Biotechnologies delivers a comprehensive solution to smoking cessation by targeting the physical and mental challenges of quitting.
Single Baked Sweets (Virginia, USA): Single Baked Sweets provides single-serve, bake-at-home dessert kits.
SipScene (Tel Aviv, Israel): The social alternative to pubs and bars, SipScene is the AirBnB of social events – connecting people at popup social events in homes.
Snack Jack (Texas, USA): Snack Jack's mission is to heal the planet one bag of jackfruit jerky at a time, impacting the environment and the community in major ways.
SolGro (Texas, USA): SolGro increases greenhouse crop yields by converting photosyntheticly inactive sunlight (O,Y,G,I,V) into photosynthetic light (R,B).
SurviVR (Texas, USA): SurviVR is a VR platform for immersive and accessible police training. Our mission is to improve public safety through improved training.
SwipeMeIn (Texas, USA): SwipeMeIn is a marketplace that connects on-campus students with extra meal swipes with off-campus students who want a cheap on-campus meal.
Tablee (Virginia, USA)
teleCalm, Inc (Texas, USA): teleCalm's phone service can be life-changing for seniors living at home and in senior living. Keeping them connected and protected.
TitleFlow LLC (Texas, USA)
Topl (Limburg, Netherlands)
TRAXyL, Inc (Virginia, USA): TRAXyL is dramatically reducing the cost of broadband communications by essentially painting optical fiber onto the road surface.
VioLume (Texas, USA): Delivering non-touch room disinfection and energy efficient lighting in a single platform.
Whiskey Morning Coffee (Texas, USA): Whiskey + Coffee… Nuff' said. All our coffee is aged in whiskey barrels.
Winnow Analytics (Texas, USA): Winnow solves the "last mile" analytics communication problem by mining dashboards, delivering custom-tailored and data-triggered prescriptions.
Xelpha Health (Texas, USA): Xelpha Health increases access to high quality medical care in resource constrained settings by providing a mobile-first simplified EMR.
Yaupon Wellness Company, Inc (Georgia, USA)