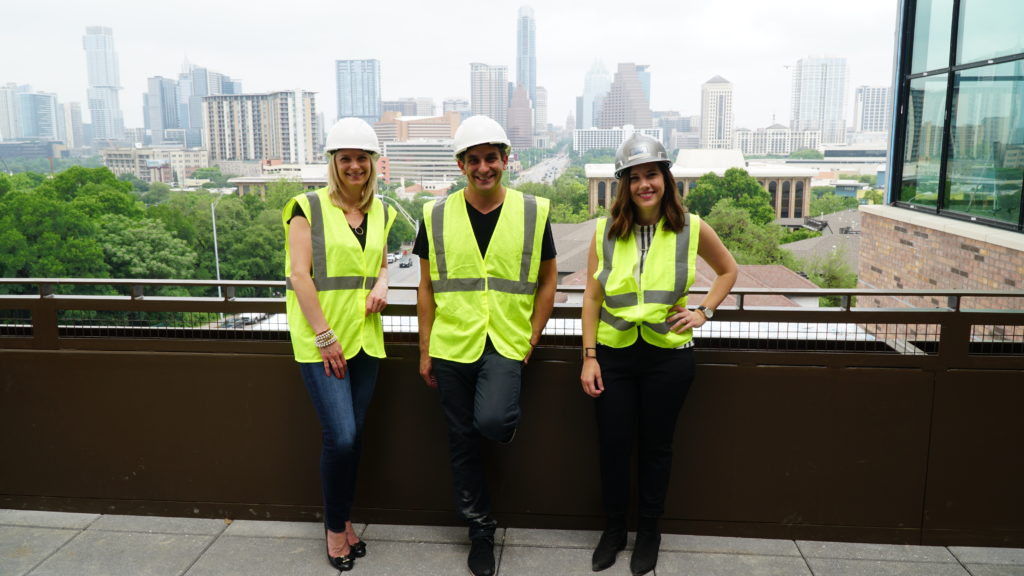 Soon, OJO Labs, an artificial intelligence startup, will have one of the best views in Austin.
OJO Labs is moving to the top floor of CityView, a four-story building under construction at 1007 South Congress Ave. OJO's outdoor terrace offers a stunning view of the Texas State Capitol and downtown Austin along Congress Ave.
The Austin-based company has hired Sixthriver as its interior architect to design the 12,500 square foot office with the benefits of an open floor plan featuring blue, teal accent colors along with elements of the outdoors like moss and wood. It will have an energetic and playful vibe, with all the amenities of a high-tech workplace like a coffee bar, ping pong table and game room said Laura Davis with Sixthriver.
OJO is building a world-class product, said John Berkowitz, CEO of OJO Labs.
"It's nice to do it with a beautiful view," he said during a hard hat tour of the building last Wednesday.
Lake Flato Architects, the same firm that designed the award-winning Austin Public Library Building downtown, is the building's designer. Two floors of CityView will be occupied by the Equinox Gym. The bottom floor will feature a variety of restaurants and retailers. OJO is scheduled to move in this summer. It currently has leased space at Eighth and Brazos.
Turnbridge Equities is the developer of CityView, which is being leased by the Endeavor Real Estate Group. It is adjacent to Music Lane, which will be home to the future Soho House Austin and will offer on-site dining, retail and entertainment.
"It's definitely going to be fancy, but with an Austin vibe," Berkowitz said.
It's the perfect setting for a creative company like OJO, Berkowitz said. And it will have a distinctly OJO feel to the space, he said. For example, the entrance will feature Warren Platner Lounge Chairs. Warren Platner was an architect and interior designer known for his iconic 1960s furniture collection. He was also Berkowitz's grandfather.
"You will be welcomed by chairs that came from childhood," Berkowitz said. "It's always been my dream to have them in my office."
OJO Labs has created a virtual assistant that helps homebuyers and sellers. Its AI agent uses natural conversations conducted via mobile messages to help a person find a house. OJO's product is available in 12 markets in the U.S. and Toronto, Canada. OJO is rolling out the product nationwide. Its biggest customers are Realogy and the Royal Bank of Canada.
OJO Labs recently closed on its Series C funding of $45 million. It is using the funds to accelerate its product development and for market expansion. It plans to hire more employees in the areas of engineering, data science, product and design. OJO has 60 employees currently in Austin, but the new space can accommodate up to 128 employees.
To date, OJO Labs has raised $76 million. Last October, the company merged with real estate data giant, WolfNet Technologies, based in St. Paul, Minn. The combined company has about 350 employees. OJO also has offices in St. Paul, and on the island of St. Lucia in the Caribbean.
The new office will definitely help to attract top talent, Berkowitz said.
"You've got all of the benefits of being downtown without the traffic," he said.
To attract top engineering talent in Austin's competition market, it's helpful to be downtown, Berkowitz said. And the CityView location offers access to all kinds of restaurants along South Congress Avenue like Hopdoddy, Guero's, South Congress Café, Magnolias. It also has access to beautiful outdoor spaces like Lady Bird Lake Trail. And parking is more accessible with street parking as well as onsite parking, he said.
And OJO's new offices will have a warm and inviting interior, said Davis with Sixthriver.
"You want an environment that is super functional, but you also want the space to feel connected and to bring people together," Berkowitz said. OJO's new office has about 15 what Berkowitz calls "pocket spaces" that allow people to get away from the openness if they need privacy.
"OJO's work space being an environment that is inviting and encourages enjoyment and productivity will help us to achieve our mission of enabling millions of people to make better decisions," Berkowitz said.