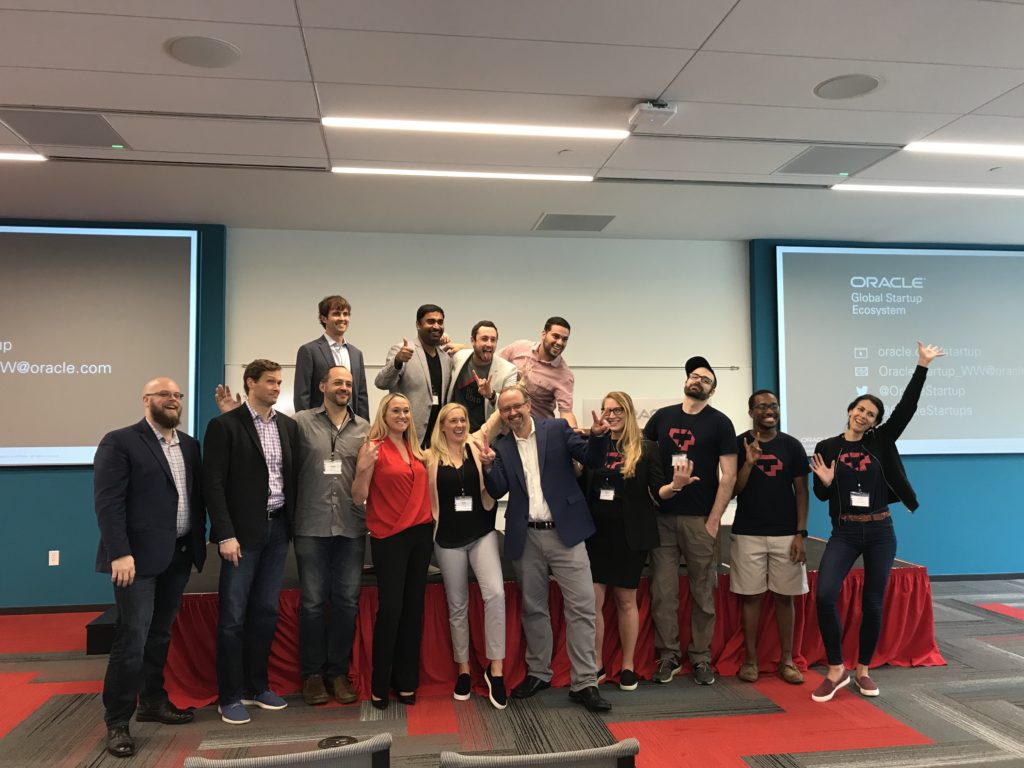 By LAURA LOREK, publisher of Silicon Hills News
Oracle held its inaugural U.S. Global Startup Ecosystem Showcase at its Austin Waterfront Campus on Tuesday.
The event featured pitches from startups selected to participate in Oracle's Startup Cloud Accelerator program in Austin. The six-month accelerator took place at Capital Factory in downtown Austin.
Five of the six startups that Oracle selected to participate in the program pitched their ventures: data.world, Molecula, ROIKOI, Senseye, and Transmute. Eventador did not pitch.
Before the startups began, the event featured Oracle executives and other dignitaries including Austin Mayor Steve Adler.
J.D. Weinstein, the head of the Oracle Startup Ecosystem in Austin, oversaw the Austin accelerator and served as master of ceremonies at the event.
Jason Williamson, vice president of the Oracle Global Startup Ecosystem, the company's startup program for entrepreneurs worldwide, kicked off the event by giving an overview of the program.
"We are basically here to provide an open platform for startups of all sizes," Williamson said. "We want to help you build stuff."
Oracle's accelerator is an opportunity to grow revenue for startups, Williamson said.
Oracle does not provide startups with funding and does not take an equity stake in the startups accepted into its program, Williamson said.
"We are interested in seeing you grow," he said. "We win if you do."
Oracle does provide startups with access to its portfolio of products, Williamson said. It also provides startups with access to global marketing, public relations resources, events and gives them engagement opportunities with Oracles' 430,000 customers.
In addition, startups get Oracle cloud credits, migration credits and technical support, access to Oracle's product and development teams, mentoring and curriculum resources, and other discounts.
Oracle is allowing startups to join its program year-round, Williamson said. The program is open to business to business and business to consumer companies of all sizes, he said.
Next up, Angelica Erazo, Oracle's diversity and inclusion coordinator, said half of its companies have either a diverse founder or a diverse mission statement.
Then, Mayor Adler talked about the importance of Oracle and startups in Austin. He said the iterative process startups go through is part of what makes Austin special.
Next, Joshua Bear, founder of Capital Factory, said what Oracle is doing in Austin is unique because it is offering access to customers for startups.
Oracle's Global Startup Ecosystem chose Capital Factory as the site to operate its accelerator.
"It has been a big success," Baer said.
The following startups participated in the accelerator program:
Transmute – Karyl Fowler, Chief Executive Officer of Transmute, presented her startup which uses the cloud, public key cryptography and blockchain technology for identification purposes. It has created Transmute ID which is user-centric identity governance for efficiency, traceability and privacy. One of the industries the startup is focused on is healthcare. With Transmute ID, doctors can authenticate and share files with patients, Fowler said. And patients can selectively share data and revoke access to their own data, she said. Transmute also graduated from the Techstars Austin program last year. Transmute, founded in 2017, has raised an undisclosed amount in a seed round.
data.world Matt Laessig, COO, and Co-founder of data.world, presented his startup which is a platform that allows companies to catalog data and analyze data across clouds, databases, warehouses, spreadsheets, and third-party services. "Technology alone does not create data-driven companies," Laessig said. "People do." data.world brings data, people, and analysis together in one place to create a data-driven culture, he said.  data.world has a growing ecosystem of 40 plus integrations with the data and analysis tools enterprises already use and a patented semantic foundation that allows people to easily search data. It's being used within Oracle to teach data best practices. Overall, data.world is being used by 40 plus customers in the financial services, healthcare, professional services, and media industries. data.world, founded in 2015, has raised $44.7 million to date.
ROIKOI – The startup has created a talent acquisition platform for companies based on employee recommendations. Andy Wolfe, CEO of ROIKOI, called it the "talent recommendation graph." Top companies like Google, Dropbox, Facebook, and Amazon build internal employee referral systems. ROIKOI is bringing that concept to all companies. Its talent recommendation graph helps companies hire better talent, cheaper and more efficiently, Wolfe said. ROIKOI combines the benefits of referrals, sourcing and job boards and improves sourcing efficiency by ten times, he said. Its system uses artificial intelligence to match existing referrals to available jobs and automatically sends out emails to the top candidates, he said. And it's not just for technology jobs, but works to fill blue collar jobs in retail, healthcare, real estate, construction, trucking and more, Wolfe said. It also improves employee diversity because the system removes names and faces and does a blind screening. ROIKOI runs on the Oracle Cloud and the program gave ROIKOI access to top executives at Oracle, Wolfe said. ROIKOI, founded in 2013, has raised $1.7 million to date.
Senseye –  David Zakariaie, CEO of Senseye, founded his startup seven and a half years ago as his high school science fair project. He then went on to receive a Naval Science Award. With that grant, he began working on his company's Human Interface Technology. Zakariaie said the eye is the window to the soul. It is also the key to reading a lot of data about a person.  "Iris' muscles are linked to the brain through the nervous system, by monitoring muscle movements which represent brain activity, we can wirelessly read stress, cognitive load, executive function, hormones, memory," according to Zakariaie. His company is building a direct link between humans and computers. Senseye's customers include the United States Air Force which started using the technology a year ago to train pilots on virtual reality flight simulators. Senseye's software receives data from a person's eyes to gauge their state of mind and ability to handle stress and how it affects their performance. Lloyd's Register is also using biometric scans and Senseye's technology to test people for impairments such as sleep deprivation, drugs, and alcohol influence or emotional distress, prior to engaging in a task on an oil rig. Its technology has other applications in automotive, gaming, personalized health and deception detection, Zakariaie said. "If you can use the data out of the brain, you can use Senseye," he said. Senseye, founded in 2015 in Los Angeles, has raised $450,000 in seed stage funding, according to CrunchBase.
Molecula – H.O. Maycotte, CEO of Molecula, formerly known as Pilosa, has created a streaming artificial intelligence platform that analyzes 100 percent of a company's data instantly, so machines can make decisions in real time. Today, only one percent of the world's data is being actively analyzed, according to Oracle. IDC predicts that in 10 years, four out of five of your decisions will be made by machines, Maycotte said. His startup is helping companies to access their data easily and quickly. During the Oracle program, Maycotte met dozens of teams at Oracle, attended 12 events including OpenWorld Singapore and generated more than 100 customer leads. "On top of it, they ask for nothing," he said. 'This is a lifetime relationship we are building with Oracle." The company, founded in 2017, has raised $3.7 million to date, according to CrunchBase.
Following the pitches, Oracle hosted the startups and guests to a gathering featuring Texas barbecue, drinks, and networking.