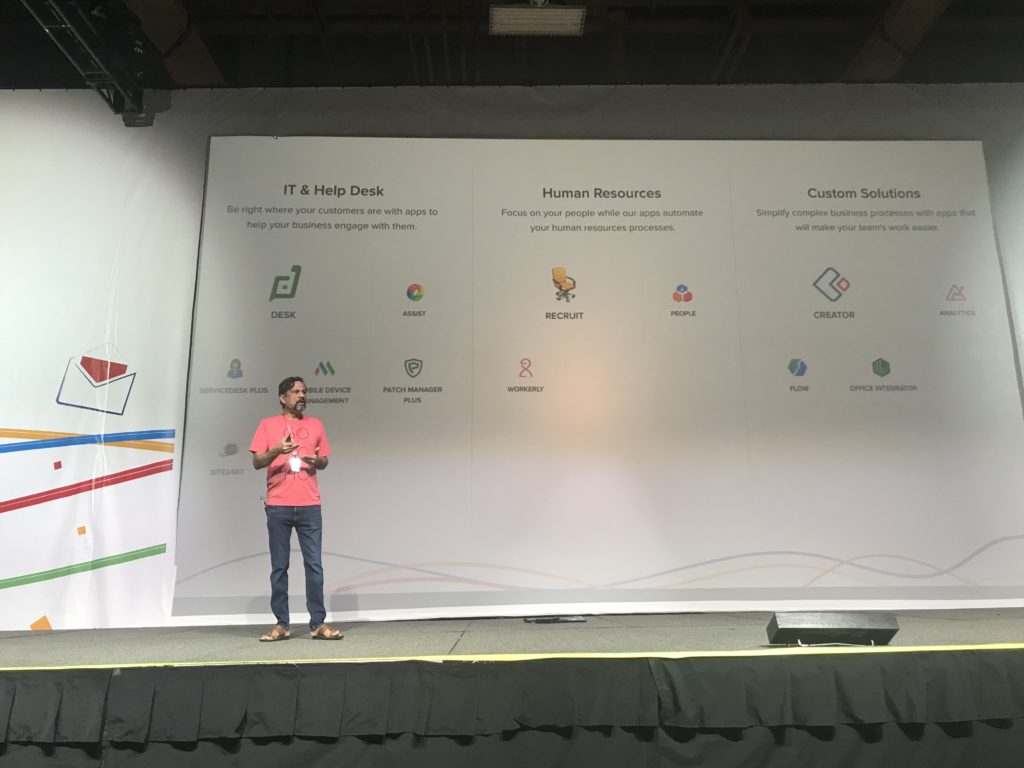 In 1996, Sridhar Vembu founded Zoho in Silicon Valley.
Today, the bootstrapped startup is still in its teenage years even as it finds its stride with the increasing popularity of its suite of software apps aimed at running everything from a small business to a Fortune 500 company.
The privately-held company does not disclose its revenue, but it does report that it has seen a compound annual growth rate of 37 percent during the past five years. And that has led Zoho is profitable and expanding to even more places.
"In about the first two or three years, we found our footing in business and we've been steadily growing. We decided not to take outside money like 19 years ago, we just made a one-time decision and we have stuck with it," Vembu said. "And we've just grown to tell the story."
 Vembu spoke with Ideas to Invoices during Zoho's annual user conference in Austin, Zoholics. At that event, held at the Palmer Events center downtown, Vembu announced Zoho plans to relocate Zoho's corporate headquarters from Pleasanton, Calif. to Austin. Zoho has purchased a 375-acre campus at Texas Highway 71 near Kellam Road and Vembu said his vision for the site is to create an Indian village for Zoho's workers. It might contain houses in addition to a 100,000 square foot building and is going to have about 500 employees.

Vembu doesn't plan to exit by taking the company public or selling it. Zoho doesn't have to answer to shareholders and can run its business differently. But it's bootstrapped way of work used to be the norm, Vembu said.
"Historically this was not unusual," Vembu. "If you look go back 100 years to 150 years you look at businesses, most of them were built this way. What has changed I would argue I haven't changed as much as the whole environment has changed."
Financial bubbles that have been created have forced short-term thinking in many tech startups looking to exit through initial public offerings or private equity investments too soon. In the last 20 years, the U.S. has experienced the Dot Com bubble and the housing bubble and sub-prime bubble, Vembu said.
"Right now, we are in an everything bubble," Vembu said. "And that changes behavior."
Vembu is inspired by companies in Japan like Toyota, Honda and Cannon. Japanese companies believe in long term vision and building centuries old companies. They have the patience and persistence to pursue long-term projects and that has led to their success, Vembu said.
Zoho makes a suite of 48 software apps to run a business and packages them in a product called Zoho One, which includes sales, marketing, customer support, accounting and back office operations, and an array of productivity and collaboration tools.
Zoho still thinks of itself as a startup, Vembu said. It still has a lot to do and they go after it with its gusto, Vembu said. It also has patience and it doesn't grow through mergers and acquisitions and that allows it to maintain its corporate culture, Vembu said.
Zoho's competitors outspend the company on marketing but it keeps growing and acquiring new customers primarily through word of mouth, Vembu said.
Zoho Corporation has more than 7,000 employees and more than 300 languages are spoken within its workforce. It has 20 offices worldwide with international headquarters in Chennai, India.
Zoho focuses on building relationships with its employees and its customers for the long term, Vembu said. Too much of business has become transactional, he said. It should be based more on relationships and that makes everyone happier, he said.
Short term thinking in business is exacting a long-term societal cost, Vembu said. He believes we are going to see a change in the way businesses act because they've reached a peak.
Also, Zoho respects user privacy and does not have an ad-revenue model in any part of its business, including its free products. It tracks metrics internally, but it does not share them with others, Vembu said.
For more on Zoho, listen to the entire podcast below.
Also, please rate and review our Ideas to Invoices podcast on iTunes and support Silicon Hills News by becoming a patron on our Patreon site.