Sharing a pint takes on a whole new meaning at South by Southwest this year.
At the HBO Game of Thrones event at SXSW, participants are asked to bleed for the throne – literally.
HBO has joined with the American Red Cross to combat a worldwide blood shortage by harnessing the power of Game of Thrones fans, HBO asks fans "Will you bleed for the throne?"
And Thursday the event kicked off, people lined up outside to do just that. Those who opted not to donate ended up in a different line with a longer wait time. Priority went to those who bled for the throne by donating a pint of blood. They also got a special edition Game of Thrones T-shirt and a sticker to unlock a unique Snapchat filter.
The Red Cross has a special intake area, fashioned to look like a fancy castle or mansion, with rollaway beds and nurses who draw blood and provide snacks and drinks afterward. The entire process generally takes less than an hour.
HBO and the American Red Cross have taken over Fair Market in East Austin for the sold-out event which runs through March 9th. SXSW offered spots on Feb. 19 for fans to register as blood donors or to visit the activation without donating blood. All the appointments were filled in under two hours. Standby lines are available for fans who were unable to make appointments online.
HBO made quite a splash at SXSW in 2018 with its Westworld activation in which it took guests to a Westworld town on the outskirts of Austin for a Wild Westworld experience.
The Bleed for the Thrones event is similar, but on a smaller scale.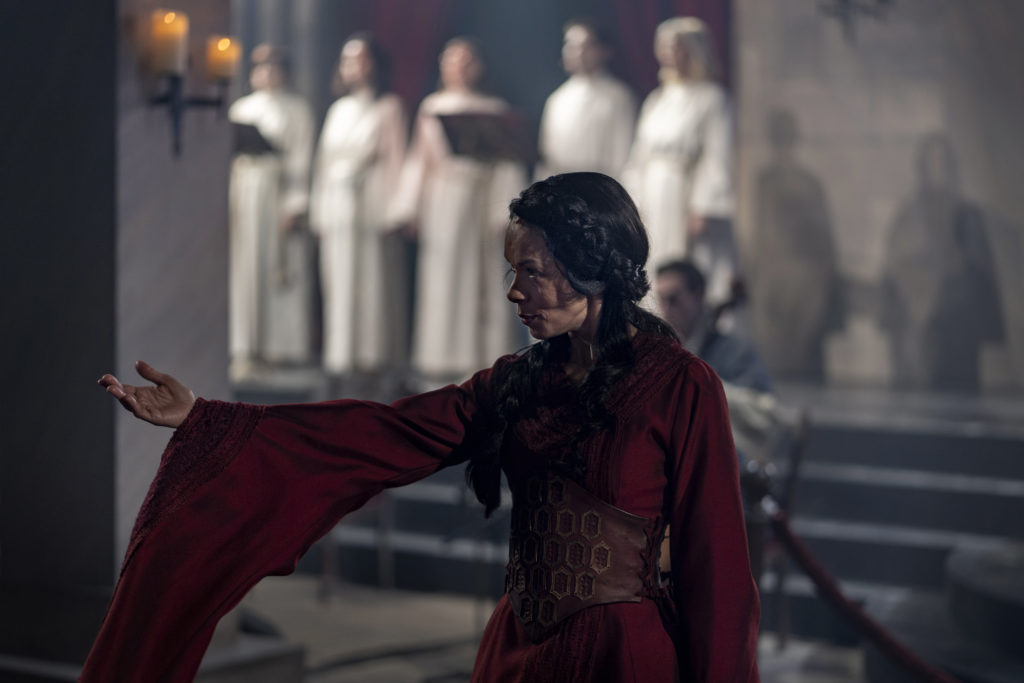 Guests start their adventure with a headset and an audio tour and walk through a maze filled with pictures of HBO's Game of Thrones characters. It talks about those who have bled for the Iron Throne. Actors dressed up to look like Guards stand at attention throughout the throne room.
The installation is a celebration of the hit show which is entering its eighth and final season on April 14th.
After the tour, guests are treated to a Choir concert and are asked to kneel before the Iron Throne. They are also given a pin showing an arm wielding a sword in victory. Afterward, everyone enters a courtyard "camp" filled with Game of Thrones character actors like Jon Snow who encourages everyone to fight for the living. Others mill about and forge weapons or get into sword fights. Drinks and burgers are served as long as supplies last.
In addition to the SXSW event, HBO and the American Red Cross are running a nationwide blood drive from March 12 to April 11th in 43 states and nine universities. Fans who present to donate blood or platelets at participating drives between Feb. 19th and March 17th will automatically be entered for a chance to win one of five trips to the season 8 world premiere of Game of Thrones.
It's a heck of a way to kick of SXSW, but yes, I did bleed for the throne.