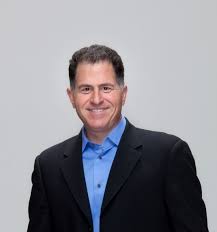 In 2013, Dell went private in a $24 billion buyout deal backed by Silver Lake and Michael Dell.
Today, Dell Technologies filed papers with the Securities and Exchange Commission disclosing that the company's board is considering taking the company public again with an initial public offering or by merging with VMWare. Normally, the company doesn't have to disclose the information since it's private, but it owns 82 percent of VMware, which is public, and that required Dell to make a public filing with regulators.
"Nothing has been decided and alternatives are just being considered at this stage," Dell wrote in an internal memo to Dell Technologies employees, which was included with the public filing. "While this process continues, it is business as usual for team members, customers and partners with no changes to current structures, practices and processes. There will be continued press coverage and speculation, and it's important to stay focused on delivering for customers and closing the quarter strongly."
"For my part, I remain completely committed to our mission and extremely excited about the opportunities ahead," Dell wrote.
The complete filing, which is short, can be found here.
In a statement, VMware's CEO Pat Gelsinger said, "We are not in a position to speculate on the outcome of Dell's evaluation of potential business opportunities. Dell has been a tremendous partner since it became our majority owner and as we've accelerated our growth. We look forward to Dell's continued support as we work to execute our growth plans in the years ahead. The VMware management team remains laser-focused on serving our customers and partners with the best portfolio of software products and services across cloud, mobile, networking and security."