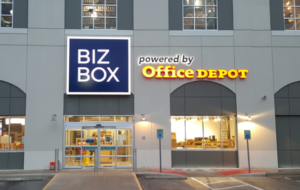 Something new is coming to Austin on Monday.
Office Depot is opening BizBox, a brick and mortar component of an online service it launched last November. BizBox will be located at the 14 Office Depot locations around Austin. BizBox offers everything from logo and website design to finance and accounting services. The location will also provide personal support and mentorship to local businesses, according to a news release.
Austin is the first market in the country to get BizBox in a store. It signals Office Depot's shift into business services. The BizBox service is tailored to startups and small businesses. BizBox offers a subscription-based service starting at $99 a month.
Office Depot decided to launch the BizBox platform following a survey it did that showed nearly one-third of 1,500 small business owners didn't have a website and more than half didn't do any kind of social media marketing.
"BizBox is a platform designed to help reduce some of the stress and barriers that prevent entrepreneurs from turning their ideas into reality, and is the first service of its kind backed by the business expertise of a multibillion-dollar enterprise," Office Depot Chief Digital Officer Kevin Moffitt said in a news release.