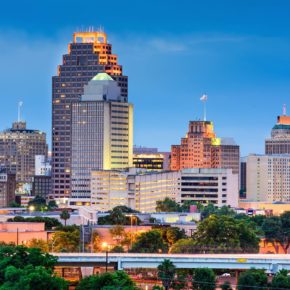 San Antonio's tech scene is on fire this week.
The big event is Tech Bloc's Rally@Rackspace on Thursday at Rackspace's headquarters. It kicks off at 5 p.m. with a pre-program reception featuring food trucks, music, retro-gaming competitions, a Cosplay contest and complimentary drinks and event T-shirts.
Then the main event takes place at the Rackspace Events Center starting about 6 p.m. with a talk on "The Birth of Video Games and Silicon Valley, Stories and Wisdom from Nolan Bushnell," the founder of Atari and 20 other companies.
After that, there is another talk on "The Startup That Changed San Antonio – The Creation, Growth, and Future of Rackspace:" featuring Dirk Elmendorf, co-founder of Rackspace, Lew Moorman, former Rackspace president, Scaleworks founder and Tech Bloc co-founder and Graham Weston, former Co-founder and Chairman of Rackspace, founder of Geekdom, the 80/20 Foundation and the West Urban real estate company. Tickets are available at Tech Bloc's website.
Other events this week:
WEDNESDAY – SA New Tech takes place at the Geekdom Event Centre starting at 6 p.m. It is a monthly meetup featuring new technology companies being developed in San Antonio.
THURSDAY – Coffee Club at 2 p.m. at Geekdom on the Seventh Floor. The event features a tasting of coffee from different San Antonio-based coffee shops and lots of networking.
FRIDAY – Fermented Friday runs from 4 to 6 p.m. at Geekdom's Event Centre and this particular event will feature a launch party for Winslow Swart and Beto Altamirano's 1MDreams Mobile App.
FRIDAY – Nerd Night from 7 p.m. to 11 p.m. at the Geekdom Event Centre features a lot of people playing board games.
FRIDAY – Dinner and Code take place at the Geekdom Event Centre starting at 4 p.m. until 8 p.m. It is a meetup focused on learning to code and dinner.
Upcoming Events:
San Antonio Entrepreneurship Week kicks off Monday, Nov. 13 and runs through Friday, Nov. 17th. Tickets available here.
Sources: Geekdom and Tech Bloc