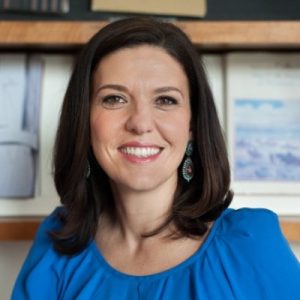 Zeynep Young is a serial entrepreneur who just became a venture capital partner with Next Coast Ventures.
In this Ideas to Invoices podcast, Young discusses what it takes to succeed as an entrepreneur and what she looks for when making an investment.
Previously, Young founded and served as CEO of Double Line Partners, an educational technology startup in Austin. And before that, she was portfolio director at the Michael & Susan Dell Foundation and an associate principal at McKinsey & Company.
Young is currently the CEO of milk + honey, a wellness and beauty company with a portfolio of day spas, salons and products in the organic, luxury market.
Alissa and Shon Bayer founded milk + honey in 2006 in Austin. The spa business has grown to five locations in Austin and Houston. Milk + honey is launching nationally, Young said. They also sell organic products like a natural deodorant online and through their stores, Young said.
After selling Double Line Partners to a private equity company, Young took a year off to spend more time with her kids and family. But she didn't stay away for long.
"I think if you enjoy what you do it gets boring to be away from it," Young said. "I love tech and I love spas and I love startups and I missed that. And it's really fun to get back into business and starting talk about ideas that you're really passionate about and working with people you really like."
In the partner role at Next Coast Ventures, Young is looking for ideas where she can add a lot of value. The firm is built for entrepreneurs by entrepreneurs, Young said. Tom Ball and Mike Smerklo, founding partners of Next Coast Ventures, are both entrepreneurs who have built companies and taken them to an exit. Next Coast Ventures recently closed on a $85 million fund and is looking to invest in early stage entrepreneurs in the Austin area and similar tech markets.
"We look to invest in things that we really understand and have expertise in where we think we can add a lot of value beyond just the capital," Young said.
At Double Line Partners, Young launched the company from zero dollars and grew it to $20 million in revenue from her dining room table. She spent six years as a bootstrapped entrepreneur building up the educational technology company before selling it.
Young will be looking at software, educational technology and retail startups.
Under 10 percent of venture funded companies are founded and led by women, Young said. There is opportunity there for VCs to reach untapped markets, she said.
"I think we should definitely have more women in venture capital and more women should get involved in," she said.
That's one thing that differentiates Next Coast Ventures. It is intentional around building diversity of experience, Young said.
Entrepreneurs pitching Young should have a customer focus. That's the number one thing she looks for when making an investment.
"I think part of the thing I see missing in the space right now is that people who are first time entrepreneurs get very focused on raising the capital," Young said. "And then the second thing they think about is how do I build a minimum viable product and then they start to think about the customers."
As a bootstrapped entrepreneur, Young had to think about the customer every minute of ever single day.
"I think if that is sort of your third or fourth priority, it's going to be very difficult to be successful," Young said.
She doesn't want to hear a pitch targeted to capital or how they are going to get the product done. She wants to hear about how they are going to reach customers.
What doesn't play well with her is an entrepreneur talking about getting one percentage of a huge market. She wants to hear about specific customers.
It's also important for an entrepreneur to understand the industry they are working in, Young said. They must have industry experience on their team, she said.
"I love innovative ideas that disrupt industries, but I think you have to know a little bit about the domain and the industry before you disrupt it," she said.
Young also recommends that entrepreneurs work their network to find customers for their products and services as extensively as they work their network looking for capital.
And in the process, entrepreneurs will have to deal with a lot of rejection. But they should be open to the feedback from customers as well as investors.
"When you hear no, it doesn't mean that the idea is bad," Young said. "It's just not for that person. Not every concept is right for every person."
The sales process also is easier if an entrepreneur is passionate about what they are creating, Young said. But if an entrepreneur isn't comfortable with that part of the business they need to add a team members who is, Young said.
"There's no success without sales," she said.
Editor's note: To hear more tips on how to success as an entrepreneur, listen to the full Ideas to Invoices podcast interview with Zeynep Young, serial entrepreneur, partner with Next Coast Ventures and CEO of milk + honey on iTunes. And please rate and review the podcast. And thanks for reading and listening! Also, if you like the work we do at Silicon Hills News, please consider supporting us on Patreon. For just $1 a month, you can ensure that Silicon Hills News continues to produce quality local tech news. Thank you for your consideration.