Salon Magazine dubbed President Obama "Commander in Cool" for launching the first SXSL: South by South Lawn festival which takes place on Monday at the White House.
The day-long celebration is fashioned after Austin's highly successful SXSW, which President Obama attended and spoke at last March. The SXSL event features a number of talks on subjects like augmented reality, art, innovation, food and technology, music performances by The Lumineers and Sharon Jones and the Dap-Kings, film workshops and screenings.
The festival is invitation only. The White House allowed people to nominate themselves or others in their community who were making a positive impact. The White House received more than 20,000 nominations. It culled through them and sent out invitations to several hundred who will attend the event. For those that cannot be there, it will be streamed live on WhiteHouse.gov, Facebook.com/WhiteHouse, and sxsw.com/live and the hashtag for the event on social media is #SXSL.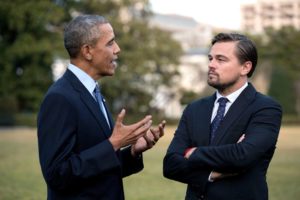 One of the highlights is a talk with President Obama, Academy Award-winning actor Leonardo DiCaprio and climate scientist Dr. Katharine Hayhoe on climate change. And the premiere of DiCaprio's new documentary film "Before the Flood" during a film screening on the South Lawn.
In the morning, a breakfast session "The Hard Things are Hard" takes place at the Newseum with artist James Turrell and architect David Adjaye and moderated by Michael Govan on the rewards of taking on hard challenges and doing ground breaking work.
The SXSL festival is designed to entertain, engage and inspire people to take action in their own communities to make things better for everyone.