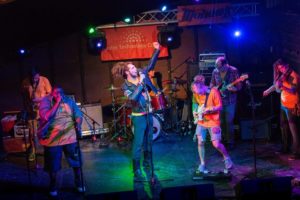 It's hard to believe six years have flown by since the first Austin Startup Week kicked off with their first event at the Tiniest Bar in Texas.
And Silicon Hills News, which is on its sixth year in business as the premier technology media startup covering Austin and San Antonio, was there to cover it.
Jacqueline Hughes and Joshua Baer founded Austin Startup Week to shine a spotlight on the city's startup community, which has grown tremendously in the last six years.
Austin Startup Week is free, but registration is required. It features more than 150 speakers throughout the week at various meetups, panels, happy hours, coffee breaks and more. The event has certainly grown in six years with lots of diverse panels.
Here's a link to the full schedule and here's 15 that Silicon Hills News has highlighted to check out:
MONDAY:
The Central Texas Angels Network's Entrepreneur Workshop with Claire England, CTAN executive director, and Rick Timmins, CTAN board chairman. At Galvanize from 2:00 p.m. to 3:30 p.m. This is a great overview of the funding landscape for new entrepreneurs in Austin. CTAN is often a first source of funds for Austin startups. To get an idea of some of the topics they might cover, check out our story from last year.
Leaning in: Why People of Color and Women Must Pull up a Seat: At Galvanize from 4 p.m. to 5:30 p.m. Diversity is one of the hottest topics in technology right now. Studies show diverse teams outperform homogeneous ones. So everyone would think it would be a no brainer to add more minorities and women to the mix of tech entrepreneurs getting funded, but it's not that easy to change a system. Panels like this highlight the issue and seek to find solutions. It's good to be a part of this conversation.
Austin Startup Week's ATC's Battle of Bands: 6:30 p.m. to 10 p.m. at The Mohawk. The best place to kick back and enjoy some good music produced by Austin's own startup bands at startups. It's a truly unique event that spotlights how creative Austin's technology community is at work and outside of it.
TUESDAY:
Startups for Veterans: 10 a.m. to 11:30 a.m. at Brazos Hall. This event put on by Bunker Labs Austin and Patriot Boot Camp is focused on getting military veterans into the Austin startup scene as founders and key employees.
Austin's Capital Landscape: Demystifying the Capital Scene: Noon until 1:30 pm. at Capital Factory featuring Paul O'Brien of Accelerate Texas, Rob Adams, director of Texas Venture Labs, Jim Brown, founder and partner of Arena Growth Partners and Kerry Rupp, general partner of True Wealth Ventures. They'll talk money and hopefully explain how startups can get some.
Women in Tech Meetup at Galvanize from 5 p.m. to 7 p.m. Want to meet kickass women in Austin's entrepreneurial ecosystem getting stuff done? Then attend this meetup. Enough said.
VentureCrushATX Panels: Mistakes Startups Make and How Startups Should Think About Cybersecurity at Umbel's Office from 6 p.m. to 8:30 p.m. There's already a waitlist for these back to back panels, make this event one of the most popular events at Austin Startup Week. But if you can get in, it's worth attending. They've got a stellar lineup of speakers and hot topics.
WEDNESDAY
Health Tech Austin: Winning Strategies for Taking Your Innovation and Product to Market– 7:45 a.m. to 9:30 a.m. at Capital Factory. This is a news you can use panel for health tech startups. It features Jean Anne Booth, founder of UnaliWear and Chris Loughlin, CEO of RxWiki. This is a great place to pick up a copy of Silicon Hills News' life sciences magazine.
Pathways for Global Startups: The International Entrepreneurial Rule at noon to 1:30 p.m. at Capital Factory. The panel focuses on the power of immigrants to found companies and contribute to the nation's technology industry.
Tech's Emerging Role in Austin's Politics, Policies and Philanthropy – 6 p.m. to 8 p.m. at Owen's Garage. This is a powerhouse panel featuring Mayor Steve Adler, Austin Technology Council's CEO Barbary Brunner, Capital Factory Founder Joshua Baer and with the Austin Tech Alliance, to talk about the tech industry's role in Austin government and shaping the city.
THURSDAY
Austin Open Coffee from 9 a.m. to 11 a.m. at Atlassian – Damon Clinkscales has been running Austin Open Coffee for years. It's a casual gathering of Austin entrepreneurs and others to socialize and network and drink great coffee.
Techstars Open House and Fireside Chat with Amos Schwartzfarb, managing director of Techstars Austin at 2 p.m. to 3:30 p.m. at Techstars. The program is currently accepting applications for its next class. Come to this gathering to learn more.
SXSW Success for Your Startup: Leveraging March Magic in Austin – 4 p.m. to 5:30 p.m. at Galvanize featuring a talk with Chris Valentine, accelerator pitch event manager at SXSW and Hugh Forrest, chief programming officer and partner at SXSW.
Austin Startup Crawl presented by Hired – Kicks off at 5 p.m. and goes until 10 p.m. It is held at various venues around town. The megastop is at Capital Factory.
FRIDAY
Smart Policy for Smart Cities – 8 a.m. to 9:30 a.m. A discussion about policies to encourage Austin to adopt Smart City practices.