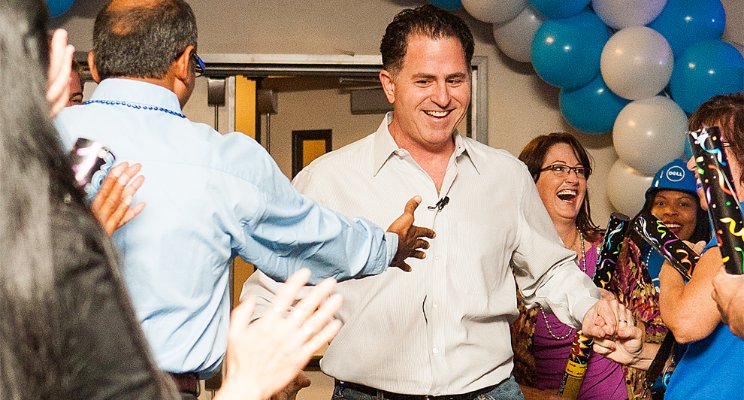 By Michael Dell
Reprinted with Permission
I grew up in a family of brothers. As you might guess, competition was a way of life. A game of cards or tag or Battleship was serious business.
My brothers and I have our mom to thank for much of our competitive spirit. Her usual parting words when we bolted out the door to play any kind of sport were "Play nice…but win." 🙂
Those words stuck with me, and they sum up how we'll approach this next chapter in Dell's story—which begins today with the successful acquisition of EMC and Day 1 of Dell Technologies.
After 32 years in business, I've learned some important lessons about winning. Winning with integrity (to paraphrase my mom) certainly tops the list. But another lesson that's particularly relevant and crucial in today's business environment is this: change or die. It sounds dramatic, but it's truer than it's ever been.
This is a time of unprecedented change. It's been called the next Industrial Revolution, where data, the Internet of Everything and information technology replace industrialization as the driving force of progress and transformation. Disruption is around every corner and in every industry, but so is opportunity.
To win in business today, you must be fearless about disrupting yourself and transforming for the future. Think about the big companies that didn't—like Blockbuster, Kodak or AOL. They faded away completely or became a shadow of their former selves. 'Business as usual' is how you lose in the digital era in which we live.
Today, Dell, EMC and VMware play mission-critical roles in the transformation of our customers' organizations around the world. But together as Dell Technologies, we will be unstoppable.
We will deliver the essential infrastructure our customers need to secure their digital futures. We are already a market leader across four globally recognized technology franchises—servers, storage, virtualization and PCs—and we have unmatched scale and innovation to lead in the technologies of the future, like hybrid cloud, converged and software-defined everything. Global tech companies must transform, too, and we're doing it in a big way with Dell Technologies.
I've been dreaming about this day for a while. It's yet another turning of the page for the company I started as a 19-year old college freshman, and this was very much on my mind as our new leadership team met for the first time in Austin recently. At the end of the meeting, I shared my thoughts on the future of our company and the enormous, positive impact we can have on our customers and the world. The energy and excitement from everyone in the room was palpable. We all see the opportunity ahead and are equally committed to win.
So it was only fitting that I ended the day with wise words that have served me well my whole life—Let's play nice…but win!
This post was originally published at LinkedIn.