By LAURA LOREK
Reporter with Silicon Hills News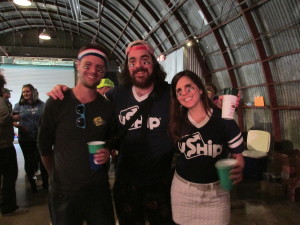 uShip won the 2016 Austin Startup Games on Saturday afternoon at Fair Market on Austin's East side.
SpareFoot, a three-time champion, came in second, followed by LawnStarter, a new competitor to the games.
More than 1,000 people attended the event, which raised $57,500 for local charities, said Sara Levy, executive director of Austin Startup Games, a nonprofit organization. The top three winners spilt the bulk of the money, but each team received $1,000 for its chosen charity just for participating, she said. uShip is donating its winnings to Communities in Schools of Central Texas. SpareFoot's money goes to Kure It, a kidney cancer research group. And LawnStarter raised money for the National Alliance on Mental Illness.
The games started five years ago at uShip, which won the inaugural games.
"In the last five years, we've given away $175,000 and after today, we'll have given away $225,000," Levy said.
The games bring members of the Austin startup community together for a full day of fun and competition. A lot of people dress up in team colors and carry flags.
"It's fostering that culture of competition among the companies in the startup community," Levy said. "It's the biggest games like this in the country. It's helping to instill the culture of giving back early on in the lifecycle of a company."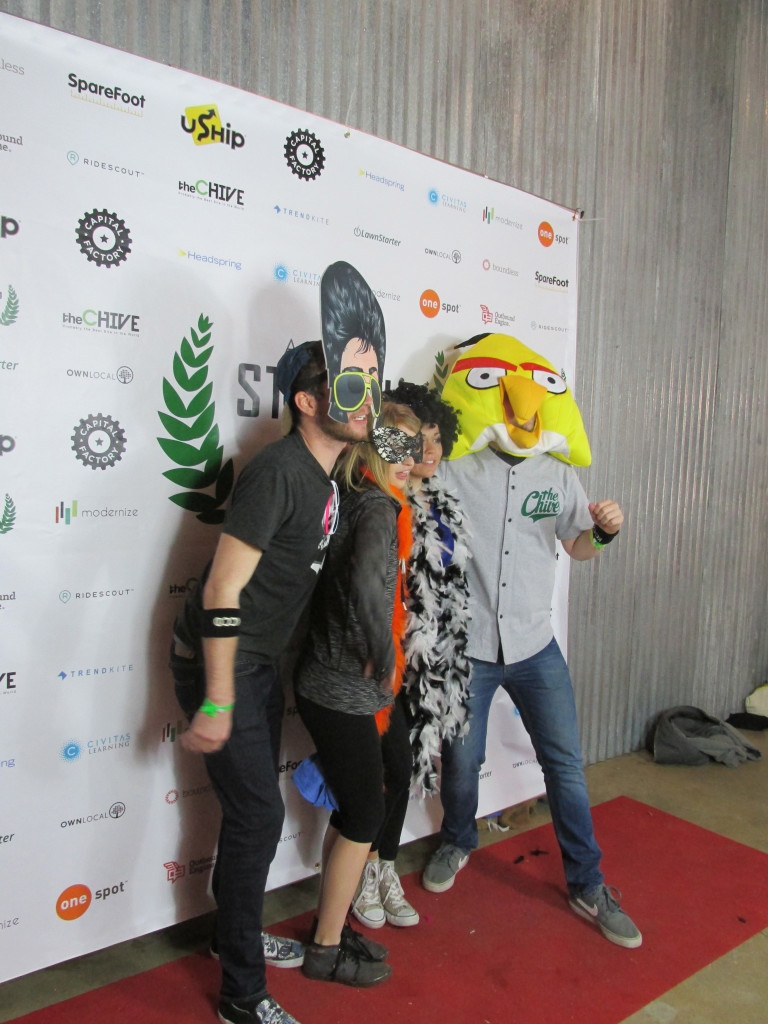 Startup Games has been such a success in Austin, the organization wants to expand outside of the city, Levy said. Its goal is to give away $1 million to charity eventually. Levy is also executive director of the Notley Fund, a newly launched philanthropic investment firm. Startup Games joined the Notley Fund as one of its signature programs. Dan and Lisa Graham created the Notley Fund.
The Startup Games are only for companies with less than 250 employees. So Startup Games created "Level Up" for the bigger companies with more than 250 employees. Eight teams will compete on April 23rd in that event.
This year 14 startups competed in ping pong, foosball, beer pong, flip cup, pop a shot, darts, shuffleboard, connect four, trivia, MarioKart, liar's dice and the mystery event.
This year's mystery event was human powered Hungry-Hungry Hippos. It featured people lying on their stomachs on boards with wheels. Two handlers grabbed their feet to steer them around the floor to snatch up colored balls with a container. The "Hippo" with the most balls won the match.
In the past, the mystery events have included jousting and bull riding. The whole idea of the mystery event is so that no team can prepare for it in advance, Levy said.
Last year, The Bunker Austin received $1,000 from ATX Seed Ventures, which played in the games on behalf of the nonprofit organization, said Johnathan Paul Wojtewicz, co-founder of The Bunker Austin. He attended the games on Saturday to show his support and to volunteer to help.
"This is an amazing experience with a lot of great companies," Wojtewicz said. "It's a win for the team members who participate in a healthy competition. But it's also a win for the people who come out who might not be a part of the startup community and want to join a company."
The key to success at the games is "practice, practice, practice," said Chuck Gordon, founder and CEO at SpareFoot, a three time winner with 125 employees. He said his team starts training on Monday for the next Startup Games.
SpareFoot's best events are trivia, pop a shot, foosball and shuffleboard, Gordon said. He participated in liar's dice, a competition for executives at local startups.
"I think that Startup Games is amazing how we bring all the Austin startup community together in a fun competitive atmosphere to benefit charity," he said. "It's amazing what the team has built and I'm proud of them."
SpareFoot has raised $70,000 throughout the years for its charity, Kure It Cancer Research, which focuses on finding a cure for kidney cancer and other cancers.
Ryan Farley, co-founder of LawnStarter, with 25 employees, entered the games to win it. And the LawnStarter team did well. They placed first in beer pong and they also placed in pop a shot and the mystery event.
"I think it's a way to get our name out there for recruiting," Farley said. "It's also for our employees. They are working super freaking hard and this gives them an outlet to have some fun."
One of Austin's newest startups, Waldo Photos, attended the event to photograph participants for its new photo finding platform.
"We wanted to come out and support Startup Games," said Rodney Rice, co-founder and CEO of Waldo Photos. "It's an easy way for everyone out here to get their photos."
Waldo Photos Just launched in closed beta and the startup hopes next year to participate in the games, Rice said.
"It's an electric atmosphere," Rice said. "It's cool to see all of these people competing."