By LAURA LOREK
Reporter with Silicon Hills News
San Antonio had a good year in tech. A new movement called SA Tech Bloc launched. They helped to bring Lyft and other ridesharing apps back to the city. A new source of funding from Bexar County called SA Tech Fuel also launched to provide seed stage funding to a few local startups.
And Geekdom celebrated its fourth birthday in grand style. And Geekdom has also fully moved into its new headquarter building at the Rand. It also is filling up quick and some bigger startups like Codeup have moved into new offices nearby. The Open Cloud Academy also expanded and moved into the entire fifth floor at the Rand building.
Google announced Google Fiber is coming to San Antonio, but no dates for the rollout have been announced yet. Meanwhile, AT&T launched Gigabit service to some of its customers in San Antonio.
Without further ado, here's a roundup of the top ten technology stories as ranked by traffic on the Silicon Hills News news site for San Antonio in 2015.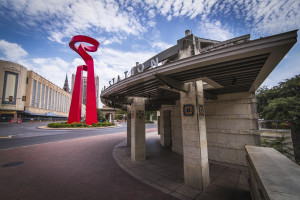 A Technology Revolution is Brewing in San Antonio
The New Techstars Cloud Class Kicks off in San Antonio
SA Tech Bloc Seeks to Advocate for San Antonio's Tech Industry
Rackspace and Intel Open the OpenStack Innovation Center
Seven Women Run Tech Startups to Watch in San Antonio
Ten Life Sciences Companies to Watch in Central Texas
Lyft Returns Ridesharing to San Antonio
Techstars Cloud Demo Day in San Antonio Features 10 Startups
Mass Venture of San Antonio Approved as Texas' First Equity Based Crowdfunding Portal