By LAURA LOREK
Reporter with Silicon Hills News
Looking back at 2015, Austin's technology industry had a really good year. It was a year filled with big acquisitions, the largest of which was Dell's offer to buy EMC Corp. In addition, lots of interesting developments like Google's autonomous cars testing on the streets of Austin continued to showcase the city's innovative backbone.
So without further ado, here's our picks for the most talked about tech topics in Austin in 2015.
1. Google Driverless Cars – Hand's down the number one story of 2015 for Austin. People are beginning to understand how transformative this technology is going to be on our society. And Austin is playing a major role in the development of the autonomous car industry. It is the only market outside of California where Google is testing its self-driving cars.
2.
Why do People Keep Moving to Austin?
The city lands on the top of just about every list for hottest startup market and most robust technology industry. Add to that the new Dell Medical School and the healthcare and life sciences opportunities it is going to generate and it's no wonder Austin is experiencing a population explosion.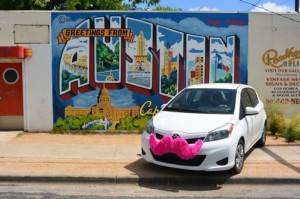 3. Ridesharing – Does anyone remember HeyRide which first disrupted the transportation industry with ridesharing back in 2012? The City of Austin slapped them with a cease and desist order. Well the controversy continues with new regulations on Lyft and Uber that some think might lead to those services leaving the city. Let's hope this all gets sorted out in the New Year.
4. On Demand Delivery Services – Amazon launched its two-hour delivery service for Prime customers in Austin and then rolled out its one hour restaurant delivery. Things are getting heated up in the Austin market with so many options for delivery that folks never have to leave their houses any more. The startups include Favor, Burpy, Postmates and Instacart for food. For booze, there's Drizly, BrewDrop. And for courier services there's Dropoff.
5. International Connections – Ireland opened up Ireland House, the first Irish consulate in Texas in Austin this year. Angelos Angelou's International Accelerator is helping foreign startups set up operations in Austin. And Kahoot from Oslo became the first company to join Capital Factory's international program. Kevin Koym with Tech Ranch also forged new international connections this year with Japan.
6. Coworking explosion – Austin now has dozens of coworking sites, up from just a handful a few years ago. WeWork launched in Austin in February, filled up and expanded. Techspace announced plans for a new coworking space to open in March next year. And Galvanize is opening in Austin. And Urban Co-Lab set up shop on the city's East Side.
7. Acquisitions – The biggest news, of course, was Dell's announcement to acquire EMC for $67 billion in what is deemed as the largest tech merger ever. Meanwhile, Expedia announced plans to buy HomeAway for $3.9 billion and private equity firms acquired SolarWinds for $4.5 billion. Other notable acquisitions included Heaven Hill Brands of Kentucky buying Deep Eddy Vodka, Accenture acquiring Chaotic Moon, Oracle buying Stack Engine and Ultra/Standard buying Texture Media.
8. Crowdfunding – The
SEC adopted
new equity-based crowdfunding rules. Texas had already approved crowdfunding last year. And the first Texas crowdfunding portal received approval from the state's securities board. This is expected to free up a lot more capital for investment into mom and pop businesses. 9. The Tech Bubble and Unicorns – At SXSW, Silicon Valley Venture Capitalist
Bill Gurley told the crowd
to enjoy the upside while it last. Discussions about Unicorns and the tech bubble continued throughout the year. Bob Metcalfe, professor of innovation at UT Austin,
participated in a discussion
about the deflation in valuations of so-called technology unicorns or private companies with valuations in excess of $1 billion. 10. Data – Data and analytics continue to
transform entire industries like healthcare
. Austin startups like
Capsenta
and
PotentiaMetrics
are using data to improve healthcare. And it's not just in the healthcare field,
People Pattern
is helping brands better understand and cater to their customers through data analysis.