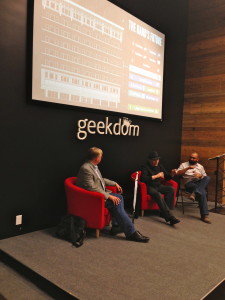 What kind of impact can a privately financed technology incubator have on a city?
Just take a look at Geekdom, the collaborative coworking technology center in downtown San Antonio.
Four years ago, Graham Weston, co-founder of Rackspace, and Nick Longo, founder of CoffeeCup Software, launched Geekdom on the 11th floor of the Weston Centre with the idea of creating an epicenter for the technology industry in the sprawling city of San Antonio.
Since then, Geekdom has served as the catalyst for igniting the city's technology industry. It has attracted the Techstars Cloud accelerator, incubated dozens of companies and enlisted hundreds of entrepreneurs as members. It also moved into new headquarters and expanded into the entire historic Rand Building on Houston Street.

Geekdom companies have raised $50 million in venture capital, said Lorenzo Gomez, its director. Four startups have also been acquired including Akimbo, ZeroVM, RAM Law Firm and Carbon Black, he said. And five local companies have gotten into Techstars. They include TrueAbility, Parlevel, Nebulab, Slash Sensei and Help Social.
Geekdom has had "net positive growth every month for the last two years and we're really excited about it," Gomez said. Geekdom members are pioneers in building a new kind of city around ideas and innovation and they are creating great opportunities for entrepreneurs and tech workers locally, he said.
"We are a city you can build and very few people get to participate in building a city in their lifetime," Gomez said.
Two years ago, Weston bought the Rand building with the goal of filling it up with technology companies.
Today, the Rand building is projected to be 100 percent full by the end of the year, Gomez said. Geekdom occupies the top three floors, the Open Cloud Academy takes up the entire fifth floor. Other tenants include WP Engine, Rivard Report and TechBloc, Gomez said. Companies are fighting to lease the second and third floors, he said. He can't say who they are but they will move in late this year or early next year, he said.
Geekdom is also working to get some retail establishments on the first floor of the Rand Building, Gomez said.
"The ecosystem went vertical and then it spilled out into the streets," Gomez said. "Now it's all over downtown."
Companies like Codeup, led by Michael Girdley, have moved into their own building nearby. Gomez said he sees this trend continuing.
"Members build companies," Gomez said. "Companies build ecosystems."
Grassroots organizations like Techbloc have also worked to galvanize San Antonio's technology community, Gomez said. They have been instrumental in presenting issues of importance to city leaders, he said. Techbloc played a key role in bringing ride sharing companies like Uber and Lyft back to the city.
During a fireside chat, Weston and Longo recounted the story about how they bid against each other to acquire the Geekdom.com domain name. They traveled the country looking at other technology centers and they set up Geekdom to become a collaborative coworking and technology incubator.
Geekdom is the place where startups are born, Weston said.
"When Nick and I started Geekdom, we said we were going to throw a party and put up a keg and buy some pizza and hope that people show up," Weston said. "Ultimately Geekdom is not worth anything without you."
Money can't buy human energy, ideas, enthusiasm and excitement and that's what Geekdom helps foster, Weston said.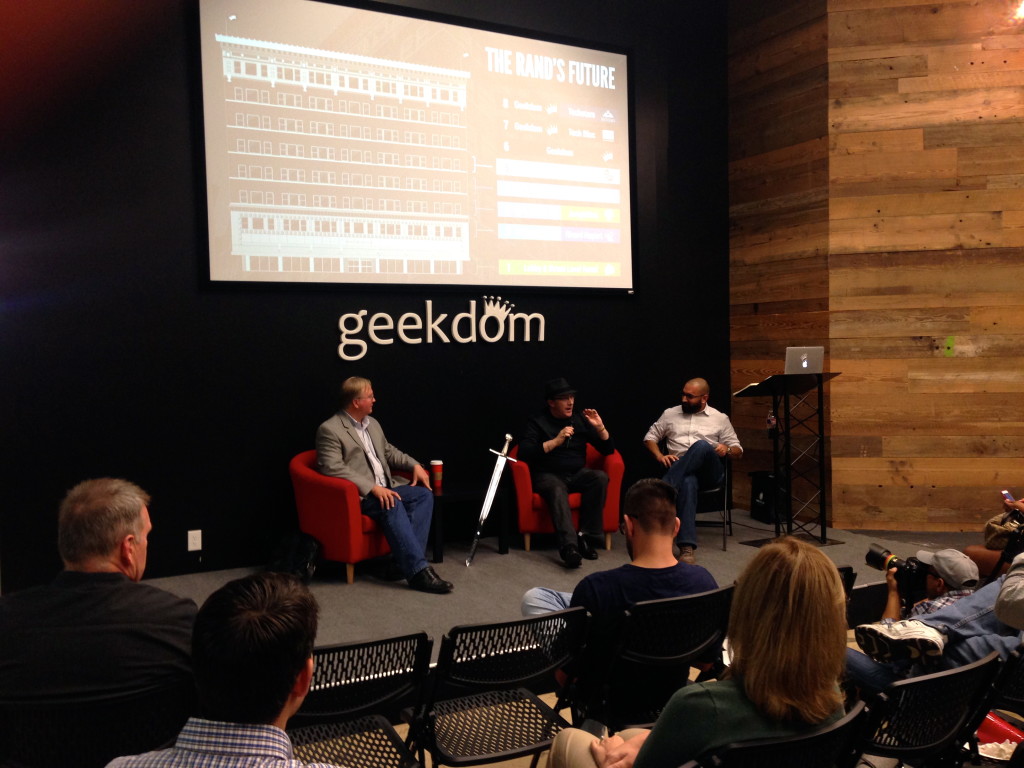 "This is a city that is being built right now," Weston said. "Twenty years ago, I've heard this my whole career here. I've heard people say 20 years ago this city was ruled by five white guys…That's not true today. This city today is ruled by you. This city is ruled by us. This city's future is led by us. This isn't a sleepy South Texas town that it may have been a few years ago."
The changes that will happen in San Antonio will come from the members of Geekdom and the innovations they cook up, Weston said.
To celebrate its fourth birthday, Geekdom held a community Circus-themed party Thursday night complete with band, fire dancers, stilt walkers, aerial artists, game booths, Alamo beer kegs, food trucks and even an artist drawing caricatures of people for free. More than 1,500 people RSVP'd for the event held in Main Plaza downtown.