By LAURA LOREK
Reporter with Silicon Hills News
The merger of Dell and EMC is good for everyone, said Michael Dell, during his keynote address at DellWorld 2015.
The $67 billion merger would create one of the world's largest IT companies under a private company structure.
"Investing for the long term – no 90 day shot clock," Dell said.
"Complete alignment from our customer focused innovation and investments in R&D to our leadership and our ownership 100 percent focused on you," Dell told his customers attending the fifth annual conference held at the Austin Convention Center.
Most CEOs say it's easier to manage a private company, Dell said. The price tag to merge with EMC is $67 billion, Dell said.
"The master of your own destiny? Priceless," Dell said.
In 2013, Dell took the company he founded 32 years ago in a dorm room at the University of Texas, private in a deal valued at $25 billion.
"When we took Dell private two years ago we called it the world's largest startup," Dell said. "When we take EMC private, wow, who had any idea how big a startup could be?"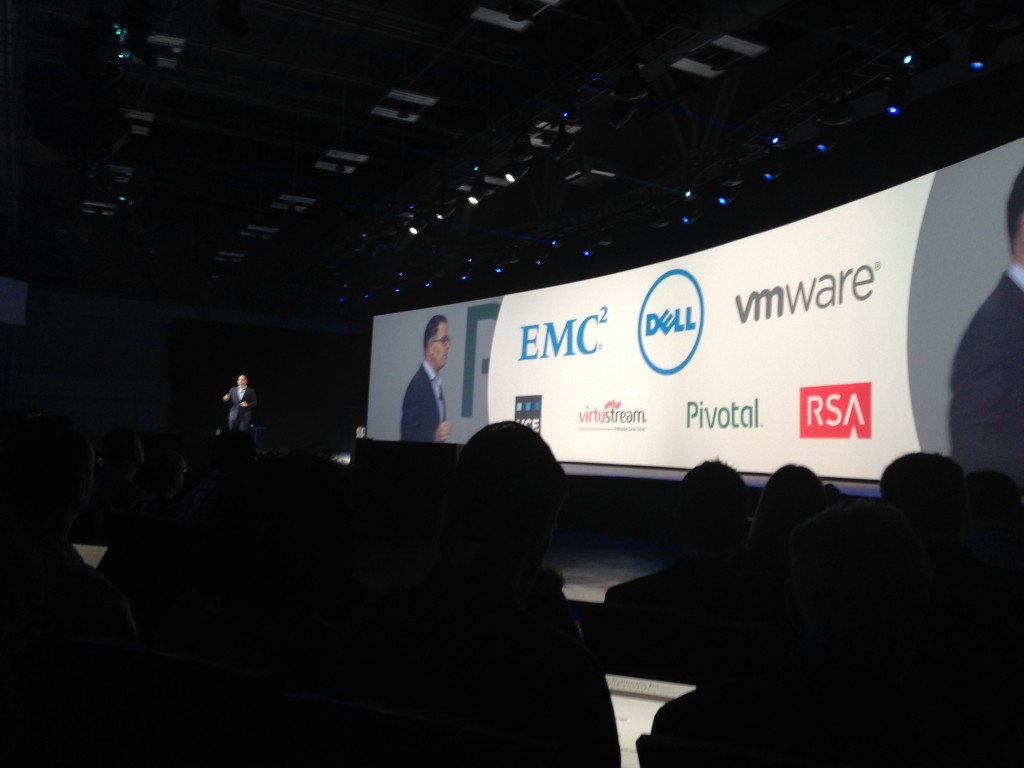 "The last two years have been fantastic for me," Dell said. "We've been able to do so much that makes me so proud like accelerating innovation."
Last year, Dell increased the number of patents it has filed up 27 percent from the previous year. That brings the total number of patents filed for Dell to 8,000, he said.
"This is the result of focused investments in R&D, innovation and acquisitions totaling some $18 billion over the last eight years," Dell said. "Our position in the market has never been stronger or more differentiated."
Dell is no longer just a PC company. It is an end-to-end solutions provider with hardware, software, security services, cloud computing and more, Dell said. It has gained market share across its four business sectors, its financially strong and hiring thousands of salespeople around the world, Dell said. And it's Net Promoter Score, which is how customers rate Dell, has never been higher, he said.
"I'm even more convinced that going private was the right decision for you and our company," Dell said. "There are more opportunities ahead of us than I have ever seen."
Startups like Uber and AirBnB are disrupting traditional industries, Dell said. Companies in all industries need to prepare for that digital reinvention and transformation, Dell said.
"Each day technology is driven deeper and further into our lives," Dell said. "Technology doesn't support the business model, it is the business model."
Product companies are being digitally transformed. The car industry is going through a digital revolution with smart cars. Dell said his Tesla got a software upgrade over the weekend and now it can drive itself. He said he's looking forward to trying that out.
The Internet of Things is also bringing an explosion of devices, applications, sensors and data, Dell said. That's resulting in 44 Zettabytes of information in total by 2020, a Zettabyte is a one with 21 zeros after it, Dell said.
The next big innovations will come from machine to machine communications, artificial intelligence, machine learning, robotics, drones, enormous numbers of sensors and data analysis.
"It's a digital universe and it's the next trillion dollar opportunity for growth and productivity," Dell said.
The key to realizing this opportunity is to process and analyze all of the new data being generated, Dell said.
Dell on Tuesday launched the new Dell Edge Gateway 5000 series, a purpose built Internet of Things gateway to manage data being generated from Internet of Things applications for companies. It can connect any sensor, any device to any other endpoint and to the Internet, Dell said.
Dell continues to innovate in its server business and data center business and it has a great storage business, Dell said. And the EMC acquisition gives it the industry's biggest and best and most innovative storage business, he said.
Dell is also focused on the cloud and cloud services as one of its fastest growing businesses, in particular the hybrid cloud, which is a combination of public and private cloud environments, Dell said.
And it's still committed to its PC business, Dell said. It's working with Microsoft on the integration of Windows 10 into its machines. A few weeks ago, Dell was in New York City for the launch of its XPS line of computers.
"Our new machines are beautiful, they are sleek, powerful, fast, big beautiful displays with the smallest form factor in the market,' Dell said. "Our XPS 15 with Windows 10 may be the best PC ever made."
And Dell was the fastest growing major PC vendor last year, he said. Dell has had 11 consecutive quarters of PC growth, he said.
Throughout the keynote presentation, Dell also presented various customers and showed how they partnered with Dell to solve challenges in their businesses. Customers included DocuSign, Coca-Cola, New Belgium Brewing Company, InMobi in India and Microsoft.
Editor's note: Dell has provided sponsorship of Silicon Hills News