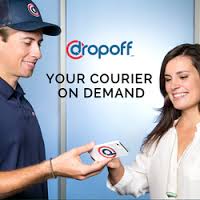 Austin-based Dropoff is now available in Houston.
The startup provides same-day delivery for a variety of businesses. It originally launched in Austin last November.
Houston businesses will be able to use Dropoff's online platform to easily order same-day deliveries and to track them. Dropoff provides "accurate ETAs for pickups and deliveries, email confirmations and driver ratings."
Dropoff plans to expand to more cities this year.
"Houston is a natural next step for Dropoff with the close proximity to our Austin headquarters, and as one of the largest U.S. metro areas with strong business growth," Sean Spector, CEO and co-founder of Dropoff, said in a news release. "Now we can support companies in Houston with best-in-class same-day delivery services so they can focus on other pressing matters rather than worrying about their logistics needs."
Dropoff uses screened, insured and uniformed agents to deliver goods. Customers place their orders online using a mobile phone, computer or tablet via its website. An agent then accepts the request and arrives to pick up and deliver the goods within minutes.
"With bikes, cars, trucks and vans, Dropoff serves industries including but not limited to healthcare, food and grocery, business services, hospitality and retail," according to a news release.