By LAURA LOREK
Reporter with Silicon Hills News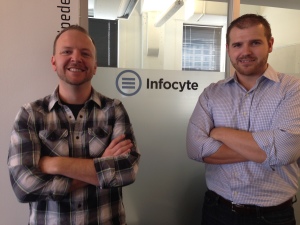 Infocyte Inc. just landed $500,000 in seed stage funding led by Austin-based LiveOak Venture Partners.
The San Antonio-based startup plans to use the funds to further develops Pulse, its cyber security assessment platform.
This is LiveOak's first investment in San Antonio.
"The Infocyte team has a storied history and deep domain knowledge gained from their time in national defense," Venu Shamapant, LiveOak's general partner said in a news release. "We are excited to partner with them in their ambitions to bring advanced threat detection to a wider audience."
Infocyte plans to release its product, which is currently in beta testing, to the public early next year, said Chris Gerritz, CEO and co-founder of Infocyte.
Gerritz and Ryan Morris, co-founder, both formerly worked as officers in the U.S. Air Force on Security Hill at Lackland Air Force Base in San Antonio in cyber security roles.
Infocyte created Pulse, a software and hardware device installed on a company's computer network to monitors and scan for any irregularities such as malicious code or unauthorized activity. The product detects and identifies attackers and audits a network pro-actively before an attack takes place, Gerritz said.
"What we offer is a proactive security assessment that asks a question that no other security assessment does and that is are you comprised right now?" Gerritz said.
A lot of times, intruders can remain on a network, undetected, for months or years, Gerritz said. Infocyte's software seeks to find them and deal with them before they cause major problems, he said.
"The majority of security assessments right now look for holes in a network that could be exploited by hackers," Gerritz. "Our assessment answers has anyone actually used those holes to comprise your network. Are they in your network right now? Do you know about them?"
Generally, Infocyte's customers are companies that don't know that they are comprised yet, but they want to know if they are, Gerritz said.
The malware remains hidden on a network so the intruders can gather intelligence over time like credit card numbers, Morris said. The companies generally don't know they've got a problem until the FBI tells them, he said.
Gerritz and Morris founded the company in May of 2013. They received $200,000 in initial funding from an unnamed angel investor. The company is based at Geekdom in downtown San Antonio and now has three employees, Gerritz said. Infocyte has hired some contractors and wants to hire two more people, he said.
Since August, Infocyte has been working by providing professional assessment services to detect vulnerabilities with local banks and credit unions. When it releases its software and hardware product in February, Infocyte plans to target Fortune 1000 companies, initially in the financial services and retail industries.
Gerritz and Morris just returned from Dublin, Ireland and the Web Summit, where they pitched Infocyte to an international audience.